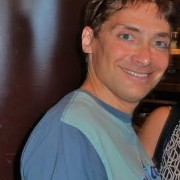 Traveler bio: Zane joined EuroCircle's Travel Program for the first time in 2015. He is an avid world traveler, speaks multiple languages, and fit in perfectly with our multicultural group. There were a lot of new faces on our Safari that year, but Zane, a native of San Francisco, got along with everyone beautifully. He entertained everyone on our bus, with his music playlist. Thanks to him, we sang and danced as we crossed the Kalahari desert.
SK: This was your first trip with Eurocircle. Whatever possessed you to pack your bags, travel 5000 miles, land into Namibia, to meet up with a bunch of travelers you have never met before?
ZB:    When I first received the email advertising the African tour, I asked myself the question, "when else will have the chance to explore Namibia, Botswana & Zambia?" These countries intrigued me naturally because of the chance to see the spectacular animals and experience local culture. Although I had not heard of the Eurocircle travel group before, I had enjoyed the Eurocircle social events for several years here in San Francisco.
SK: Be honest, what did you think of our group of travelers?
ZB: Initially rooming with Jeff concerned me, a vegetarian with a hunter doesn't necessarily  make for a harmonious mix on paper. What a relief to bond with him quickly – a true gentleman. Loved Alana, and Hana, of course. Nobody from the group irritated me. Seems like everyone respected each other's personal space.
SK: Each year when we go abroad, there is always a nice surprise for some travelers. This year, you found yourself in a bit of a romance. Was that your intent when you signed up?
ZB:  Harbored no expectations embarking on the adventure other than having a blast and hopefully meeting some chill folk. What fun hanging out with Hana, that dynamo (very different from the women I typically date). Hope that our paths will cross again in future.
SK: I'm still reliving some of the more spectacular moments of our tour. What was the most memorable experience for you?
ZB:  Difficult to pick only one highlight. So here are 3. (Must say that I also enjoyed the intellectual conversation several of us enjoyed just hanging out at the "Lodge" of the last evenings in Zambia)
a) Chobe sunset cruise where we saw fantastic animals along the water
b) Meeting Hana
c) Lion Encounter!!!
SK: If you could re-live one day of Eurocircle African Safari, 2015, what day would that be?
ZB:  Clearly would relive the day Hana and I hung out together for the first time. Don't hate us, but we "Illegally" ventured beyond the lodge and could swear we heard ambitious animal sounds!  But Sherry, I believe you are looking for a different answer here.
As you may know, I am a student studying Spanish. My professor assigned me the task of writing a  daily diary in Spanish about our trip. Here are excerpts from what I believe was October 29 (the 6th or 7th day): "enchanting safari through Chobe National Park, a frontier bordering  4 countries. We encountered giraffe, buffalo, elephants, antelope, ostrich, monkeys and unusual native birds. In the evening navigated the river Chobe with the breathtaking animals, witnessing a spectacular sunset. Slept most of the night in a hammock next to Hana, awakening to the sound of playful monkeys."
SK: You have traveled all over the world independently, why join a group?
ZB: Travelling independently to this part of the world could present logistical challenges. I had travelled to Africa four times previously (twice on safari), but always in tours.
Eurocircle Travels is an annual program, that takes our members on a global adventure. So far, we have explored the silk markets of Istanbul, trekked to the top of Machu Pichu, raced tuk-tuks in Siem Reap, Cambodia,, and sailed down Halong Bay for an unforgettable experience. As a group we experienced dune bashing in the Arabian Desert, UAE, dined in a palace in India, then trekked across 5 countries in Southern Africa on safari. Join us!