A Stylish Evening @ The Champagne Lounge Corridor 44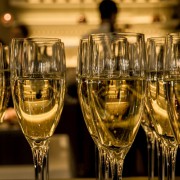 Join us to raise a glass of bubbly, meet some fellow Europeans, kick-off 2016 in style!
See you there,
Stephane
About the venue:
"Corridor 44 is Denver's only champagne bar.
Such level of prestige requires an appropriately matched selection of innovative and champagne-inspired plates of various sized portions. While champagne has often been a beverage to signify celebrations and milestones, it is our philosophy that celebrations and milestones are found every day and should be savored with the decadent culinary creations on our contemporary menu.
An opulent champagne bar which exudes French-coast-meets-Morocco cache, Corridor 44 is intimate and unabashedly sensual, juxtaposing white leather banquettes and crystal chandeliers with striped walls, oversized chairs and Zebra-print carpeting. It is a room that welcomes and warms."