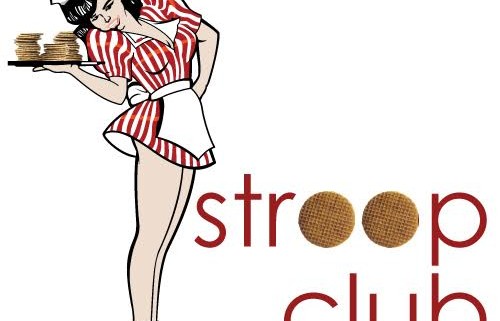 The StroopClub – Chantal & Tako Followed Their Dream via Green Card Lottery from The Netherlands to Austin
This story is written by Chantal and Tako in their own words. You will meet them on Saturday, Sep 26  at the Roosevelt Room – and have a chance to sample the famous StroopWafels.
You know this quote of a guy named Robert Fulghum?
"We're all a little weird. And life is a little weird. And when we find someone whose weirdness is compatible with ours, we join up with them and fall into mutually satisfying weirdness—and call it love—"
This quote has probably been used on countless wedding invitations, but for us… This is (even without the wedding invitation) just so true!
Here's our story.
We're Tako and Chantal and we're originally from the Netherlands. (For y'all who don't know where that is, it's western Europe, with our beautiful, but cold, beaches at the North-Sea. Amsterdam will probably ring a bell.)
Tako is a senior economist specialized in anti trust. With the wish he had for years to once come to the States to experience life here, he entered the Green Card Lottery. As a miracle  – and a chance of once in 200 years – he actually won this thing! Happy and excited, he started the process to change his life and live his dream. Unexpectedly, right in the middle of that process, he met Chantal, an experienced corporate technical recruiter. Her dream was to once build her own restaurant and live in any other country to experience the rest of the world.
You see the match here? We certainly did!
We both love cooking, we love baking, we love good, real, fresh, honest food. We love to experiment, to go out for dinner, to try new joints. Some even might call us foodies.. We often get disappointed though, because our own cooking often beats the restaurant quality. So if you're that arrogant.. Yeah, one must start his own food business! So that's what we did. Fully indulging in Austin culture, but still cherishing our own traditions, we first took workshops at home to make these lovely Stroopwafels ourselves.
The Stroopwafel, the one and only traditional cookie of our home country. We invested in the professional baking iron and appliances and here we are. Baking and selling our delicious, home-made, hand-pressed traditional Stroopwafels! The fun part? We're actually still in an AirBNB… 🙂
Our dream? Our very own Stroopwafel empire. Numerous coffee shops, a couple of bakery production plants, lots of national and international locations, the whole nation wearing t-shirts and caps with our logo and drinking out of our StroopClub mugs. You gotta have a vision, right 😉
Step-by-Step overcoming obstacles
BUT.. Let's start off small.. And somewhat realistic…  Because we literally don't know a thing about American or Texas laws and regulations and oh my… That's not something you learn overnight. We're guessing that foreigners in Holland might experience the same as we do here: Not knowing where to find information, the bureaucracy, the one rule that contradicts the others and an American system in which we just don't tick the boxes.
We don't have an address yet, but for applying for an apartment you'd need one. We don't have an apartment yet, because you need proof of employment and income to apply for it, obviously with starting our business, we can't proof income… We don't have or get a credit card, because we don't have credit history… To get your basic needs arranged, housing, transport, money…. is such a hassle! You get the point? We don't fit in (yet) and people don't seem to be able to work around it (yet). These are definitely things slowing us down and getting us utterly frustrated now and then…
The fantastic part about being in Austin though, is the friendliness of the people. Everyone you meet is trying to help you out, on the spot. We're renting a room though AirBNB and the hosts, they're our heroes at the moment. Everyone just seems nice and although we're warned and have experienced this kindness is not permanent, it's getting us a jump start.
The other thing.. The weather.. Oh my, how lovely it is to be walking around in your t-shirt at 1 am at night, not even feeling chilly, that's luxury to us! And as for starting off a business, the taxes are heaven compared to those in Holland!
Delicious regards,
Tako & Chantal
Connect with Us
https://www.eurocircle.com/euro/wp-content/uploads/articles-member/2015/09/Interview-TheStroopClub1.jpg
500
500
Kaisa Kokkonen
http://www.eurocircle.com/euro/wp-content/uploads/2014/06/eclogow1.png
Kaisa Kokkonen
2015-09-23 22:58:46
2022-01-10 21:41:30
The StroopClub – Chantal & Tako Followed Their Dream via Green Card Lottery from The Netherlands to Austin