Meet Ben Rosenfeld – Russian Comedian and Author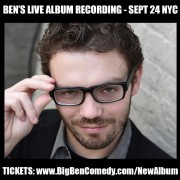 Meet Ben Rosenfeld a New York City Based Stand Up Comedian and Book Author who performs all over Manhattan. His next show is this week!
Please introduce yourself (name, country, where are you from and what do you do, where do you live, what did you study and why, family etc – the usual stuff)? 
My name is Ben Rosenfeld. I was born in Leningrad, USSR (aka St. Petersburg, Russia). I'm a stand up comedian and book author based out of New York City. In college (Rutgers University) I double majored in Economics and Philosophy, so I know how to make money, I just don't see the point. Then in grad school (Caltech) I took a class in decision theory, which made me decide to quit grad school. I'm an only child of Russian-Jewish immigrants. I grew up in a frozen tundra, untouched by human kindness… Connecticut.
How did you end up in New York of all places?
I wound up in New York because I hate driving cars and most of my life has been spent within 100 miles of NYC. It also happens to be the best place to do comedy.
What is the best and worst about New York for you…what is a typical day and weekend?
Best part of NYC is not driving all the time and worrying about parking, and that the city feels alive and energetic at all hours. Worst part is the city feels alive and energetic at all hours so it's hard to relax. And waiting for subways at 2am is annoying. And NYC is super expensive. Typical day – wake up at 9 or 10am, do emails, review my performances from last night, write, edit videos. Around 5pm go and do comedy shows and network. Home around 1am. Sleep by 2am. This is pretty much the same on a weekday and a weekend, only difference being there's more shows to do on weekends and they go a little later.
How do you find the lifestyle in New York compared to your hometown in Leningrad (housing, food, health care, education, nature, weather?
I grew up in Stamford, CT, which is less than an hour away from NYC, so it's pretty similar. You just pay more in rent for a smaller space, and there's way more pedestrian traffic. Compared to Russia, NYC is warmer weather and you're more likely to get mugged than get your organs stolen 🙂
How do you make your living now – and how would you like to develop that career? 
I make my living performing comedy and doing comedy related activities like acting, voice overs, video editing, directing, writing and designing websites for other performers. I want more writing and performing, and less of everything else. TV work would be nice.
Do you see the differences between nationalities  easily – yours vs. Americans vs. other Europeans?
Yes. Russians are more pessimistic / realistic and straight forward. Americans are more cheery and obsessed about happiness. Europeans – from when I've traveled – people in southern Europe (Italy, Greece, etc.) are very warm and friendly to strangers and each other, northern Europe (UK / Ireland) not as much.
What is the essence of New York to you?
NYC = energy + achievement.
What do you absolutely miss from your country/elsewhere heritage (food, culture, movies etc) … or elsewhere?
Banyas and cheap caviar.
Workwise – how do you see you're being different from your countrymen– also culturally, what stands out in your chosen profession? 
There's way more people in America trying to be comedians than there are in Russia.
When you think about what did you think about life in New York before you moved there – did you misconceptions that turned out to be wrong?
I've been around NYC since I was ten years old, so this doesn't really apply.
Knowing more about life and having lived with your decisions for a while (like work) – would you still choose to be there and why? Why not.?
Yes – unless Los Angeles offers me a pile of money to work on a show there.
What should everyone know and understand about your country and its culture?
New Yorkers are callus and indifferent on the outside, but really nice and kindhearted once we're certain you're not trying to screw us somehow.
What cafes or restaurants do you recommend to tourists to go to in New York  and why? Or to do something else.
Shake shack, Rice To Riches, any good Thai and Indian restaurant.
What would be your ideal life – with no monetary issues to make it happen?
If monetary issues weren't a thing, I'm already living my ideal life style.
Would you move back to your country full time – yes or no (why and why not)?
 No – while I speak fluent Russian, I have a terrible accent that natives notice right away, and my reading/writing skills leave a lot to be desired. Plus I barely tolerate NYC winters, I have no chance in Russia!
What has been the worst social/cultural issue to deal with in New York  for you?
When you first move to NYC and don't know many people, you feel much lonelier than anywhere else, just because there's this sea of humanity everywhere, and it's all anonymous.
Anything else you would like sharing with us?
I'm recording my second comedy album this Thursday, September 24th LIVE in New York City during 2 shows. 7pm and 9:15pm.
BUY 7:00 PM SHOW Tix
  OR   
BUY 9:15 PM SHOW Tix
(discount gets applied after you hit proceed to checkout).
Connect with Ben
Check out Big Ben Comedy
Connect with Ben on YouTube
Ben Rosenfeld on Facebook
Big Ben Comedy on Twitter
Get Ben's Book on Amazon Here
https://www.eurocircle.com/euro/wp-content/uploads/interview-new-york/2015/09/Interview-BenRosenfeld.jpg
851
851
Alexandra Spirer
http://www.eurocircle.com/euro/wp-content/uploads/2014/06/eclogow1.png
Alexandra Spirer
2015-09-24 14:05:42
2022-01-10 21:41:30
Meet Ben Rosenfeld – Russian Comedian and Author