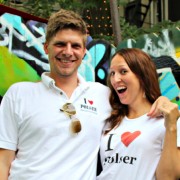 Sera and Martin Høedholt own Revolving Dansk LLC a Pølser (Danish Hot Dog Company) in Brooklyn, NY
Tell us about yourselves and how the two of you met?
Martin Høedholt: I was born and raised in Horsens, Denmark, a small city of 75,000 people 30 miles south of Denmark's second largest city, Aarhus. I had lived in Denmark until the age of 33, when I decided to 'give New York a try', with the intention of moving back to Denmark within two years.
Sera Høedholt: I guess I changed that! I am originally from Cleveland, Ohio and I had been living in New York for nearly 10 years before meeting Martin. We met on OkCupid only a few months after he had moved here, after he received an email from OkCupid listing me as one of his "quiver matches." We immediately shared a love of food, and even served our hot dog at our wedding just a few months ago.
When and why did you start Revolving Dansk?
Martin: Because Danish hot dogs are just so much better than American hot dogs! It is the first thing I get when I get off the plane in Denmark, and the last thing I do before I leave. It's not just me – every Dane, and person who has tried them in Denmark, says the exact same thing.
Sera and I had talked about serving Danish hot dogs on several occasions, but it wasn't until June 22nd 2013 at Smith Street "Funday Sunday", seeing food vendors in our own neighborhood, that we decided that we definitely had to be there next year.
Sera: It's interesting, however, because we actually ended up planning something that day. We ended up telling our idea for Danish hot dogs to a restaurant owner while we were at that street fair, and he loved the idea. Less than one month later (July 21st, 2013), we found a way to produce some pølser and had our first Danish hot dog event at Dassara Ramen in Brooklyn.
What are Pølser?
Sera: Pølser are somewhat similar to American hot dogs, but much better. They are 100% pork, extra long, have a natural casing, and are beech wood smoked so when you bite into them, they snap and are really juicy. They also have a different taste because they use the Scandinavians spices like allspice and nutmeg, and that gives is a sweet and savory flavor. I never really liked hot dogs until I tried pølser.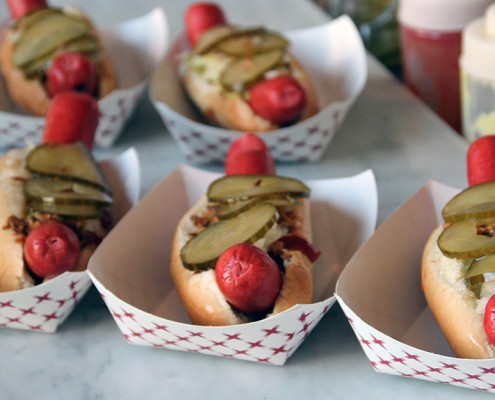 How did you create your recipe?
Martin: Creating our recipe was definitely the tricky part. We bought a grinder, emulsifier, sausage stuffer, and even a meat smoker that we kept on our fire escape when "smoking". We spent days on end in our Brooklyn apartment trying out different iterations of recipes by looking at packages from Denmark and trying to Google as much information as we could find. Trust me – our last tries were dramatically different from our first attempts! Even after we got the taste just right, we then did Skype comparisons with my parents in Denmark, making sure that everything was perfect, from size, color, consistency, and even flexibility. Once we got it all exactly as we wanted it, we took our recipe to a family run sausage production company and started producing them for our events, and soon enough, for stores. To be honest, I'm more happy with the pølser we produce than the once we get in Denmark. The taste is better and it is all natural, unlike the Danish staple brands.
Is there any particular story, moment, an award or an achievement throughout your career that you are particularly proud of?
Martin: I think our first event will always be the most memorable to me, because we had no idea what to expect and we got an overwhelmingly good turnout. We got such positive feedback, and just seeing so many people happy to be eating Danish hot dogs made my day. Since then, we hosted a number of events, and each time, it is exciting to see everyone so enthusiastic, and that our numbers seem to grow each time, a lot of new faces every time.
What is your favorite thing about Denmark and when is the best time to visit where you are originally from?
Martin: Hmm… I think that would be hanging out with good friends in Nyhavn in Copenhagen on a good summer day, with a 6-pack of Carlsberg beer and frequent visits to the local pølsevogn (hot dog stand) :o) and I would definitely plan my visit in July/August, which normally are the warmest months of the summer.
What do you like to do when you aren't working? Any fun places you have traveled?
Sera: When we aren't working, we love to travel. There is a small, really old-fashioned place in Florida called Anna Maria Island, where I took vacations as a child, and we have now visited as a couple quite a bit. I would say that this is our favorite quick getaway, but we love visiting Europe, especially Italy. We also just had our honeymoon, where we spent half the time in Sri Lanka and half the time in Maldives. They are both really amazing place – Sri Lanka for the food, people and culture, and Maldives because of the natural beauty and the calmness of the ocean.
What places do you like best in NYC and why? Any favorite cafes, restaurants?
Sera: That's a good question – we like a lot of places in NYC! We actually particularly like the restaurants in our neighborhood on Smith Street in Boerum Hill/Cobble Hill. What I love is that there are just so many quality food options, and most have sidewalk space or outdoor gardens in the summer.
Where can our members find/buy your Pølser?
Martin: People can get our hot dogs at our events, but will also be able to find them at stores very soon. We have a number of events coming up this Summer and Fall, so people should definitely take a look at our website so they can try them fully loaded with the Danish condiments. We will also be in a number of stores in the New York and LA areas, as well as available for online ordering in the next couple of months. People should definitely be on the lookout for our brand name of pølser "Copenhagen Street Dog™".
Anything else you would like our members to know about you, Revolving Dansk and Pølser?
Martin: I just want to re-iterate that our pølser are better than the originals, so try them out and let us know, any feedback are welcome.
How can people find out about Revolving Dansk?
Martin: The best way to keep informed about the latest is to sign up for our newsletter at https://www.facebook.com/RevolvingDansk/app_100265896690345 to keep posted on the latest news about our parties and product launches. If you don't like emails, you can also visit us at revolvingdansk.com
Website: revolvingdansk.com
Facebook: facebook.com/RevolvingDansk
Other social media Link: twitter.com/revolvingdansk; revolvingdansk.tumblr.com/