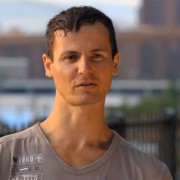 I kind of get a kick of America's Got Talent TV-show. Three of the 4 judges are not American – two are Europeans (UK and Germany) and one is originally Canadian. Well, I guess that is America even if many Americans have issues with immigration – that is both the history and the present of the USA. Andrey Moraru is a young European whose art really touched me, not to mention he is easy on the eye as Heidi Klum pointed out. This young Ukrainian takes his art seriously. Let's find out how he ended at AGT. Andrey has a beautiful soul and it shows in his art. I wish him all the success in his future.
Please introduce yourself.
My name is Andrey Moraru, I am a citizen of Ukraine but I was born in Moldova.
Right now I live in United States in the City of Angels – Los Angeles.
Recently (Aug 2014), I finished my experience at America's Got Talent TV-show (AGT). Going into it I wasn't thinking much of the entire deal. What I've learned shortly after was that while many of us have preconceived opinions about "Talent" shows on TV, it is impossible to predict what ends up happening. Casting people work hard at picking talent out of thousands of contestants to display a truly strong level of skill and expression. And until you yourself go through the experience you can never fully know what it is that you are watching. One of my favorite artists still on the show is Mara Justine. I find her very skillful at singing but also very talented as a performer. Her voice makes me energized and motivated. (Kaisa's comment: a 12 -year girl with an amazing voice).
I do find it funny that 3 out if 4 judges are not American but I do think it doesn't really matter because at the end of the day we are all people and we all share many of the same opinions. It's been very interesting to see the TV side of show business AGT is an extremely functional machine that grows and morphs as it moves forward. They book the biggest stages in the world for the televised broadcast and attract millions of viewers.
I think this show can present a great opportunity for any artist taking part in it. At the end of the day if you don't like something you don't have to watch it.
What does your family do and where are they now?
My parents live in Moldova. I have an older brother and right now he lives in Kiev, Ukraine. I also have many cousins in Moldova but I have never met more than half of them!
My Mother, Tatiana Dmitrieva is a retired accountant who worked in our town's government offices taking care of wide range of responsibilities starting with making sure people received their salaries/pensions and finishing with giving out government sponsored trips to summer camp for kids and Sanitoriums of Healing for adults.
My father, Boris Moraru is a multi-talented man. Skillful veterinarian and wine maker, house builder and musician who plays piano, accordion and guitar. An army officer and a wrestler in the past.
My brother Serghey, presently works as accountant for an international company in Kiev. His working credits include "Deloitte" which is a multinational audit/tax/consulting firm. He's a talented piano player and a skillful photographer.
I love them all very much and miss them everyday. I 've only had a chance to go home once a year – or less – in past 9 years since moving to America at the age of 18 by myself.
My Grandmother Claudia was a very special person. I cannot say enough good things about her. She dedicated her life to help my mother to raise me and my brother by always making food, waking us up and getting us ready for school; teaching us useful things about the land and how to grow plants.
How on earth did you end up doing hand balancing – it is not like an average person wakes up and decides this is what I will do when I grow up. How did you study this??
No one in my family was ever involved with the Circus. I am the first one. True Art however in its many forms was always greatly appreciated by my parents. They encouraged us to recognize real Art and ignore pre-digested, toxic pop culture of the early 90′s that filled TV screens after the fall of Soviet Union with horrible music and bad examples of what a famous entertainer should be.
At one point when I was around 7 years old my mother handed me the book about a boy from Crimea who had incredible talent for painting at a very young age. This boy adored and was incredibly inspired by the works of acclaimed painter by the name of Aivazovskiy whose paintings always reflected his love for the sea and it's moving/breathing waters. Water is the hardest thing to draw because it's always moving. Aivazovskiy was master at painting the blue waters of the Black Sea that washed the shores of Crimea.
I loved the book and it inspired me tremendously to start to learn how to draw. I didn't go to school to learn though. One day I just picked a piece of paper and a pencil and began to experiment with what it could do. This simple act of trying grew into years long "love affair" with drawing and painting. I would bring my notepad everywhere I went and often spent my time at school drawing during classes. I got into a lot of trouble for missing out on the material given to us and once I missed what the teachers were explaining for the first few classes. I fell behind quite a lot and never quite regained the momentum of learning the knowledge that was shoved down our throats whether we wanted it or not. And thus, my long journey into art world was first firmly established.
I wasn't fanatically drawing and learning how to improve for any kind of monetary or material gain like adults would. All I dreamed about was for my drawings to one day to come alive and fly off the page.
A year or so later my mother gave me another book the title of which was "Circus Comes To Town". The book was written by an acclaimed Soviet clown Boris Vyatkin. The story captivated me and impacted my mind in a strong way because I could relate to so much of what I was reading about Boris's life as a child. His real parents died when he was very young. His cruel foster parents turned his life into a living hell by beating him. He was forced to clean shoes in the streets for money which they kept to themselves when he got home in the evening. His hopeless situation started to change once the Circus came to town. The Circus totally won over his heart with its alternative lifestyle full of wonder, travel and excitement. The change in his life began to manifest almost immediately.
After reading this book, something started to change in me as well. Here was a real story of a young kid just like me who was now living the dream. If he could do it, so could I. I wanted to be free from anything that did not feel natural to my soul- from all artificial measures of my place in society such as the public education system.
At the time (and to this day) living conditions were very harsh in my home town and everywhere in the country. Nearly everyone was poor because everybody kept their money in a Central Bank of Soviet Union. After the Union was no more, the bank didn't exist either. EVERYBODY lost all their money. Suddenly there were borders established everywhere. You saw them where before there was none. One formerly gigantic country became dozens of separate states that had no currency of their own, no constitution, no president, no laws in place. Everything in terms of governing systems had to be built from scratch. With no oversight from higher headquarters, there were literally "dog fights" for power in every new post. The dark shadow of the mafia and criminal gangs was rising fast all over the place. So in a situation like that there was hardly any room for dreams as you can imagine. As citizens of Moldova we couldn't go anywhere in the west without first having to obtain a visa and this rule remains enforced to this day. And if it couldn't get any worse, in 1991 when I was only 6 years old, tiny part of Moldova where we lived decided to separate itself from the rest of the country. After short conflict with casualties on both sides, the region established itself as Transdnistrea.
Transdnistrea to this day remains unrecognized by global community as official state. So basically it does not officially exist!
However, luckily I was too young to be bothered by all these facts as imposed limitations. The little town of Pervomaisk, where I was growing up, was embraced in the arms of Nature. We had a tiny forest, a river and some hills to explore as kids. We fully took advantage of this beauty.
I loved the seasonal changes: Autumn, Winter, Spring and Summer were times of opportunities to learn, to feel and to explore wider reaches and riches of the world I found myself seemingly out of nowhere. I still can't remember the day I became conscious.
My earliest memories are from the time when I was sick with Hepatitis B, 4 years old at the hospital with my mother who didn't want me to be there by myself and stayed the entire two months with me.
Was it hard to move from your experiences to ones nobody had any experience? Would you agree that most success can be traced to people you model?Who were your models? You have to be very dedicated to do something you do. It requires so many different skill sets – seems like you'd have to be super flexible, good dancer, artistic…and what are you chances of getting hurt??
When I was 8 y.o. our parents bought VCR and a colored TV. It was huge luxury and soon we had few video tapes with movies like Best of the Best, Mortal Kombat and Shootfighter with Bolo Yeung. Chinese martial artist who started with Bruce Lee in "Enter The Dragon".
It is when I watched those movies that I started to really feel interested in exploring what my body could do and this my journey into the far inner and outer reaches of the body began in full swing. At my school during that time I was particularly bullied by two individuals who I was scared of all the time. They would just shower me with fear that paralyzed my thought process and my body.
Now, after I watched those martial movies again and again and saw good guys winning over most ruthless and fearsome opponents it occurred to me that I could be like them and protect myself from the threats I had to deal with daily. And so I started stretching like they did in those movies, started trying acrobatic elements(which I learned how to do back flip by myself on the soft ground covered with grass in my backyard) and then I approached my friend Miroslav who had tremendously mischievous spirit to practice stick fighting with me.
After couple of months of getting hit and hitting back all the time the final drop into my cup of courage was added.My entire body overflowed with confidence.So, I decided to settle the matters that needed to be settled at school. I challenged both of my opponents to a fight after classes were over one day.It generated a lot of buzz throughout the school. I had zero doubt in myself.When everyone finally gathered on the football field behind the school, the two of them and i were put facing each other with a "referee" in the middle.When I was asked if I'd fight,I replied immediately a firm "YES"! Surprisingly, or shall I saw non surprisingly, both of my opponents refused to accept the challenge and were whistled off the field in shame. That was my first real triumph overcoming my fears that haunted me for years.
Now because of that I started to believe in myself more than ever before and continued my self-initiated fighter training. My friend Miroslav, to whom I owe recognition for the change in my beliefs about myself and gratitude for being my sparring partner, unknowingly had another surprise for me In store: He was attending local Circus Studio!
So that summer I expressed my desire to parents to let me join the studio and let me study Circus arts.After a slight hesitation they agreed. The teacher/founder's name at the studio was Alexander Craciun. Both his sons were Circus Artists.
In my first month I witnessed something very interesting. Alexander's son Genya came back home to visit and stopped by the studio to train. Once there, he hopped on his hands and much to my compete surprise and awe displayed a series of balancing elements while on his hands. I could not believe what I witnessed and decided right then and there that of all the disciplines and genres in Circus, THAT'S what I wanted to be doing!
So that's how I found my model,teacher and mentor.Ibecame involved with Artistic lifestyle and that's how I found out that I wanted to be a hand balancer.
From that point on I spent 4 years of persistent training dedicated to stretching, strength building, balance understanding and overall acrobatic and juggling skill acquisition. 5 days a week, 10 months out of the year. Since age 11 I was on the mission to become Circus artist. One of the strong reasons for that was the fact that being in Circus offered..the chance to travel to foreign lands. I couldn't possibly submit to the idea of living in one place and doing the same thing every day to just survive another day because someone I didn't know, somewhere messed up the living and social situation for me , my family, my friends and my people. As a result we are shoved into a box and forced to work from sun up to sun down just to have food on our table.
Don't get me wrong, it worked for the first 14 years of my life because that was the time of getting acquainted with the world around me and learning its ways. But, it wouldn't be acceptable much longer after that and after hearing my teacher's stories about great Circus Artists out there who were living their dream It inspired me to keep going until I reached my destination. And so my biggest desire from that point on was become free and independent of boundaries that the location of where I was born imposed on me. More than that I wanted to create something incredible. A work of art that would inspire others the same way I was inspired and driven to conceive such idea.
After each day at school I had a short break and then would continue on with my day by riding my bike to he Circus Studio which happened to be located in the near where my school's stadium was and where all kids went to for play after school. I remember watching them being care free and playing ball in the sun. I always wanted to join them instead of the intense 4 hour training session that always laid ahead. But, I knew in my heart that i had to think about the future and in order to achieve my goals I had to go practice. And so I went… often with heavy heart.
Typical training day would go like this: First we would all stretch for half an hour working on all kinds of flexibility. We would stretch shoulders, wrists, elbows, knees, lower back and bridge position, three different kinds of splits, pure flexibility and we would often do many of those stretches in groups sitting on top of each other depending on the kind of stretch we were doing. After 30 minutes of stretching, depending on the genre that any particular student picked we would practice our specialty for another two hours and then after that would pick up on juggling and acrobatics(our teacher always emphasized the importance of being a well rounded Circus artist who could do many things at once rather than having one particular skill set.
At the end of each training session we would have half an hour of conditioning of all kinds. Rings, parallel bar, push ups, pull ups and six pack conditioning. After all that was done we would stretch for a few more minutes and the day at the studio was over. We were allowed to go home.
The chances if getting hurt ways exist but were taught to be extremely careful at all times and injuring ourselves was never on our minds. We were rather always thinking of ways to get better every day at all those things that we were training to learn.
Workwise – how do you see working as a hand balancer affecting your personal life??
Being Circus Performer have definitely made strong impact on my personal life. It is totally different now from the kind of life I had in Moldova growing up and it took me places I would have never thought it would.
This lifestyle doesn't come without sacrifices.What to some may look like an exciting life as an entertainer, without proper balance of family, friends and a loved one, can be a serious challenge. It takes constant hard work at perfecting your Art- maintaining and improving your skill. I don't ever stay in one place long enough to make any kind of long term friends at all. I couldn't really imagine that's how my life would be like. Anyone who thinks that life in show business is a dream come true, until you experienced it for yourself in all it's shapes and forms, you don't really have any idea what exactly you're getting yourself into. However, it does present unbelievable opportunities if you are willing to work hard and work smart. – You can turn your dreams into reality.
When you think about life in Moldova/Ukraine – do you think you ever go back there to life there full time?
If you ask me what I would like people to appreciate about my art and or my country Moldova, I would say I don't want to try to make you appreciate anything about me or what I do or where I come from.
I would only point out that I'm continuously searching for more and more sincere ways to express myself through the language of my body where words spoken are not things heard but things seen. Basically my goal has always been to help people feel emotions like strength, awe, love and just happiness of being alive.
I have much love for my country and it's people. If you live in the West and never experienced what it's like growing up in a small village town, you may have missed out on important experiences of being one with Nature and it's creations. Ever present poverty and a sense of failed infrastructure would give you the chance to appreciate little things of life and the idea of what it's like being limited in all the things that present western lifestyle offers it's consumers.
That idea is very simple: We only need so much money and so many things in order to live. Mounting complications of modern living and the need to "make it in life" don't make anything easier. On the contrary it affects people's psyche to the point where we forget why we are here in the first place. It is to follow our excitement. What makes things easier is YOUR OWN idea of success and YOUR OWN definition of happiness. As long as it does not harm anyone around you, you should be able to determine for yourself what it is you need in life to keep yourself happy.
When I think about first 15 years of my life that I spent in Moldova and next 4-5 years in Ukraine, those were some of the fondest memories I have of my early life. The big part of having SO many amazing memories was probably because I filtered out many things that bothered adults. I only chose positive things about it. Our people are survivors of the social, political and psychological catastrophe that tried to reshuffle and reprogram our minds over the course of last 200 years with ideas of communism, cult of personality, dominance, and artificially imposed morals.At the end, in the early 90′s, the explosion of those systems of thought in the form of fall of the Soviet Union which ushered in the beginning of a new era of rebuilding from scratch which lasted for 20 years until the first sign of trouble during so called Orange Revolution in late 2004. Most recently is the troubling events of the overthrow of former regime in Kiev which sent the Ukraine and it's neighboring counties into a spiral of unfolding unrest and insecurity about an uncertain future.
In my opinion, we as people must start to educate OURSELVES in political sciences, morals, justice and rightful use of law. Only by knowing what is right and just ourselves can we then understand, agree or disagree with our elected leaders.
In my heart I feel like after all the travels, all of the loud and colorful lifestyle of show business I'll be coming back to my country to lead a simple lifestyle just like the one I started with and be at peace.
I miss simple things of life but am willing to sacrifice many things because there's still many ideas that I have to bring to life!
What is your favorite food/s and drink??
I'll say red borsch, cherries, my father's grapes and as far as drinks I would say pure tasty water that I used to drink back home and haven't ever found similar taste anywhere else!
What are your favorite cities/places in the world – it seems you may have to travel quite a bit?
I have been fortunate to travel around the globe and even though there's still many places I'd like to go to here are few places that stand out in my memory the most: Paris, France. Monte-Carlo, Monaco. Brussels, Belgium. Montreal, Canada. Berlin, Germany. Seattle, Washington-US, San Diego, California-US. I really enjoyed visiting these places and always felt special spending my time there because of the people, food, scenery and a great atmosphere of adventure these cities offered.
If I gave you unlimited means and you could wherever you want and do what ever you want? What would you do..
I would first buy all the books that I wanted to buy but couldn't afford. I would give my parents enough money they wouldn't have to work to make money – only out of joy and knowing that they have more than enough to survive. I would travel to all the remote places I haven't visited yet. I would gather together the best minds in the world from as many industries as possible to rework and change world's education system. To create a new system of raising children where they wouldn't be just their parent's children but society's children as well. I would like to see that we as people would start growing closer together rather than being millions of separate families. That system would include facilities where kids would spend their days with older and wiser teachers, where their primary talents could be recognized from early on. They could develop in the direction that they naturally lean toward (and not what the National Education Board thinks everyone should study). I would make it so that parents, after giving birth to a child could go on with accomplishing their goals in life and where they would know that their children would be taking care of by the newly established system. The earlier we start seeing the benefits in the ideas of equality, partnership, sharing and helping one another as opposed to ideas of competition, survival of the fittest, property acquisition, vertical power and society divided by borders and classes, the sooner our entire world will change for the better.
So…that's how I would spend any unlimited funds….
In general, what makes you happiest in life…for some people it is career, some it is family, free time, challenges?
It isn't one thing in particular but rather a combination of things. I feel happy finishing another artistic creation, I feel happy knowing my family members are in good health. I feel happy any chance to go out to the Nature – forests, lakes, deserts or the ocean. When I'm out in nature I feel more myself than ever before. Oh, good food makes me happy as well!!! I like challenges. They always come up exactly when they should and it's my duty to overcome them. Without challenges we often forget to appreciate what we already have -going through difficulties teaches us to stay alert and ready because nothing in life lasts.
EVERYTHING comes and goes and as it inevitably does, we learn to accept that fact and have different, more realistic approach to our lives.
Could you share with us what are your plans for the future personally and professionally? I have no clear understanding how long you can keep performing something like this…it seems physically very taxing.
As far as my plans for the future… it's hard to answer that question for certain. I have things I would like to see happen, yes.
I plan to keep evolving as an Artist and a human being and we shall see where that takes me and everyone around.
Connect with Andrey Moraru:
Andre Moraru – Like Andrey at Facebook
Andre Moraru @ Twitter