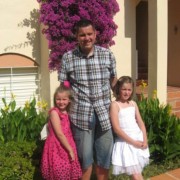 Who is Richard, can you tell us more about you and your family – and what do you do/where?
My name is Richard Berman from London England. My education is in Business and Finance, I left home when I was 18 years old to travel the world and DJ along the way , but I got as far as the channel Islands Guernsey where I spent the next 3 years as a club and bar DJ. I met my wife on the Island. She is Finnish and blond and that was it for me – I fell in love. I had always told my friends that my dream would be to meet a hot Swedish Blond , but hey I was close 🙂 . We stayed in Guernsey for a while and then moved to the UK mainland for half a year helping a friend open his own pub. We then moved to Helsinki Finland, married and had two children , Demi who is now 12 years old and Gabi who is 9. I was a very lucky expat – the very next day after moving to Finland my wife's family gave me a full time job in print and mailing. I have now worked there for 16 years.
You grew up in a very different area compared to Finland. Can you tell us more about it compared to Finland?
I grew up in London in the 80′s and 90′s I was to young to remember much of the 70′s which is a shame as they seemed more enjoyable time than the 80′gs. I can not really compare much as I only went to school in the UK and did not really work there, but the school system that I went though I would never want that for my children, there where always so many problems , fights, crime and there was not much learning in the classrooms , I always had the feeling that 90% of the teachers had given up and just turned up at work to make sure they got their pay check. In Finland my children enjoy school and have a high level of intelligence , this is one reason why I would never plan on moving back to the UK.
I do miss the British why of people saying good morning when you pass them in the street, and most of all I miss been able to walk into a shop and pick up a newspaper. As I am from London nothing really worries me about Helsinki, it's nice that it is small and I love knowing my way around a city.
What has been the most exciting "thing" or role that you've covered during your career?
As I said I have always worked full time for the family business , but what makes me happy is playing music, I spent the first 3 years in Finland playing in night clubs in Helsinki and Vantaa and I really do miss it , I gave it up because of the children , It was not good Daddy coming home at 5 am and them wanting to play game with me at 7 am , it was too much. But now the children are older I have started getting back into it and I am enjoying it very much.
As far as I can tell you are not the "average" expat, you have done many interesting things with associations and so on. Can you tell more about them, please?
I have been the President of the non-profit group IESAF for around 6 years now, IESAF ry has been going since 2004, and it is growing every year. The service that we offer is to people moving to Finland and expats that are already here. We host a number of events from information nights on living in Finland, Bankings , jobs etc and other events for families so that the children can all play together in English.
A list of other events are
Pub quiz
Curry nights
Bar nights
Whiskey tasting nights
Iesaf knitting club
Iesaf Helsinki play group
Iesaf networking and business events
Bowling nights
Lazor shooting
Paint ball
Walking tours
Biking tours
And many more
Other than the events IESAF has its on WIKI page full of information needed when living or coming to Finland, but what we are most about is making sure people do not feel they are alone in Finland. We work with other groups and share events. We get no financial help from any where .
We also try not just to be in Helsinki/Vantaa/Espoo we have IESAF Turku and IESAFTampere and we are always looking for people around the rest of Finland who could start chapters in their area.
Is there any particular story, moment, an award or an achievement throughout your career or life that you are particularly proud of?
The best thing I am proud of is when members email me to thank IESAF for all the help we gave them and it was all for FREE, that makes me feel that we have done a good job. The best moment was an American walking into the IESAF pub quiz and me meeting him and chatting for around 5 minutes about the reasons he was in Finland,after he told me he was looking for a job in banking and standing right next to me was my friend and banker I introduce them both and within a week my now very good friend the American was sitting behind his new desk working for a Finnish bank. It makes me happy to see all our members out and about having a great with each other.
I now find it hard to even go to Turku and people saying they know me from somewhere, or are you Richard 🙂
What would you say is the biggest misconception that people have Finland vs. your country in your opinion? How does your family feel about that?
The biggest misconception my Mother and Father have I think is that they always say how rude people are pushing past them in the streets and bumping into them. My mother always says that she feels people are walking into her all the time when she visits Helsinki.
There was also a message on the Finland IESAF group the other day. A woman and her family are moving to Finland – and she wanted to know if it is true if it is DARK all year round.
What kind of people survive and do well in Finland as an expat in your opinion?
In my own opinion anyone can make it in Finland. However, it takes a lot of hard work to do it, to survive is to learn the language. Yes many locals do speak English and many other languages – but there are still many who only speak Finnish. Also you have to network, make friends , I have both expats and Finns as friends. We do all get together for some great nights out, also network to make contacts. You never know this may be the way of getting your foot in the door for a job.
Are there any stereotypes of Finns that you expected (good or bad) that actually turn out to be true?
Yes some of the stereotypes are very true, shell suits (shiny tracksuits from the 80′s) can still been seen here, socks and sandals and black leather jackets. But you have to give respect to the Finns, only the other day I saw a guy in my local supermarket wearing just his Speedo swimming pants, shopping , and no one even took a second look.
What advice would you give to other aspiring Expatriates aiming for success in Finland? What are the traits you think Finnish people admire and appreciate?
What I would say is learn the language that will help you to open many doors. Otherwise you will be limited what jobs you can do, and the Finnish people do appreciate if you can speak it, even though most of them speak English.
What do you miss most from your own country – think you ever return to live back there? And how is the expat community in Finland…
The only thing I miss about the UK is a larger choice of goods to buy, the history and a wide range of things to do and my family. I will never move back to the UK , when I am there I cant wait to return to my home Finland
Tell us about your family in Finland? How do you feel about education here vs. your country? Do you see much differences with kids in Finland and school?
I love the schools in Finland. I think my school in London let me down, my children are doing very well and they seem to be learning very fast. The classes seem a lot smaller and I think the shorter school days really help the children not to get bored, I was at school from 8 am till 15.45pm every day and it did feel so long and boring. I love the fact that they get a ten week summer break.
Connect withIESAF
Facebook: www.facebook.com/groups/iesaf/
Website: www.iesaf.fi
LinkedIn: Richard Berman
An article at http://finland.fi – Life & society
By Fran Weaver, October 2013
Finland makes multilingualism easy