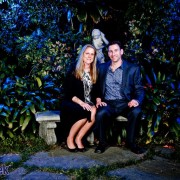 Emma Hochman (Cartmell in business)and her husband Jason Hochman are probably one of the most fun couples you can meet in Austin. Let's see if we can find out some more details about Emma…Thanks to Emma for taking the time during her busy week.
Emma, you are originally from the UK? You moved to Austin, TX a few years ago, didn't you – and we found you via EuroCircle if I recall correctly?
I am originally from London, England. I have been in the US for 11 years. The first place I lived in the US was Austin Teaxs, I was here for approximately 2 years before I moved to DC for 4 years followed by San Diego for 2 years and LA for 2 years. I moved back here to Austin 21 months ago (I have lived all over the world and this is the only place I have come back to). With in weeks of moving here I heard about the Eurocircle and joined
Why did you move back to Austin?
The People! I really love Austinites – and I married one! Outside of falling in love with my husband, I really enjoy the people and the lifestyle. From my first day at work in Austin to now I can (hand on heart) say these are the friendliest and most welcoming folks I have ever had the pleasure to get to know. I was invited to dinner at my colleague's house in my first week at work and had a team around me like family. California was beautiful but very lonely, in DC I found that people wanted to know what I did before they wanted to know my name or anything about me. In Austin you get to be who you are.
What do you enjoy most about Austin, now you have more experience of living here, how's the quality of life compared to UK?
After the people it's the lifestyle. I love that this is an all year round outdoors city. I run town lake every other day, Kayak once a week, bike, play tennis, sail, go to yoga and swim in the beautiful swimming holes as much as possible. The weather in England didn't really allow for such an outdoor lifestyle. For some reason I vividly remember my last trip to the supermarket in London 11 years ago – it was pouring rain I had 4 bags of groceries and had to walk 2 miles home because my car had been stolen. My option was to put up my umbrella hoping it didn't blow inside out and have my grocery bags cut in my hand or balance the bags on my umbrella stopping my hands from getting cut up with the bag but then get wet – I guess it's the small things!
Usually there are some negatives, what are the ones for Austin that really stand out for you personally? What do you miss most about home?
I miss my family most. I did really want a direct flight from London to Austin so that my family can visit more easily. I am so happy that BA is starting that flight in March of next year. I hope other airlines join BA soon.
Do you think your career would be the same in UK – or does this work better for you? Either way, please explain more.
The Career opportunities in America are exceptional. I leaned very quickly that neither age nor gender mattered in America, only that I was a results driven person who worked hard. I had to start at the bottom over here as my UK degrees (BSc and MSc) were not recognized by the Texas start up company I joined. However my work was rewarded quickly and within three years of starting at the bottom of a company in Austin, I was made a VP of a publically traded company in DC, after that the COO of a publically traded company in LA, then the COO of a billion dollar private equity fund. I am now a co-founder of a consulting company, helping companies in the healthcare field with go to market strategy and business development. In just 10 years I had completed a career in America that if I had stayed home would not have been possible.
Did you feel Austin is a good place for you as an entrepreneur right now? Why?
Absolutely Austin is a great city to be an entrepreneur! There is an entire eco system that supports Austin entrepreneurs as well as the broad angel investment community, incubators, and VC's who are keen to invest in Austin based companies. I work in the Health IT field and am very excited about the pace at which Health IT and biotech companies are coming to Austin and the newly approved Dell Medical School will only help accelerate that pace. Corporate taxes are low and talent pool is huge. If we could get a few more direct flights to San Francisco, Boston, NYC and DC it would be even better.
What are the best places/suburbs to live in Austin in your opinion?
I live downtown in the heart of the city and can't imagine being happier anywhere else. Downtown has changed the most in the 8 years I have been away. I love that it is becoming more and more pedestrianized; bike paths are springing up (we still need a lot more), and car sharing services make it a really manageable city. I try to support all of the local shops, bars and restaurant as much as possible as the city grows.
What's the cost of living compared to UK? What is cheap or expensive in particular?
Housing, taxes, goods, gas, cars are much cheaper in the US in general. The UK is very expensive, the only thing I can think of that is cheaper is French wine!
Did you think it is easy meeting people and making friends in Austin?
YES! The easiest place in the world. I have business friends through Austin HIMSS Chapter and the Austin women in Business networking group. European friends through EuroCircle. Friends from when I first lived here, friends that have moved here because I keep telling everyone how great it is, friends that live in my building, friends through all my sports and activities and friends with my husband! I am never alone!
How does the work culture differ from UK? (health care, clothing, customs, women, manners, food, alcohol, hygiene etc)
I think that Americans work much harder and much longer hours. It is a performance driven culture. By that I mean that you are rewarded for performance – plane and simple, if you find yourself in the bottom 10% you are laid off for "economic reasons". In the UK you can cruise in a job for years, its really hard to get fired because the British and European laws make it very hard for employers to fire employees. Additionally, while I was working in the UK I was told that to get promoted in my job I had to keep my head down for 10 years and I would get promoted. I think that this has been the most striking difference. !
Did you have any misconceptions about Texas that have turned out to be super wrong….or vice versa, you thought something will be great and it is exactly the other way around?
For the first time I have finally understood what Bernard Shaw meant when he suggested that the English and Americans are two countries divided by a common language! It is very much true. I thought that I would be able to understand everyone and they me because we all speak English but it turns that English words mean very different things in American. I really wasn't expecting that.
The second surprise was that Texas is in full support of Capital Punishment, I was taught that it is a medieval punishment outlawed in the UK before I was born. Imagine my surprise when on my first day in Texas, while in the cab from the airport to where I was staying, I saw a road blocked because of protestors. I asked the driver what was going on and he said, "these crazy people are upset that a man is going to receive the lethal injection today and they are hoping to change the governors mind". My mind was boggled and I was forced to think about a topic I had never considered. It was the first of many! There are many social topics still being debated in Texas that were settled many years ago in Europe, I was expecting the US to be more modern in their opinions.
What are your favorite restaurants/bars here in Austin (WHY) – and socially/workwise – what kind of networks do you attend to connect with people for business/personal life?
Oh food and drink, my favorite topics! I love Personal Wine for wine (incredible choices of European wine), Café Josie for lunch (its quite so you can really talk to who you are with and the food is packed with flavor without the portions being too big), Trace for brunch (the free Mimosa and perfectly cooked eggs benedict, and live Jazz make this place for me), Whole foods fish bar for a quick dinner with my husband (cheap and delicious), Franklins for BBQ – I think it really is the best in the world! Swifts Attic for dinner with friends. Jezebels for a special occasion – The meal is created to your likes and dislikes based on your interview when you arrive, the wine parings are magnificent and the service mind blowing.
Is there any other advice you would like to offer new expat arrivals at Austin?
Join the EuroCircle, I have made some of my best friends through this group. I am so grateful to Kaisa for starting this group also in Austin. My other advice is don't plan ahead too much like you are socially trained to in Europe. Austinites are spontaneous and the best nights are never planned. Be open to Austin, you will be surprised how happy you can be here.
Kaisa's comment: The European community in Austin is small compared to what it is in NYC from where I moved here 2009 or 2010. It was very difficult to get started with EuroCircle since I did not know anyone in the city. EuroCircle was so established in NYC since 1999 (15th year anniversary in Jan 2014) – without the help of Antonia Warren (Casa de Espana Austin) and Carla Wilkenfeld helping us to get started at the Austonian we'd never had gotten started here. Just like Emma I have made most of many, probably in my case most of my connections via EuroCircle.
By the way, as all of you know I would love to interview more European entrepreneurs, start-ups here in Austin!
Connect with Emma Hochman (Cartmell)
Facebook: Emma Hochman (Cartmell)
Website: www.exsede.com
LinkedIn: www.linkedin.com/in/ecartmell