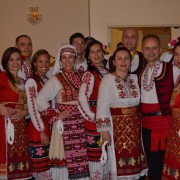 I wanted to interview Maggie (Magdalena) – we have not interviewed anyone in San Francisco – and from Bulgaria.
Who is Magdalena Marinova and what do you do ?
I was born in Bulgaria, married to a wonderful man – Damyan. We have a 2 year old son – Brady, who was born in Texas. My husband and me have been involved in Bulgarian folklore dancing for decades and have been promoting Bulgarian culture, music and arts in the States for the past 13 years.
When did you come to the USA or have you always lived here – since I believe you speak both Bulgarian and Russian?
We moved to US in 2000 and since then we have lived in 5 different states – New Jersey, Pennsylvania, Massachusetts, Texas and now in the Silicon Valley in California.
Tell us how you first got involved in with Bulgarian Cultural Center "Ripni Kalinke" – what does it mean to you?
Shortly after we moved to California in 2012, we participated in a Folklore night where close friends of ours from New York City were performing. Among the audience there were members of then Bulgarian folk formation "Ripni Kalinke". Ripni Kalinke is a title of a very famous folklore song in Rodoppi Mointain, also my mom's name is Kalinka, which in Bulgarian means Lady Bug. These few coincidences let us choose become part of it.
What has surprised you most about working with Ripki Kalinke and what do you find most challenging about it? Why?
"Ripni Kalinke" has no formal members but it is rather a group of people, who love to get together to dance, sing, laugh and celebrate different occasions. The group is very passionate and has a lot of talented people who are sharing their talents with the rest. What I find challenging is that there are people who would like to lead the group, but in my opinion need some direction how to make decisions so the group will benefit from it.
What's the best/worst thing to happen since you came to the USA and started working with Ripni Kalinke?
Ripni Kalinke is a pretty recent adventure we both – me and my husband joined and helped formalize it as a nonprofit organization. We have previously established another nonprofit cultural center in Texas, where we are still members of the board. Looking back, I do not recall anything negative in our experience in US. Damyan and I are very close and very well working team.
If you could change one thing about Ripni Kalinke what would it be?
I will put my best effort for them to trust my decisions being a President of the Bulgarian Cultural Center "Ripni Kalinke"
What do you wish other people knew about Ripni Kalinke and Bulgaria?
We are promoting Bulgarian folklore, culture and arts among other Bulgarians and non-Bulgarians in the US. I wish more Bulgarians in Bulgaria start preserving and teaching their children our culture and beautiful folklore
Do you feel there are many or any misconceptions people have about Bulgaria and Bulgarians?
That is a very interesting question – the opinion about us as Nationality is something we as Bulgarians create. I would not use misconception as a term to explain what other people thing about us. We are the way we present ourselves. We may think we are smart, but if we behave inappropriate in a society that has different common rules, then that would not be perceived as being smart, but rather rude or moronic.
What would you tell someone who is thinking about (donating, volunteering, etc.)?
Your effort and sacrifice is honorable and I appreciate considering us
What do you do when you aren't (working, volunteering)?
I work for ERICSSON as a Project Coordinator and that helps me tremendously to have my personal and non-profit projects go extremely well organized. I love dancing and can dance most of the ballroom dances. I would love to learn Tango and Flamenco first hand in Argentina and Spain. I enjoy time playing with our little son Brady.
Who are the most famous Bulgarians in your opinion?
Well it depends, but these are the names that come first – Monarhs – Khan Asparuh, Tzar Boris I, Revolutionaries – Vasil Levski, Hristo Botev, Georgi Benkovski, First digital electronic machine inventor – John Atanassov, CNN reporter Ralitsa Vassileva, artists – Chris (Hristo)Yavashev, Zlatio Boyadzhiev, Vladimir DImitrov – Majstora, Philosopher – Petar Dunov, Athlets – Stefka Kostadinova, Hristo Stoichkov, Vesselin Topalov, Lubo Ganev, Neshka Robeva, composers and musicians – Theodosii Spassov, Milcho Leviev, authors – Aleko Konstantinov, Yordan Yovkov, Elin Pelin, Chudomir, Peyo Yavorov.
What is the worst about Bulgarian culture/Bulgaria to you personally – and what is the best? Vice versa – what would you say about America/Americans in the same sense?
Bulgarians: best – culture, traditions, nature, free spirit, food, warm welcome, hospitable, emotional.
Americans: best – hard working, positive attitude, looking for solutions, collaborative, know their rights and require the best of service.
(Kaisa's note: Magdalena preferred not say what is the worst)
Do you know how many Bulgarians live in the USA – how about the San Francisco Bay area? And what are the best websites for them and people wanting to connect with Bulgarians to find information about Bulgarians?
NO – I have no idea how many Bulgarians live in the USA.
I have heard some rumors about 10,000 plus living in San Francisco/Bay area (no clue whether that is true)
Best places to connect with them – – it is yet to be discovered!
Connect with Magdalena Marinova at Linkedin
Connect with Magdalena (Maggie) Marinova at Facebook