Social Life Magazine's 4th Annual St. Barth Hampton's Party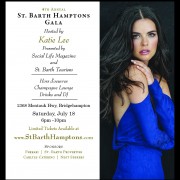 4th Annual Event 2015 Hosted by Katie Lee Presented by Social Life Magazine and St. Barth Tourism.
Open Bar – DJ – Hors D'Oeuvres – LIMITED AVAILABILITY
Featured Sponsors: Ferrari, St. Barth Properties, Carlyle Catering & Nest Seekers
Spend a night to remember at St. Barth Hamptons, an unforgettable evening set in Bridgehampton that evokes the 'haute romance' of the planet's ultimate luxury destination…St Barth. Once a year, nestled amongst the charming villages and sprawling farm fields of the Hamptons, is a gala to remember. From one season to the next, there is a singular event that emerges as a beacon to which all others strive. Sought after by Manhattanites and coveted by the most sophisticated Hampton-socials. St. Barth Hamptons, the pinnacle event of the summer is the season's must-attend affair, set in a billowing white tent under the stars in Bridgehampton. An evening of exquisite tastings and overfilled glasses of champagne, bask in the company of elegant brands, watch sleek models cascade down the catwalk during the fashion show, and enjoy the live DJ perform throughout the evening, as you dance the night away.
St. Barth Hamptons… Join us.