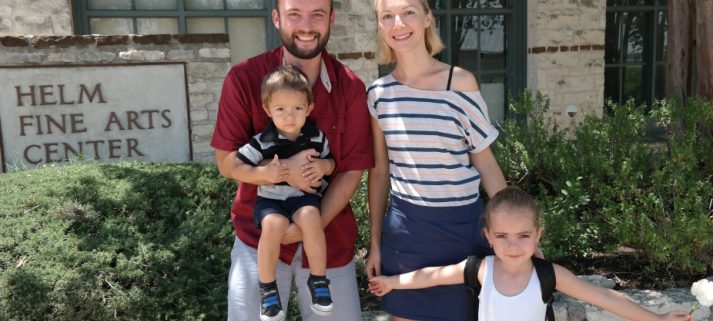 Milana & Sergey – A couple from Belarus creates a new life in Austin
My name is Milana.
I'm a simple girl from Belarus. My whole life has been connected to music and creativity. After graduating from the Belarusian State Academy of Music, my husband and I moved to Poland, where my daughter and son were born. Taking care of my children replaced my practice of music for quite some time. I never lose my creativity, though; I kept up with it by being engaged in various kinds of crafts. I found that I could turn these crafts into my job when I moved to the USA in the spring of 2016 with my husband Sergey
Sergey and I met when I was studying at the music academy. We quickly realized that we would always be together and married six months later. Sergey worked on different jobs and learned several computer programming languages and taught himself how to code, allowing him to work as a freelancer for a while.
FROM BELARUS TO POLAND
Musicians aren't paid very well in Belarus, so my husband's job has always been the main source of our family's income. Thanks to him, we were able to move to Poland, where he worked as a web developer, and then to the US, where he continues his work as a web developer. He has so many plans and hopes associated with our move and the potential it gives us; I completely believe in him!
I really want to contribute to my family too, then my husband will not be the only one taking care of our family's livelihood. I hope to use the skills that I have learned over the years and turn it into a business. Then, I will be able to help contribute an income, even if it may not be a large contribution.
I have a dream to open a small craft shop as well as a music school that implements the Russian music education from my home in Belarus.
However, these are plans for the distant future. I need to start with what I have now. "Moscow was not built in one day" people say.
ABOUT MY KIDS
My daughter, Nicole, started kindergarten in Poland where she learned to speak Polish (she has already forgotten everything, though). She is a very sociable girl. Nicole enjoys going to gymnastics and ballet. They're some of her favorite things to do! This year she will go to kindergarten in Austin, Texas. I'm very glad that she will learn a new language while attending school! This will greatly develop her thinking abilities.
Her little brother, Marcin, is 2 years old. He is a very active child and my husband and I think he might like to try playing sports soon.
I am very happy that my children will grow up here, in a country with great opportunities! However, it's a shame that they will not have memories of their native country. I continue to teach the Russian language to them at home as it is important that they know where they come from.
We didn't originally want to move so far from friends and family, but we did not want to miss out on opportunities to see the world and get acquainted with new people and places. Austin is the first city in the US that we have lived. It's a wonderful and cozy city with lots of friendly people! Thanks to Austin, I had a great first impression of America, as I always imagined it.
GETTING STARTED WITH DECOUPAGE
It was here, in this city, that I had the idea to give things a second chance! Once, when I went to a Goodwill store, I saw how many wooden things people threw out. Boxes, furniture, trays, frames, etc. Looking at them, I saw how beautiful they could still be! I just had to find a way to make these wooden objects into useful works of art! I became interested in the "decoupage" technique (implanting an image in the surface).
I looked at lots of videos and articles and now I have "new things" with an old story. Next, I tried remodeling old furniture. At my house, there is now a table, a bookcase, and a night table that found a second life in a new form.
My friends advised me to make things to sell. So, I began decorating boxes – a box can become a wonderful, one of a kind gift for loved ones or for yourself.
I like to learn different techniques and make sure that no two items are the same. I really try to make each item unique. Next, I really want to start making baskets for my clients!
I like to think that recycling and restoration of old things helps to save our natural resources on our planet. I am ready to help people in the transformation of their favorite wooden items that have lost their former beauty or give things a new look.
"Quality and attention to detail"! These are the main tasks for me in creating these works.
Milana's work can be almost any item – furniture, boxes and so on. The sky is is the limit, take a look below and
email Milana if you'd like to have her make you something.

MILANA'S WORK – item by item:
www.instagram.com/handmademilanadesign
www.etsy.com/shop/HandmadeMilanaDesign
Credit: Morgan Kainu and Julie Candoli – our editors.
https://www.eurocircle.com/euro/wp-content/uploads/austin-member/2017/07/Interview_MilanaG02.jpg
397
713
Kaisa Kokkonen
http://www.eurocircle.com/euro/wp-content/uploads/2014/06/eclogow1.png
Kaisa Kokkonen
2017-07-23 16:08:42
2022-01-10 21:41:18
Milana & Sergey – A couple from Belarus creates a new life in Austin