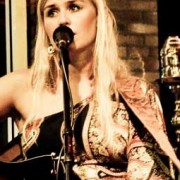 How would you describe your music?
I usually say its contemporary folk. I've been compared to artists like Joni Mitchell and Joan Baez but I think I have added a little more "pop" to my folky music. I play the guitar and I do a lot of finger picking. Lyrics and melodies are very important to me. I have a pretty acoustic sound but I like to add some unexpected effects to my live shows.
Tell us a little about your tour
My Drivin' & Dreaming tour started out in December 2011 so I've been on the road now for well over a year. We've played about 250 concerts in 37 states so far. The tour is called Drivin' & Dreaming because we are touring in an old RV that we bought down in Florida. It's been such an amazing experience and we've seen so much of the US.
When did you first start singing?
If you ask my parents they'll say I've been singing since I was a little kid. But I count it from when I started writing songs at 18 years of age, to learn how to play my new guitar.
What did your family do to encourage you?
My family has always been very encouraging. Both my parents are artists although not in the musical field. I started playing the piano at 8 years old and my grandmother was actually a piano teacher.
Who are your musical inspirations?
I think inspiration comes from everywhere not just music. Inspiration is the raw material and music is the product shaped from it. I find inspiration in life, love, tv shows, music, books – anywhere.
What kind of music do you listen to today?
I listen to all sorts of music except maybe metal and opera. Some of my favorite artists and bands are Neko Case, Aimee Mann, the Killers and the Doors, just to mention a few.
What embarrassing songs might I find on your MP3 player?
I'm not ashamed of any music I listen to so if you get embarrassed that's your problem ha ha
Great attitude. Where would you most like to perform?
Anywhere with a great audience. On this tour I've been lucky to play some wonderful venues and some of the best gigs have been the most unexpected, where you think no one will turn up and it turns out being a great gig.
Who would you most like to open for?
Neko Case. I think I'd be a good opening act for her and I would never get tired of listening to her play.
If you weren't singing, what would you be doing?
Well my day job used to be graphic designer so I guess I'd do that. But I love cooking too so someday I hope to open a small hole in the wall restaurant in Spain or somewhere.
If you could dabble in another genre of music, what would it be?
I think I could if I wanted to, but I've chosen to be a folk singer because this is the genre I love the most and feel most comfortable in. I did a project in 2011 though, where four hard rock bands did covers of my songs. That was really fun and interesting. It's four EPs called H.A.T.E and you can listen to them on http://music.sofiatalvik.com
What genre of music can't you stand to listen to?
Probably hardcore or death metal.
What hidden talents do you have?
I try not to hide my talents ha ha. Well I guess it would be my green fingers. I'm pretty good at growing stuff.
What do you like to do outside music?
I love traveling. Me and my husband has traveled in Asia many times and we got married in the Philippines. We're both divers and the waters down there are great for diving.
http://sofiatalvik.com
YouTube channel is YouTube/makakimusic.
Press pictures are available on http://sofiatalvik.com/press-photos
Sofia is performing in Austin, on Wednesday Jan 22 2013 (SACC TX)
Houston at Stag's Head on Thursday January 24th, 8pm.
All her upcoming dates can be found on
http://sofiatalvik.com/gigs