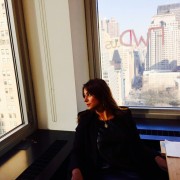 Luna Atamian is the Regional Director for Fwd.us in New York City! Let's find out how Luna ended in NYC and why she is here instead in her hometown Paris.
What is your role in FWD.us and what projects are you most passionate about?
As the Eastern Chapter Director, my main role is to grow the organization in the Eastern region of the United States and to engage business leaders who contribute to FWD.us. At the moment, I am really passionate about collaborating with policy makers and contributing to the creation of key policies that will help America remain at the forefront of innovation. We are working to encourage the Administration to do what they can via executive immigration action to further streamline and improve the legal immigration system to bring the best and brightest here, and let them grow companies. Beyond that, we're working every day to try to help pass legislation that would fundamentally fix our broken immigration system.
How did you get involved in advocacy?
I have a legal background and I studied human rights at Columbia University. I am also a good salesperson. The combination all of all these elements naturally pushed me to work in advocacy.
Tell us about Immigrant Heritage Month (IHM)?
Earlier in 2014, Welcome.us – an organization we've been proud to support – established June as Immigrant Heritage Month (IHM) to honor the ways in which America and the immigrants who have built our country are linked in a shared, productive history.
We have built a network of over 220 partners, comprised of nonprofit organizations, ethnic groups, faith organizations, and civic, political, and business leaders from across the country to join the celebration of America's unique immigrant heritage. During IHM 2014, we branded 96 events across the country as part of IHM, and government officials from 31 states issued 74 proclamations or resolutions officially recognizing June as Immigrant Heritage Month.
How can people get involved in fwd.us?
You can start by attending our FWDMonthly which is held once a month to engage in advocacy, hear from guest speakers, and explore the intersection of tech and politics. From devising innovative ways to connect constituents to Congress, to amplifying compelling local narratives, your efforts will be critical to our success. You can get more information about the incredible work my team is doing here.  If you want to get involved in a higher-level as a company or a CEO, then we should have lunch.
If you could meet any person living or from earlier times who would it be and why?
First, Albert Camus because The Stranger was the first book I voluntarily decided to read as a teenager. The book haunted me. It is intense and disturbing. I had to read it a second time right after finishing it. I used to see things in black and white. His literature helped me understand better the grey area and appreciate it.
Second, Giacomo Puccini because one needs to be completely disturbed and in pain to create such powerful music. Besides, he loved cigars. I wouldn't mind sharing one with him.
You are originally from Paris, what do you love most about it? 
What I like the most is not living there anymore. The city is too beautiful to be an everyday object for one's eyes. When I go back now, I can really appreciate what the city has to offer. It's intense and incredible every time I am back. However, I can't stay in Paris for too long. Paris makes me sad and nostalgic, whereas New York gives me energy. I forgot: I love the smell of melting butter coming from bakeries early in the morning and being able to go to a random grocery store and buying a decent bottle of red wine for only $5.
Any places that you go to when you go back to visit?
I always stop at Le Fumoir near the Louvres. It is a cute Parisian coffee shop.  It has a library/dining room where I like to spend whole afternoons. You can read or borrow books. The atmosphere is classy but simple. You will see a lot of real Parisians smoking, having a glass of wine, and complaining about life. Finally, it's one of the rare places where I can have mate, a Uruguayan tea that we drink a lot at home since my father grew up in Uruguay.
What is the best time of year to visit?
Like in any big city, people usually say spring or autumn. I personally think that autumn is only special in New York City. Thus, I am inclined to say spring because that's when the Parisian terrasse life really begins. You can spend entire days having wine and coffee outside. Seriously.
When you're not working what are your hobbies, like to do for fun?
I like traveling a lot. When I can't travel, I watch (a lot of) documentaries. At the moment, I am really into Parts Unknown on CNN.  I also like exploring new flavors either in food or wine. It became a real hobby since my boyfriend and I have been really interested in the science of food. I like writing as well and I have been writing for the Huffington Post for a few months. It's a really therapeutic activity. Reading books is also something I do regularly but I have a hard time reading fiction lately. Finally, I am passionate about opera. You should check the Metropolitan Opera's 2014/2015 season. Their line up this year is great. Aida was unforgettable.
What are your favorite things to do in New York?
Running in Carl Schurz Park in the Upper East Side where I live, hanging out in Barnes and Nobles on a Sunday afternoon, having oysters at Maison Premiere in Williamsburg (my favorite place in NY), going to the Union Square farmer's market, drinking a soy latte in the street, eating a lox bagel while feeling guilty, going to Smoke Jazz Club with my mother when she visits, making fun of New Yorkers who eat croissant with cheddar or prosciutto.
How long have you been involved in EuroCircle?
I have been involved since the summer 2014. EuroCircle and FWD.us have been working closely on Immigrant Heritage Month (also in Austin) and continue to collaborate on projects.

Connect with Luna Atamian and Fwd.us