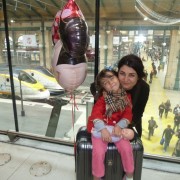 Many of the EuroCircle members have met Layla before she got married – and even when she was already married. Layla used to organize a lot of different events from hiking, dinners, disco, business networking for EuroCircle San Francisco and Silicon Valley/South Bay. She is Iranian by background – but somehow I keep thinking her as partly French, they got married on the French Riviera, she speaks French fluently – and married a man from Belgium (whose parents live part-time in France)
Hi Layla. Tell us about yourself- who are you and what would be the short story of your life? (where are you from, nationality/ies, where did you study, how did you come to USA, family etc)
My name is Layla Sabourian (Tarwe) and am originally from Iran and have lived and worked in France, Russia, Mexico, and France. Like the majority of Iranian diaspora, I left Iran under very difficult conditions. I am Mom to an adorable 3 year old, and married to a loving Belgian husband (Antoine Tarwe).
What is THE thing about Silicon Valley that captivates you the most?
Often meeting extremely successful people who are completely down to earth, and constantly inspire me to aim higher.
How has living in Silicon Valley enhanced your work experience. We know that you have had many interesting positions so we would love to hear about all of them a bit!
I came to Silicon Valley in 2005 to produce a book for the International Museum of Women about the empowerment of young women. This was during the emergence of social media and we decided to create an online version of the book, enabling women to interact in live chat and post comments on each other's work. We put out a call for submission and interviewed 7 agencies, and my first choice, Victor Zaud was selected. Victor is now the co-founder of Glam Media! The online exhibit really picked up and we were featured on Yahoo! homepage, invited to present at the United Nations, and Google and many other venues. Through Kaisa's mentorship, I learned a lot about community development and crated many successful events for EuroCircle. I then went to work for eBay as the International Community Development manager, moved to Logitech to learn about support communities, and ended up at Yahoo! where I established social presence for many of their properties. A year and half ago I was recruited to join SAP in a new role as Product Marketing Manager, focusing on go to market for consumer facing social apps.
Currently I am working on My Runway, a new social shopping app launched by SAP: www.myrunwayapp.com
I think working in Silicon Valley is voltaic. You can have the best job in the world one day and get laid off the next day. I got laid off from a job every two years since my arrival, but the good news is that each time I was laid off, I found a new job within weeks with a 20% salary raise.
If someone asked you what I should NOT miss while in Silicon Valley what would reply?
Building 4 in SAP Campus! We have some really fun tricycles and scooters, and an amazing building design.
What do you do in Silicon Valley when you feel like you just want to chill out?
That is the thing about Silicon Valley, I can't remember the last time I just chilled out! But then again, I am a working Mom, so maybe it has something to do with motherhood
Anything truly memorable that has happened to you since you have lived in Silicon Valley?
I had a chance to have coffee with David Filo and tell him everything that was wrong with Yahoo! Groups once, we also discussed the challenges of raising a daughter—that was fun. I also attended a truly inspiration talk by Omid Kordestani at Stanford.
What really annoys you about Silicon Valley – or maybe nothing does?
I don't really have an occasion to wear my super fashionable clothes.
Do you have a favorite Silicon Valley restaurants and why?
Yes, Shalizar restaurant in Belmont, I love their bread.
Do you see there are benefits for someone from abroad to come to Silicon Valley for a few years?
Of course, living in Silicon Valley teaches you to question the status quo, not to be afraid of failure and always look for innovation in everything you do.
What do you think about the cost of living in Europe or Iran vs Silicon Valley– and the standard of life and life style? If money was NEVER an issue which area in Silicon Valley would you live – or would it be let's go to Europe….
The cost of real estate in Tehran is actually equal to that of Silicon Valley—extremely high, but the average salary in Iran is 1/5th of the average salary in Silicon Valley. I am exploring an opportunity with SAP to go back to Europe for six months for a new project and try things out. We do miss living in a central place like Paris or London where you can get away for a weekend trip and be exposed to a completely new culture.
In your opinion what is the best time to visit Silicon Valley?
It depends what you are looking for. Techcrunch disrupt is a great conference in the fall you might want to check out and I think the weather is the most beautiful in September and October.
Anything else you feel you'd like to share with us about Silicon Valley or yourself?
I do miss a certain level of diversity here. I wished there were more occasions to meet African or Europeans.
Last but not least…how long were you actively involved with EuroCircle?
I actively ran the SF & Silicon Valley chapters from 2005-2009. Following the birth of my daughter I ran into some health issues that prevented me from participating in too many late-night events. I do hope to get more active again in engaging some of our parents with family related activities.
www.laylasabourian.com
www.carecircles.com/community/team.html
www.myrunwayapp.com
@laylasabourian
NOTE: On Thursday, June 27 the ones of our readers who want to know How does Fashion & Design matter for company, product, career and your personal brand? should attend a businessnetworking event Layla is organizing at SAP (free by the way). Read more www.eurocircle.com/events/40940