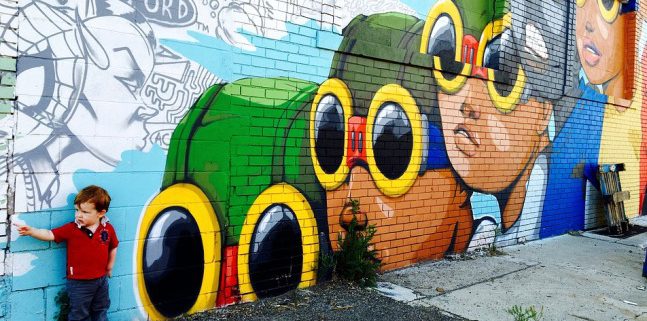 As many of you know we are always looking to share stories with you – and because I am surrounded by entrepreneurial people I love to feature European entrepreneurs. I asked Vladimir Gendelman to tell his story and finally he agreed.  Anyone who has been an entrepreneur or would like to be one will really love reading his story. The image above is from Detroit – streetart.
Growing up in Ukraine
As a child, I enjoyed big city life in Kharkov, Ukraine—which has a population of 1.5 million people. I loved spending time outside. We walked everywhere we went, like local theaters, museums, and the year-round farmers market down the street. My life was very social because everything was built so close together.
The cool thing to do with my friends was to play on a hospital construction site that wasn't fenced in. We climbed to the top of the walls and ran along them; where there was a space for a door, we leapt fearlessly across the gap. As the buildings grew taller, we had to climb up stairs with no walls or rails to get to the top. I loved the thrill of chasing my friends along the walls many stories in the air.
While I enjoyed many aspects of my childhood, I was often frustrated. Ukraine was part of the Soviet Union at the time, so there were no private businesses. That also meant no entrepreneurs, no innovation, and no options. Products looked and cost the same wherever we went. From furniture to forks to food, everyone had the same stuff. The only time I stood out was when my mom knitted hats and scarves for me that no one else had.
I remember thinking that I wanted options. I wanted to walk into a store and see twenty shirts instead of three. I wanted to see price tags with different numbers and to wear different clothes than my friends.
Moving to the U.S.
Then my parents decided to move our family to the United States. I was excited about the idea of living in an even bigger city. When I thought of the U.S., I imagined nothing but skyscrapers—like one giant New York City skyline from coast to coast. I pictured 100-story buildings with no trees. As for people, I thought the average American was a fat guy with his feet on his desk. (That idea came from the black market Disney cartoons my parents bought me, because we only had three TV channels.)
My parents knew someone in southeast Michigan, near Detroit. We stayed with that family for a week while we found an apartment. They helped us with basics like finding a grocery store, and we connected with Jewish Family Services to get help with things like translation and getting social security cards and drivers' licenses.
The town we moved to was nothing like the big city I'd imagined. There weren't any tall buildings, just houses and schools and small buildings that looked boring. No one walked anywhere because every place they had to go was too far from home; looking back, I guess it shouldn't have surprised me that in a place called "the Motor City," people drove cars everywhere. I would have had to drive a long distance to find the type of entertainment that had been within walking distance from our home in Kharkov—but since I couldn't afford to go out, I didn't have to worry about that.
Only one thing turned out to be better than I imagined: the options. No matter what I wanted to buy, I could find multiple products that all cost different amounts. I was very excited to finally have the choices I'd craved.
Starting my business
As time went by, I learned to appreciate the convenience of my new home. I realized how nice it was to drive and get to my destination quickly, or to put groceries in the trunk of the car instead of carrying them for twenty minutes while I walked home.
I opened a computer repair business in the early 2000s. One day, a customer struck up a conversation. He said he wanted "company folders" for his business but couldn't find anything. I was shocked. I thought choices defined America—and now one of my clients was telling me that he didn't have a choice.
Then I realized this unmet need stretched beyond my client: there had to be thousands of business owners struggling to find branded presentation folders. That inspired me to start my own business, so I could provide others with the options my client lacked.
In 2003, I founded a printing company that specializes in presentation folders; I called it Company Folders, Inc. in honor of my original client. From the start, Company Folders has offered more options for custom die-cut folders than any other printer. We carry dozens of unique designs, like our serpentine folder, contoured pocket folder, and gatefold folder.
I wanted my customers to have more than just a cool shape for their folder, so I began exploring other options. Company Folders now offers a wide variety of imprint methods and more than 50 paper stocks, so clients can create designs that embody their brand identity.
The more I learned about the industry, the more I developed a passion for printing and design. I frequented trade shows and industry events to learn more, and I couldn't keep that knowledge to myself. I wanted to share it with my clients—who are mostly graphic designers—to help them create amazing visual designs for their brands. I started a blog to provide helpful design tips, plus a folder design gallery to showcase free templates and cool client designs.
Completing the puzzle
Company Folders continued to expand with the release of our free resources, which were wildly popular with our clients and helped establish us as a thought leader in the printing industry. We even ranked on the Inc. 5000 list of fastest growing private companies in America twice, in 2015 and 2016.
The business was doing well, but I still felt something was missing. I wanted to have that city life again; I wanted my team to walk to lunch together and pass tall buildings on the way.
This year, that dream will come true. I purchased a beautiful, 100-year-old building in the heart of historic Pontiac. It's nestled at the center of an urban setting that's entering a boom period; the rapidly-growing downtown features restaurants, shops, and even a theater.
Moving to Pontiac will take my company to the next level and bring me full circle, back to the city environment I enjoy. I'm grateful for this chance to invest in my new city and the community I've come to love. Most of all, I'm blessed and proud to call myself an American.
Connect with Vladmir 
Company Folders, Inc.
3297 Orchard Lake Road, Suite 203, Keego Harbor, MI 48320
Main:  (248) 738-7600 | Fax: (248) 883-8880
www.companyfolders.com