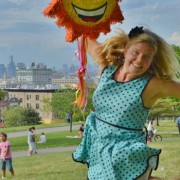 I got the privilege of interviewing Mirva Lempiainen- a freelance travel and international writer who is based in New York and has traveled the world.
How long have you been a EC member?
Since 2009
How long have you been writing?
I have been a full-time freelance journalist and travel writer for about four years now. Prior to that I did journalism part-time in addition to other jobs. I published my very first story at the age of 14 in a small paper in my native Finland.
What kind(s) of writing do you do?
My focus is on travel writing and international reporting. I write a lot for Finnish media, showcasing New York from all different angles: I've written about the best beaches of New York, unique tourist attractions, the worst neighborhoods to go to, where to find bargain deals for shopping… I also write about Finns living in the city and their accomplishments. When I'm traveling around the world, which is what I do about half of the year, I write about the places and interesting people I come across.
Is there a story or stories that are the most memorable that you have you written about?
There are quite a few. A couple of years ago I did a story about court house tourism in New York – about how you can have a different NYC experience by going to observe a criminal court case. Hearing the lawyer yell "objection!", I truly felt like I was in an episode of Law and Order. Another story that was memorable but in a different way was covering an HIV awareness march in Guatemala City. Hundreds of people gathered together to show their support for people with HIV that day. It was a beautiful event, and quite an accomplishment for a country that is very conservative when it comes to matters of sexual health.
Where are you from?
I grew up in the Southwestern corner Finland, in Turku and the surrounding islands. I always say that I have two home islands – Utö and Manhattan. One has a population of 50 people, the other closer to 2 million.
Where are you currently living?
I recently moved to Sunset Park, Brooklyn. I love it there. The neighborhood is one part Latino, one part Chinatown. It used to be called Finn Town, actually. Back in the early 1900s, there were some 30,000 Finns living in the area. Now I'm about the only one left!
Where is your favorite travel destination and why?
Having been to 64 countries on six continents, it's impossible to pick just one favorite. Latin America as an area is very dear to my heart though. I love the music, the language, the joyful attitude of people that shines through even in tough times… I would love to go back to Bolivia and Cuba in particular. Bolivia is very interesting because it still retains so much of its indigenous culture. Cuba is such a puzzle. You have to spend a lot of time there to understand it. A month was not nearly enough..
When you travel, do you travel for work or for vacation?
A bit of both. In my life, there's no clear line between business and pleasure. Sometimes I get paid to travel – like during the 2011 Quality Hunters travel blogging campaign for which I was selected out of 2,000 applicants – and other times I pay my own way, but sell articles from the places I visit. Generally I travel very slowly, spending about a month per country and often staying with local people through sites like Couchsurfing. This helps me to form better story ideas and to get to know cultures better. It also keeps my traveling costs low, which means I don't have to work a 100-hour workweek to fund all this traveling.
Is there any travel destination that you want to go next? Why?
Of course, so many! Eventually I would like to visit all 194 countries recognized by the UN. But some countries on higher on my list than others. I have never been to the Middle East, for example, so I would like to visit Jordan, Lebanon and Israel sometime soon. In Africa I've only seen a bit of the West Coast, so I'm interested in visiting the East – Tanzania, Kenya and Mozambique in particular. In Asia I have Burma and the Philippines yet to discover. In Europe I'm eager to check out the former Yugoslavian countries. The only problem is that I'm pretty exhausted by my most recent trips. Over the past two years, I've been to more than 30 countries. So for right now, I'm happy to be in New York catching up with friends, work and life in general. Despite all my travels, I still think New York is the best city in the world. For me, anyway.
What do you like to do for fun?
My favorite thing in New York is to explore the many ethnic neighborhoods of the city – like the Little India of Jackson Heights, the Polish area of Greenpoint, the mini-Ireland of Sunnyside and of course my new Latin-Chinese 'hood Sunset Park that is next to the Arab community of Bay Ridge. I am also on the hunt for the city's best rooftop bar, so I try to check out as many of those as I can. It hasn't been that easy this summer with all the rain we've recently gotten!
What's your website/blog?
My travel blog is at www.writeronthemove.com. You can also follow me on Twitter, @mirva08.
Anything else you would like to share with us?
I've started a new Weekly Wednesday video series on my blog. So every Wednesday I post a video snippet from some country I've been to in recent years, ranging from a wild village party in Senegal to eating live octopus in South Korea. Please join me in my virtual travels and join the conversation by sharing your own tales from the road! Traveling and travel writing is a great way to fight xenophobia and to open our eyes to different ways of living.