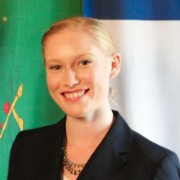 If you've ever wondered if there is any organized group for Hungarians here in Austin/Central Texas, you'll enjoy meeting Genevieve Kent. Every group is unique, let's hear her group's story.
Who are you and what group do you represent here in Austin??
My name is Genevieve Kent and I am the Founder of Austin Hungarian Association.
What is your role with the group?
Currently I am serving as President on our first elected Board. We are in our 2nd year of operation, and it is a joy to continue to see the group flourish and help it become a community run organization.
What does your group want to accomplish?
The goal of Austin Hungarian Association is to build an easily accessible, inclusive organization which meets regularly and promotes Hungarian culture. We strive to connect native Hungarians, people of Hungarian descent, and people interested in the culture by organizing fun events that highlight some of the great aspects of Hungary – the music, dancing, food, and holiday traditions.
What would make you really happy as an accomplishment with your group?
We are currently operating as a nonprofit under our umbrella group, Austin International Folk Dancers. One of our goals is to get to the point where we have enough funds saved up to apply for our own 501(c)(3), so we are currently planning some really fun events to help raise the funds so we can make that happen.
How do you think it is working out, what are your biggest obstacles and the best surprises that have come along?
Our first year was a smashing success, and it just keeps getting better. One of my major obstacles when I started the group was running it by myself, so it is a relief to now have 5 board members who are as excited about our group as I am. I never would have guessed that we would be hosting the Hungarian Ambassador to the United States during his stay in Austin little over a year since I began the group, and I'm excited about what other opportunities are around the corner.
How many Hungarians are there in Austin area and how is your membership??
Up until I began the group, I really had no sense for how many Hungarians actually reside in Austin. One of the best surprises has been watching the group grow as people find out about it – sometimes Hungarians who have been living here for the last 20 years, sometimes from newcomers just moving or visiting from Hungary who want to make some friends during their stay, or people whose grandparents are Hungarian who want to get back in touch with their heritage.
What kind of activities do you do and how do you fund the groups activities?
We do a variety of get togethers to accommodate our membership. We try to do at least one event per month, like a Happy Hour during the week, a Hungarian movie night at a local cafe, or a picnic for the whole family on a Sunday. Our most recent event was an elaborate traditional Hungarian Easter celebration, which we charged tickets for in order to cover the costs – but in general we like to keep the events at little to no cost to the public. We are fortunate in that our raffles and silent auctions have been a big hit, and featured Hungarian folk art and cookbooks that you can't find easily around Austin.
What is the most captivating thing about Austin for you?
By far the diversity in people and music. One of my favorite events that we did featured a traditional Hungarian band who was visiting all the way from Budapest who played with several other local Eastern European musical groups. The fact that so many people from different backgrounds enjoyed that event so much (and are still talking about it a year later!) just goes to show that Austin is the perfect place for cultural communities to thrive and share their traditions.
What would you tell a visitor not to miss in Austin?
Come for the live music, stay for the barbecue! Nothing compares to a great night out on the town followed by some good late night barbecue to top the evening off. Austin is a city where you can find tons of different kinds of music every night of the week, and as a native who grew up here, I take it as a challenge to enjoy all that Austin has to offer, and support local musicians as much as I can.Post
Where do you go in Austin to chill out?
One of my favorite new places in Austin is the Russian House – although you won't find me chilling out there – I love going there to cut a rug to whoever they've booked, from a hot 1920's jazz ensemble to a balkan brass band. It's impossible to go there and not dance. They also offer an amazing selection of infused vodka and Russian / Eastern European food, not to mention gorgeous decor.
How would someone from abroad benefit by coming to Austin for a few years?
The great thing about Austin is that while it's in the heart of Texas and still holds on to that wonderful Southern Hospitality, there is so much diversity here that people are much more open to other cultures and ways of life. It is the perfect place to cultivate an open mind and still appreciate all the local customs.
When is the best time to visit?
Definitely March through May – before it gets hot!
Have you connected with the other international groups in Austin?
We love going to events put on by Austin Intercultural Network, and of course, EuroCircle!
Right now, AHA is gearing up to host a Consular Day with the Hungarian Consulate General who will be visiting from L.A. Locals whose parents and/or grandparents were born in Hungary are encouraged to apply for a Hungarian passport. More info here: http://us5.campaign-archive1.com/?u=616a0b8caf5d4996b7d114388&id=be73308c6f
My website, http://austinhungarianassociation.org
Facebook: https://www.facebook.com/groups/322748184423299