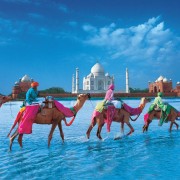 Ready to join Eurocircle on another adventure at the beginning of November 2014?
For full itinerary go to the forum:
INDIA ITINERARY
YOU MUST BE LOGGED INTO EUROCIRCLE.COM TO VIEW THE ITINERARY
Last year's Eurocircle 2013 Trip to Vietnam and Cambodia was a life-changing journey through SE Asia, and its spectacular sights.
This year, we are traveling to Incredible India!
For full itinerary go to the forum:
INDIA ITINERARY
Once again, Eurocircle members from all over the world will descend upon New Delhi, and begin an 8 day journey (plan to arrive on Nov 1) in New Delhi through India's Golden Triangle (Delhi, Agra & Jaipur). We will explore the land of the Mughals and the Rajputs, enjoy a sunrise visit to the spectacular Taj Mahal, then visit "The Land of the Kings" Rajasthan. Our journey concludes at Ranthambore, for a private Tiger Safari!
On our way, we will taste exotic Indian cuisine, ride elephants and sleep in palaces!
But that's not all. Travelers with more time, will be able to add on extensions to scenic Goa or regal Mumbai.
All travel will be arranged by me, so please message me directly to book. This year, I am limiting the group to 16 travelers, and since space is limited, please make your deposits early.
I am looking forward to another amazing adventure with you!
Sherry Kumar
EUROCIRCLE
Moving in the Right Circles
To book or make any changes for your trip please contact me (Sherry Kumar) via EuroCircle forums, FB messenger or Email Me.