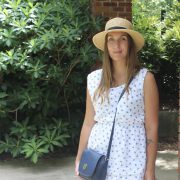 We always love to feature any Europeans. Elina is a young Finnish woman who ended following her husband to the USA – a move she did not expect. Let's hear in her own words how she dealt with the challenges.
Please introduce yourself
Hi everyone, my name is Elina. I'm a Finnish mom of two who is spending a year as an expat-spouse in South Carolina.  I am supposed to be finishing my Masters in literature at Tampere University.  Instead we decided to embrace an opportunity for a South Carolina adventure and jump in. When our daughter was born a year ago I had no idea that she would spend her first year outside Finland – in a small town of southern USA.
Our decision to go  to the USA happened very fast. My husband is working –  I'm a stay at home mom at the moment. I will finish my studies when we go back to Finland. I love this unique chapter in my life. It allows me to watch closely how our children grow.
How do you find the lifestyle in South Carolina compared to Europe?
It was surprising to find out how many things are different compared to Finland. Even the houses are different – little things from the traffic lights to gas stations are just like they are in the movies! It felt unreal to see the yellow school buses at the first time.
The biggest shock for me  – the amount of processed food offered!  I appreciate all the clean food we eat in Finland. We try to buy organic and healthy food.  I love the "Non-GMO"-stickers. I am truly grateful for the "free" education and health care we receive in Finland. It feels unfair how everyone else doesn't have the equal opportunity in the USA.
I have loved seeing how many Americans volunteer their time to do good. We have a lot to learn from this in Finland. I'm also forever grateful for the warm welcome by all Americans here!
What do you  want your friends to see or feel in South Carolina?
From now on I have to get everyone to visit Charleston. It is the most beautiful city I have ever seen – the old pastel colored houses are just magical.
I take our guests to have the complete "southern experience" to have a breakfast at Cracker O'Barrel. (Not exactly healthy and clean eating I already told about…)
What do you really miss from Finland?
I miss our sauna, the summer cottage, the cold ground under your feet and the lake's freezing water. The magical silence of nature.  Of course we all miss our family and friends. It's hard for the grandparents to miss all the new things  that the children are learning.
How do you balance your career with other obligations – husband, children, and job?
It's my husband's turn to focus on his career. I support him 100%.  I really appreciate how hard he works for our family. However, as a woman I want to continue my studies and have my own career after this expat-phase. In turn my husband supports me completely. I want to do it for myself and for our children.  I want my kids to learn how important it is to educate yourself and do something you are passionate about.
What do you miss the most – and the least of Finland?
I miss the Finnish"coffee culture".  The first question by my Finnish friends is always"would you like to have a cup of coffee?"   Everyone sits at the table, children have juice and adults enjoy their coffee. And"pulla" or cookies too – of course. There are a lot of other things from Finnish culture that I miss. However, I also enjoy the American courtesy and"small talk"- culture. It's somewhat easier to approach people and get new friends here.
I don't miss the extra-long winters in Finland. I'm definitely a summer person. I truly enjoy the summer here.
Is there any Finnish expat local group in your area – or some other European group that has been helpful to you?
I have gotten couple of Finnish contacts living in this area trough my blog.   It has been nice to make a few new friends. It's been touching how helpful everyone has been. Those people have been so amazing.  We feel so thankful for everyone's help and kindness!
When and how did you decide to move to South Carolina? Is it complicated to settle down there?
Our decision to move here happened very fast. I still remember when my husband called and told me about this job offer. We decided to take it immediately. It took only three months to stand at the front door of our new home. Those three months were crazy. There was so much to arrange: rent our home and pack everything, get the visas and all the other paper work done.  Finding out everything – it was a lot to do!
How is/was the cultural shock? What are the main differences with Finland, your home country?
The cultural shock was huge even if we had visited USA once before. However, there's no way you can compare New York City to a small town in South Carolina. Not to mention that if you think you really know something about American culture after one visit to NYC you are badly mistaken.
At the beginning we were frankly a little bit confused with the way everyone talks to everyone here. Now I find it fun and refreshing! Everyone is so nice and polite – the real southern charm.
There are some unwritten social rules and customs that are impossible to appreciate before you really live here. For example: everyone says "ma'am" and "sir""miss" etc.  You learn how you are expected to behave in social situations.
When did you start your blog and why?
I started to write a blog almost four years ago. First it was a blog of a young mom who was also a student, and then it was a wedding blog, baby blog, life style blog, now it's my story of living abroad.
I started it just for the love of writing. I thought it would be a fun hobby. I never imagined how important piece of my life the blog would be: how many amazing people I would meet trough it.
I participated in such fun events because of my blog. I never dreamed how much I love those moments when I can sit down and start writing my blog.  No to mention I have just the best readers! Right now my goal is to make the blogging a side job at some point.
EuroCircle members/visitors can connect with You:
Facebook: https://www.facebook.com/Lentoaskeleita-173707039463042/
Website: www.lily.fi/blogit/lentoaskeleita
e-mail: lentoaskeleita (at) gmail (dot) com
instagram: @lentoaskeleita