EuroCircle Ping Pong Happy Hour!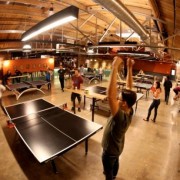 Summer fun time in Denver. Please join us to show off your table tennis skills – or just have a drink and chat
with the other Europeans & Europhiles.
About Ace:
"The fun and lively energy of the Ping-Pong hall carries itself to the outdoor Pong tables, picnic tables, and into the dining room. Ace is a different and affordable night out. A drink on the patio, a casual dinner at the Chef's Counter, and some laughs over a game of Pong combine to make Ace a totally new and unique concept to Denver.Ace serves Asian inspired dishes conducive to sharing, drinking and hanging out. Voted as Denver's Best Bartender by 5280 magazine, Randy Layman has created a bar menu featuring house made sodas, fresh juices, Asian beers and a craft cocktail menu."  Direct quote from their website.