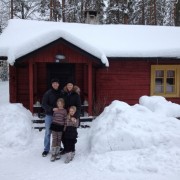 Christian is from Austin where I live right now….and believe me, it is a VERY different environment. After watching the videos about his family, I'd say those kids are fearless and will do well anywhere.
Who is Christian Erickson and your family – and what does Christian do/where?
Christian Erickson, a native Austin, Texan (AHS 1990 Loyal Forever), and his wife Amy moved to Espoo Finland in January 2012 with their then four and five year old daughters. Since 2006 Christian had led all the marketing activity for Tekla's North America operations as well as managed the Latin American website. During 2011, Tekla's headquarters learned that their marketing director was expecting. In addition, there was already one marketing manager and another was expecting in early 2012. Tekla HQ needed some help! So Christian packed his bags (and a few more items) and moved his family to help Tekla get through these long maternity leaves. None of the three returned before a year – long maternity leaves in Finland!
You grew up in a very different area compared to Espoo, Finland. Can you tell us more about it compared to Espoo? Most people would know Helsinki but not Espoo, or at least most Europeans would know where Helsinki is I probably should say.
The biggest difference for me is naturally the weather. I'd say that the weather is flip flopped from Austin. In Austin, we had short winters (if they ever came) and long summers. Here the winter is long and the summer (if it ever comes) is short. Then you have the long summer days and the long winter nights. This is certainly different! The people in Austin are more outgoing. In Espoo and Finland they are more reserved. Other differences include the homes as the Finnish home is typically much smaller and the sports that people follow, we love our Longhorns and they love their hockey.
What has been the most exciting "thing" or role that you've covered during your career or should we say careers?
I certainly enjoy the international part of my job. Working with different cultures and time zones energizes me. It's a challenge but I've gotten good at it and it's wonderful. There is so much to learn when you are working overseas and I love learning. One example was co-hosting and leading Tekla's first Asian Marketing Summit in Hanoi, Vietnam last year. The young Asians were very energetic and interested to learn more about marketing.
A "thing" in my career that was exciting took place during my second startup, Biz4Kids. I pitched a story to the Wall Street Journal, got the journalist interested, which resulted in two stories and my picture in that famous WSJ headcut drawing.
Is there any particular story, moment, an award or an achievement throughout your career or life that you are particularly proud of?
I can't pin it down to "one." For me, it has been a slow, steady climb – and I know I'm not finished. The more I learn the more there is to learn. I believe that that "one" great accomplishment is still out there. This will outshine all the others.
What would you say is the biggest misconception that people have Finland vs. America in your opinion? How does your family feel about that?
I'd have to say, from recent experience, that people in the USA believe that Finland has free health care for all. Yes, in a way Finland does have free health care but…Like most Finns I know, I get health coverage through my work. This is the same as in the US except there is no co-pay over here. My family is not covered and there is no option to cover them through my work. Because most families have working parents the parents get health coverage through work but not for their kids. So everyone that I know has private health insurance for their kids. We could get some coverage but because our daughters had tubes in their ears, insurance will not cover any ear or throat cases. So just a few weeks ago my daughter had a bad cough and trouble swallowing. The wait at the health clinic was more than 5 hours. When I told my peers they all said, "oh just go to the private clinic…and pay."
What do you enjoy most about being and working in Finland vs. your previous life? What the worst about being there….and the best? What about your wife and kids?
Oh this is a tough question. I enjoy most the new experiences. I have always sought out experiences and learning opportunities. I'm a pretty upbeat person and believe that it's important to BE where you are. So I am here with my family and we are taking as many opportunities that we can to experience as much as we can. This was the same in the USA. We don't sit around watching TV all day – we get out. There are no "worst" things but some things that we do miss from time-to-time. Just this week college football started. We miss college football. We do have access to ESPN so that is good. We miss having a car sometimes and we do miss some items we had to leave in the US such as our Vita-mix. If you own a Vita-mix you understand!
What have you found to be the biggest difference between living in Finland and Texas? Just out of curiosity loved to hear something about your other expat experiences too. This time with a family it adds other challenges.
Yes, this is my third time to live overseas. It's my longest time and my first as a married, family man. First time was in London. Just five days after graduating from JMU in Virginia, I left for London with a six month work visa. My work in a restaurant gave me plenty of cash and a flexible schedule. The result of good budgeting and planning allowed me to spend a month in Egypt, Jordan and Israel and two months in India and Nepal. It was amazing! Then in 2001, just a few months before my MBA graduation was supposed to happen, September 11 came along. All the recruiters I had been talking with just went silent. A professor who got to know me suggested that I work as a Graduate Assistant at Maastricht University in The Netherlands. I spent roughly five month in central Europe working and traveling.
What kind of people survive and do well in Finland as an expat in your opinion?
Those that marry a Finn; they seem to be the happiest non-native people here. But seriously, to survive as an expat family in Finland means that the spouse has to be self motivated. It's not a popular expat destination like London, Brussels or Singapore and there is little support from the Embassy and other clubs. Even the American Women's Club sends updates in Finnish from time to time! They do this even though most everyone speaks English and speaks quite well. Also, most all women in Finland work so there are few people for a spouse to spend time with during the day. The spouse has to be happy
Are there any stereotypes of Finns that you expected (good or bad) that actually turn out to be true?
Well, they are reserved. During my first six years with Tekla, I came over here 2 or 3 times a year so I was quite familiar with the culture and the people. Not many surprises for me.
What advice would you give to other aspiring Expatriates aiming for success in Finland? What are the traits you think Finnish people admire and appreciate?
The Finns certainly expect honesty and little small talk. In Finnish business (and in personal life) success is not only measured in money but also in quality of life. At times quality of life weighs more than the amount of money. Don't brag; don't center your conversations on money; do respect time; do respect the family. These are some differences that I notice more and more when I am in the USA with regard to conversations I have with people.
What do you miss most from Texas – think you ever return to live back there? And how is the American or expat community in Finland…
Oh yes, I will be back in Texas. "You can take the man out of Texas but you can't the Texas out of a man." That's true. I don't really "miss" too much because it is home and I can always go back. Oh at times I really wish I were on Lake Austin or preparing an HEB brisket or eating at El Patio or taking my girls to the Broken Spoke. Earlier today I saw a Nissan Commercial with Earl Campbell and Sam Bradford. It's the first time in a long time that I was bit home sick – who thought that would trigger it!? There are some expat groups that look fun but are more geared to individuals and not families. So it is not in my opinion a strong expat community for families. I am sure each will have their own experiences and it is certainly not a reason not to come here for a few years.
What do you see the best about the Finnish culture/people vs. American?
They don't brag. Some Finns have told me that they are very insecure. I would challenge that and say that most are secure. They have interests and actually take their hobbies to expert levels. I actually do like that money is not the most important thing in the life of a Finn.
Tell us about your kids? How do you feel about education here vs. Europe? Do they see much differences with kids in Finland and school?
My kids are a bit young to have a strong opinion on education. They certainly like their schools. It is a very relaxed environment for their age. School does not get serious for another two years for my now seven year old. I think my wife and I see the biggest differences; however, we are still learning about the system. My wife taught first grade in the US so she is very interested in learning as much as she can about the system here.
Is there anything else we need to know??
If you are interested in knowing about our experiences please visit my wife's blog at www.ericksonexpats.wordpress.com and you are welcome to contact us directly with any questions!
Connect with us with www.ericksonexpats.wordpress.com
Connect with www.about.me/ChristianErickson