Election Night Party @ Eros World Tapas Bar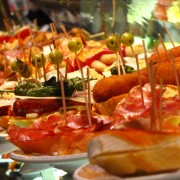 Stay tuned, details for appetizers and specials coming soon!
Join us to share this historical election night paty with other Europeans.
The place is beautiful. The the toile-covered hanging lamps. Very shabby chic. And original. The three-sided bar, which is the focal point, is expansive yet welcoming. (a tented patio outside where you can dance to DJs showcasing their music after 10PM from Wednesday to Saturday)
The tapas… Priced from $2.50 with nothing over $8, most items are $4 and $5 (except for the Paella For Two which will set you back $20). Serving sizes are substantial — a good value in today's economy. And the taste? Chef Rafael Mendoza, who took helm at the Fishmonger Seafood Grill for over a decade before coming to Eros, offers a wide range of tastes influenced by Mediterranean, Spanish, Italian, African, Asian, and even Southern cuisines. As a result, the menu is a mish-mash of different flavors, yet blended together by a culinary round-the-world tour of sorts.