EuroCircle Mixer @ American Food and Beverage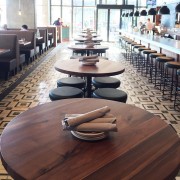 Sorry for the late invite – hopefully everyone saw the reminders I sent over the weekend and yesterday. We will have our June get-together tomorrow, June 3 at AMERICAN FOOD AND BEVERAGE in Buckhead – start time as usual will be at 7:30. Pay parking (valet) is available around the venue as well as free parking in the parking deck alongside the building (first 90 minutes are free).
We will meet in the bar area and will also enjoy complimentary appetizers.
Hope to see everyone tomorrow!!!
Salutations,
David @ EuroCircle Atlanta