EuroCircle Winter Lounge at MF Sushi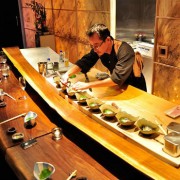 Sorry for the late update but I was waiting for confirmation and details from the venue.
We will have our first EuroCircle event for 2010 on Tuesday, January 5th at MF Sushi located at the Terminus building in Buckhead.
The adddress is 3280 Peachtree Road / Suite 110 and we will meet in the back room has recently been converted into a lounge (http://www.mfroom.com) – start time is 7:30 until….
I will have proper invite set up on Facebook and here by tomorrow so please be sure to rsvp on on of the two so I can get a head count.
Wishing you all a Happy New Year and I look forward to seeing everyone next week.
Salutations –
David