A Toast to Travel – Chicago-based travel management services offers the best Italian Experiences!
This time we are featuring one of the first EuroCircle members in Chicago – Natalie Mosallam. Natalie and her fiancee John  decided to change their lives and started a company called A Toast to Travel, LLC.  It is not hard to figure out that the company provides travel management services.  Let's find out from Natalie in her own words what and why this means to them. Every entrepreneur faces different challenges and everyone to some extent faces the same challenges.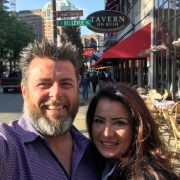 Why and how did you start?
I lived in Europe for many years and fell in love with Italy ( I am fluent in Italian and French).  When I met my current fiancé, we decided we wanted a lifestyle change. We worked in corporate America for a combined, 20+ years and really wanted to transform our lives and share our passion for international travel. We want to help people experience Europe like a local and celebrate their lives!
A Toast to Travel is all about experiencing the best Italy has to offer. We will be expanding into other countries but for now, we offer two experiences.
Our Tuscan Wine and Culture Experience takes people on great wine journeys to hidden, hard to find wineries for amazing wine tastings (and farm to table cuisine) and is based in Florence, Italy with city sites and cultural treasures.
Our Cooking Under the Tuscan Sun Experience is all about relaxation where you learn to cook each day, yoga in the morning, a painting under the Tuscan sun class and drinks by the pool. This experience is based in the Tuscan countryside at a beautiful restored villa with private rooms.
What is/are the best skill/s you have for this business and/or relationships?
As an international and technology attorney, I bring keen business skills to every negotiation and business relationship. All my experience to-date as an attorney and business person helps in shaping who I am and what I contribute to A Toast to Travel. Years of working with teams and building business relationships (nationally and internationally) certainly comes in handy when you are in the travel business.
How has your life experience made you the leader you are today?
Learning many different languages and acclaiming to many different cultures has made me very adaptable and given me the keen ability to understand people of all walks of life. These experiences have also made me very open minded and overall, a deeper person.
I am very grateful for my experience so far and do my best to give back. I volunteer at a women's shelter as a business coach and mentor. It's critical to have role models who help you to aspire to move up. I also work with refugees and help with their transition to the US culture.
What do you consider as your biggest success and failure?
The biggest success is launching our dream company, A Toast to Travel! And my biggest failure is not launching sooner.
What is your top challenge?
Our top challenge right now is getting the word out to our target market — whether that's groups of friends who want to travel together, couples or girls' trips.
Who is your most important role model?
My grandmother — she was an immigrant from Lebanon many years ago and taught herself how to read and write English.
She also had to support her family as her husband died not long after they arrived in the US. She rolled up her sleeves, would take the bus everyday (even in freezing weather) and become one for first chef's in Detroit sharing her Lebanese recipes.
As for other female leaders I admire –Oprah Winfrey—she started with very little and she's one of the most influential women in the world today. She's a household name!
What advice can you offer to women who want a career in your industry?
You need to really plan for it and then, implement. Go for it! Life is short.
What do you think is the biggest issue for women in the workplace?
Having served as the ambassador for gender equality for the United Nations Association, Chicago, I would say that the biggest issue in the US is equal pay for equal work. We really need to work on this and get this one right.
How do you maintain a work/life balance?
Be grounded, be deliberate and have faith. It will work out. I am not great at work/life balance. I am still working on that one.

What do you want A Toast to Travel to accomplish in the next year?
I would like to see tons of people going on our Experiences and having a great time while living life to the fullest!
We will also be expanding the countries/regions where we offer amazing experiences.
Contact Natalie & John and A Toast to Travel:
Call Natalie or John with any questions: 312.504.8640
Email Us
FACEBOOK:  www.facebook.com/A.toast.to.travel
TWITTER:  twitter.com/Atoasttotravel
INSTAGRAM: instagram.com/tuscanwineandtravel
Social media: www.linkedin.com/company-beta/15238883/
Everyone – let's have a Toast to Travel!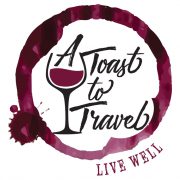 https://www.eurocircle.com/euro/wp-content/uploads/member-travel/2017/03/Interview_AToasttotravel.jpeg
636
955
Kaisa Kokkonen
http://www.eurocircle.com/euro/wp-content/uploads/2014/06/eclogow1.png
Kaisa Kokkonen
2017-03-20 17:54:21
2022-01-10 21:41:19
A Toast to Travel – Chicago-based travel management services offers the best Italian Experiences!