BE SURE TO LOGIN AND GET YOUR TICKET!  If you are not a member, but are at Facebook (and logged in) just click on REGISTER (upper right corner) and create yourself quickly your free profile. Be sure to check your EuroCircle city is Philadelphia.
"December 1913, Italy. A man arrives in Florence, after a 16 hour journey. He checks into a small, run down hotel. He is here for a secret meeting with two of Italy's greatest art experts, and he has something extraordinary to sell- the world's most famous painting, the Mona Lisa by Leonardo Da Vinci. The Mona Lisa had disappeared from the Louvre two years earlier. It was one of the most incredible art heists in history. It involved a police investigation across Europe, a possible forgery scam in America, and even the arrest of Pablo Picasso. Pablo was petrified, he was about to be deported"…… Find out what happens next, at our live talk with Joe Madeiros, of Late Night with Jay Leno.
Our speaker is none other than funny man Joe Madeiros, head comedy writer of Late Night With Jay Leno. His career began with a correspondence comedy course in joke writing, when he landed a gig on America's favorite late night talk show. So how did he track down the thief who stole the world's most famous painting?
Join EuroCircle and our programming partner, the Geographical Society of Philadelphia as we bring you a night of comedy, intrigue, and mystery solving with Joe Madeiros in person. After the presentation, join EuroCircle co-hostess Valeria Khmelnitsky (Ukraine) for drinks in the Northern Liberties. (Exact location TBD).
EuroCircle members:  $25 presentation, plus optional EuroCircle member gathering for drinks nearby. Cash bar.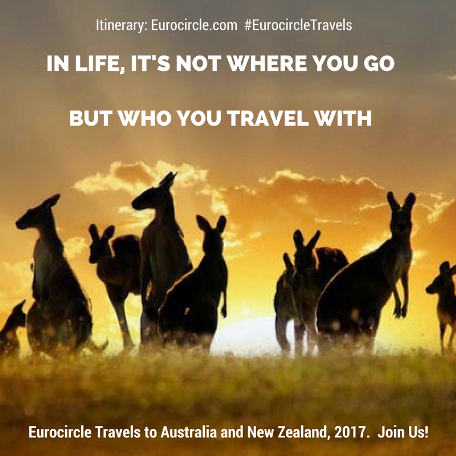 OCT 2017 – Travel with Sherry to Australia & New Zealand
This year, our gathering takes place down under, as we meet in Sydney to embark on an 13 day tour of both Australia and New Zealand.
Sydney/ Cairns, Great Barrier Reef, Queenstown
Tentative Departure Date, Oct 25 2017
http://www.eurocircle.com/euro/eurocircle-travels-to-australia-new-zealand-october-2017/
Save