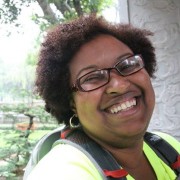 Traveler bio: Born and raised in Brooklyn, Alana first joined EurCcircle while she worked in Philly in 2006. With her high voltage smile, she quickly became everyone's favorite at EuroCircle events.
In 2013, Alana packed her bags and embarked on an epic journey across the globe, and met her fellow EuroCircle travelers in Cambodia. Here is her story:
1. Unlike most of our members, you haven't traveled much outside the USA. What possessed you choose Eurocircle Travels to Cambodia & Vietnam, as one of your first adventures abroad?
I rarely do what is expected. I was raised like many African-Americans in one of the lowest income areas in New York City. However, my parents come from Jamaica and Bangor, Maine. They taught me to dream big and I could go anywhere my heart desired. Cambodia and Vietnam like me, are diverse and full of life. It just made sense.
2. Prior to joining us in Siem Reap, Cambodia, you took a little side-trip to Singapore all by yourself. What did you think of Singapore?
Singapore was absolutely amazing. It is very clean and people were super friendly. My favorite experience was probably the fish pedicure. I know there are many places in the world that has these, but I thoroughly enjoyed myself at the one that was in the mall below the Singapore Flyer.
By the way, I won $400 at the Sands Casino – paid for my Singapore trip.
I went to Malaysia for a day as well. It was a great side trip, and I met an Indian family from Australia. They took me around the area with all of the lovely sites.
3. During the trip, you seemed to have a permanent smile tattooed on your face, and you quickly became everyone's favorite. How do you deal with all the different personalities of a travel group, and manage to have a stress-free trip?
What's interesting, is before anything, I want to have a great time. The number one rule I say while travelling is "When in Rome, do as the Romans do!"
Why not, we only live once and the more we open up to new people, places, and things, the more enriched our lives will become. Didn't hurt to have an awesome travel buddy…
4. If you could prepare a novice traveler for south-east Asia, what advice would your give him/her?
Beware, you will have a great time as long as you have an open heart and mind. People are just super welcoming. If you like laying on the beach and not partaking in history and culture, then where we went in South-East Asia isn't for you. However, if you like to be adventurous, then GO FOR IT!
5. If you could re-live one day of EuroCircle Travels to Cambodia and Vietnam, what day would that be?
Angkor Wat in Cambodia. Such an amazing temple and the history behind it, with over 1 million people once living there is remarkable. Then the place we had our lunch, the little girl who kept peeking around the corner. She was so lovely. I go back to that day often.
6. India (Nov 2014) is probably the most exotic trip I have planned so far for EuroCircle. This will be the ultimate test of what members can endure in terms of being faced with extremes all at once. On one hand you will witness the most extreme poverty on earth, and 15 minutes later, you'll be standing in the middle of a gem-encrusted palace. What are you doing to prepare?
We saw similar extremes in Cambodia, and I was surprised that I managed not to struggle with the disparity. I know I can't save people on an individual level. I plan to prepare mentally through prayer and meditation while identifying organizations working in India to raise people out of poverty.
Now the gems encrusted palaces, well, that is right up my alley. But I will be honest I have a script prepared for the elephant handlers, if they are abusive, well let's just say I will be vocal.
Alana at Facebook
Alana at EuroCircle
EuroCircle Travels is an annual program, that takes our members on a global adventure. So far, we have explored the silk markets of Istanbul, trekked to the top of Machu Pichu, raced tuk-tuks in Siem Reap, Cambodia, and sailed down Halong Bay for an unforgettable experience. If you would like more information about our upcoming trip to India, please E-mail Me ASAP!
As a perk for all Eurocircle travelers, we have condensed .pdf travel guides. They are easy to read on your mobile device, and best of all, they are FREE for all Eurocircle members. To obtain a copy, let me know your destination, and your e-mail address, and I will forward a copy to you. (E-mail Me Your Request with all details)
Looking forward to traveling with you,
Sherry Kumar
E-mail Sherry