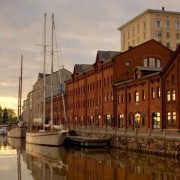 If you like unspoilt nature Finland is a great choice for you. Despite being one of the largest countries by area in Europe, it is also the most sparsely populated with only an estimated 5.4 (2013) million inhabitants. There are around 180,000 lakes dotted about and the Finns like to make the most of the short summer months by spending as much time as they can by the lakes or by the sea. (the number is larger if you could very small lakes) They pass the time fishing, sailing, swimming and hiking in the regions that some might consider fairly remote. Finland is bordered by Sweden on the west, Norway to the north (only the tip of FinlandO, Russia to the East and Estonia to the south. Estonia is across the Baltic Sea.
Language and culture
Finnish is the commonly language spoken in Finland. Swedish is also spoken on the coast and especially in the southern parts of Finland but only about 6 % speak it as the native language. Very very small minority part of Finns speak Sami (saame in Finnish) which is related to the Finnish language. However, the Finns really don't understand it and hardly anyone even recalls sami has an official standing in the Finnish constitution.
Religion
The main religion in Finland is Evangelical Lutheran (Christian – Protestant) – over 80 %. The Russian Orthodox is the next biggest religion (Russian heritage). Finns can not really be described as "religious" even if they study religion in school – they study all the religions, not only they own.
Sport and leisure
Finland offers a wide variety of activities for winter sports fans including downhill skiing and cross country skiing with many trails networking the country. Fishing is a favorite pastime as well as water sports during the summer. Many of the lakes and sea may be frozen between November and March but the fishing continues! With the vast forests in Finland many people like to hike. During the autumn when the leaves change color and summertime with the midnight sun, one will discover different faces of Finland.
Driving
The usual rules of Europe apply when driving in Finland i.e., seat belts are mandatory front and back. Do not drink and drive. The Police can pull you over at any time and if you are over the limit, you risk going to prison. Passports, driver's lisence and other relevant documents must be carried at all times, headlights must be used on roads outside of the towns at all times. In addition, also in the towns headlights must be used in wet, dull or misty weather, the national speed limit on highways (moottoritie) is 100kph, 80 – 100kph on main roads and 30kph in the cities as a rule.
Public Transport
Public transport in Finland can get expensive. There are good bus services, but many people prefer travel by rail. There are different kinds of service by train with the local commuter trains, the intercity trains and the superfast trains the Pendolino which has restaurant facilities.
Communication
Finland is known for its excellence in telecommunication with digital fibre-optic fixed line network and a wide coverage for mobile telephones.
There is a national radio and television company which is funded by license fees and there are two private media companies with national TV channels. The national company Yle has four channels. Although satellite and cable is possible in Finland it is not common.
Electricity
Electricity in Finland is 230 volts and 50 Hz and the plugs are the European two pin. Few people in Finland use gas now and most households are dependent upon electricity. The electricity in Finland has recently been deregulated so that the prices of consumption are competitive.
Climate and Weather
Many people who are not familiar with northern Europe think that Finland is a land of ice and snow and that it is always freezing cold. This is not so at all. The long summer days are frequently warm with temperatures reaching 20c in the height of the summer (in the last few years Finland has had extensive heatwaves with super high temperatures for weeks). In the winter temperatures can plummet to minus 20c from December to mid March and, in the depths of winter the sun struggles to make an appearance at all up in north. Even in Helsinki a December day is short with sun light – the sun rises around 9 am and goes down around 3 pm. The weather is much more temperate usually in southern Finland than in Lapland.
Visas and Immigration
A valid passport is required by all nationals except for EU members with a valid ID card. Visas are not required by EU members or nationals from Australia, Canada or the US for stays of up to 90 days within a six month period. Prospective expats from the EU must apply for a residence permit if staying longer than 90 days.
Pets
Expats taking pets to Finland should ensure that the animal has a microchip which complies with ISO (International Organisation for Standardisation). The pet should have the pet passport as required by the EU ruling 998 which states that the animal must be shown to have been vaccinated against rabies and other diseases by a licensed vet at least 30 days prior to travel.
Currency
The currency in Finland is the Euro.
Health Service
Finland has a very good public health service which is funded via taxes and supplemented by health insurance. Anyone who has lived in the country for more than four months must contribute to the health system (via taxes).
Education
Everyone must attend school from the age of seven for nine years until 16 (9th grade) when students need to pass an exam on order to enter for post lower secondary education to higher education (high school 10-12th grade = lukio in Finnish) or to a vocational school. The applications are made through a centralized system. The public school system is one of the best in the world if not the best. All Finnish teachers have university level education and teaching is a respected profession. Even kindergarden teachers have masters degrees.
There are an International school, Russian School, French School, English School and many Swedish speaking schools in Helsinki.
Buying/Renting Property
Buying property in Finland is not difficult and can be processed via the Bank and a Real Estate Agent without the need for a lawyer. Sometimes it is advisable to use the services of an attorney/lawyer who can look into the 'nitty gritty'. Foreign nationals are permitted to purchase property anywhere in Finland except for the province of Ahvenanmaa.