Border Crossings: Life in a Masai Village with Daniel Salau Rogei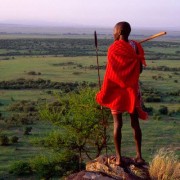 Daniel Salau Rogei, Masai leader of Kenya, learned first hand about wild animals, nature, and the environment in his home in Olosho – Oibor. He is proud of his indigenous culture where the Masai are both hunters and stewards of big game in the local environment. He has struggled with limited access to clean water and food due to drought and marginalization, and has devoted his life to study and improve the living standards of his tribe, and the world around him.
Mr. Salau's many interests include Indigenous Peoples' Rights, Intellectual Property Rights, Biodiversity and Conservation. He visits the US as a guest of the Masai Cultural Exchange Project, and Delaware Valley University, Doylestown PA, where he will speak at an environmental symposium on October 14-16th, 2015.
Daniel Salau Rogei is a social scientist, who received his BA in Community Development from Daystar University in Nairobi, Kenya, and his Masters in Environmental Science and Climate Change from University of Nairobi. Mr. Salau is married and the father of two children. His family lives in the Olosho – Oibor village in the Rift Valley.
Advance Tickets are Required: $10 Members of Eurocircle/Geographical Society; $15 non-members For tickets call 610-649-5220. Cash bar.
Border Crossings is a joint collaboration between Eurocircle and the Geographical Society of Philadelphia. It aims to humanize people and places from around the world through substantive presentations and conversation with those intimate with the culture.