Border Crossings: Bulgaria's Brain Drain: Why Even Refugees Don't Want to Stay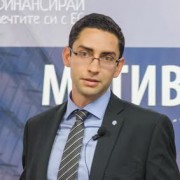 Join EuroCircle for Border Crossings, our collaboration with the prestigious Geographical Society of Philadelphia. This is a series of talks involving wine and conversation. We bring engaging speakers with an intimate knowledge of a foreign culture, to bring guests an opportunity to experience global news making events from the perspective of people on the ground.
Tonight's Talk
Almost 30 years after the fall of communism in Bulgaria, the population of the country is dwindling with an increasing rate. The majority of its young people are immigrating to Western Europe and even refugees fighting their way out of Syria aren't interested in staying in Bulgaria, despite the country's natural beauty and opportunities for settlement. Why?
Speaker
Todor Raykov was born and raised in Bulgaria where he gained experience in the private, public, and non-profit sectors. His country's radical transition from communism to democracy inspired him to study Political Science at Sofia University and later to explore how business creation could serve as a powerful tool for Bulgaria's revival.
In 2009, he founded a non-profit organization aimed at fostering entrepreneurship among the Bulgarian youth and at building bridges between the universities, the business sector, and the student community. Later, Todor received funding from the European Commission to work with an experienced entrepreneur in Finland and implement the best practices in Bulgaria. He was granted a Fulbright scholarship and obtained an M.S. in Innovation Management and Entrepreneurship from the Fox School of Business at Temple University.
Todor has worked as an assistant to diplomats at the Bulgarian Mission to the United Nations in New York and at the Bulgarian Embassy in Washington, D.C. In 2014, he joined NextFab, Philadelphia's largest product prototyping center and business incubator for hardware technology startups, where he currently works as Assistant Incubator Director.
This is a TICKETED event so login and get your ticket…