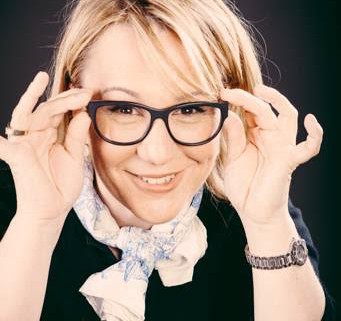 Parisian Style in Philadelphia – Valerie Vittu @ Margot & Camille Optique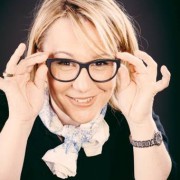 Born and raised in Paris, this French transplant, arrived in USA in January 1994, and has moved around quite a bit before finally settling down in Philadelphia, in April 2005. If you frequent Old City or enjoy its arts scene, you may have noticed her funky eyewear shop Margot & Camille Optique, on North 3rd Street, with its modern orange and white décor. Step inside, and you'll be greeted by a warm smile and a collection on unique accessories, sourced from the best showrooms in the world. This is where east coast's best dressed get accessorized, and personally styled by owner, Valerie Vittu.
SK: You are a big fan of living in the USA, and a huge part of Philadelphia's fashion and cultural scene. Why did you choose to make Philly your home?
VV: At first I didn't choose Philadelphia, but rather it is Philadelphia that picked me. I used to work in NYC on Madison Avenue, and after the birth of my 2nd daughter, Camille, going back to work in NYC was such an expense in day care and nanny, that I thought why not open my own optical boutique. A friend told me about Old City and first Friday. I checked it out, and that was it. I felt like back to the Marais in Paris 30 years ago. All I saw was the possibilities of what Old City could be.
SK: American women have always admired personal style of French women, and are a bit intimidated by their polish and sophistication. How do you view the fashion scene here in Philadelphia?
VV: Intimidated? You mean totally scared. I think many American have a chip on their shoulder about style and fashion. It is time to give it up. I find that American women who are interested in fashion know more about it than some Europeans. They may not know about some less published designer like Courreges, Celine or Balmain, but when they decide to know about the subject, they are way more informed than some French women I know. What's missing is the growing up with this type of fashion awareness. But the next generation may be more educated from birth.
Meanwhile, Philadelphia women won't dress up so often on average. They are looking for the practical versus the fashionable. When I first arrived in Philadelphia I dressed down a little because I looked so unapproachable in my upper east side outfit; it was intimidating. Very few people would talk to me and as a result, my clientele was mainly men. I could not figure it out. So I bought clogs and started to wear jeans to work, and women started to come in. I gave them a way to relate.
Now, it is better. Old City has grown and lots of people are coming from many different places, including NYC. So I put back my heels and wear my black outfit again… And women now ask me advise. Funny.
SK: Economically, Philly has always been a tough market for a small business owner. With a luxury product, how do you compete and stay ahead of the curve?
VV: I don't compete. I just figured out: "it's not going to be easy, so might as well be authentic". I never really understood Philadelphia's market. Some days are good some not so much. The key is to follow your heart. I sell what I truly like. I know the value of my product and I believe in it. At the beginning I would cry, wondering why I came here? I saw something and I felt like I have been duped. I would blame myself for diving head first into something that existed only in my mind. Following a vision seamed to be a bad idea.
Today, I think I stayed ahead because I never consider to be arrived. I take myself as a student of life. Maybe, because I failed high school and managed to study around it. If I had a master at something I would have stopped learning and I would have never grow.
SK: As a French transplant, what do you think of Philadelphia's international social scene?
VV: It's getting there. I won't call it United Nations, but it's getting there. I think Philadelphia has been for a very long time a very clan city. Very impermeable to anybody from "outside". When I first arrived, the only French or foreigners were older than my parents. You had to go to south Jersey where was the Durand glass factory to meet some French people. Most of the foreigners live together.
We have little Italy, Chinatown, the Polish, Irish, German and Russian "neighborhoods ", but no French one. Mostly because the French are known to be loners. And thanks to that it helped me to Americanize myself much faster at the beginning. In 2008, when the Euro was very strong, many French companies bought some pharmaceutical business around Philadelphia, so the French community kind of expand.
As far as other nationalities, I don't know. But all I know is that as long as it took, I now can tell that I belong. I do have many friends who are "natives Philadelphians".
SK: What would a Parisian find most charming about Philadelphia?
VV: I think Old City, because of the historical landscape and the art galleries. Like I said, it really remind me of "Le Marais " in Paris. Plus the old buildings with their lofts and apartments are so charming. I feel like it is half Soho half "le Marais". And the cobble stones streets remind me of the north of France where my mother's family is from. I have so many memories from driving on the "pavets du Nord" And also, the parks. So many; it gives a sense of peace to be in a city and to cross "gardens" here and there. I used to go at the "Jardin du Luxembourg " when I was young. It gave me a sense of natural resourcing, like grounding energy.
And of course the art scene. To me Philadelphia feels like you can express your feelings with art. There is the music, but so many sculpturing and painting everywhere. There is the murals but I love that we have galleries who are so "avant garde " it almost looks like they don't care if people are ready to understand it or not. They just exhibit. It feels like their mission is to show what it is. And that's ok, you'll get it one day. My favorite gallery if I could just pick one would be the Becker Gallery on 2nd street. The Beckers are such nice people and when you let yourself in their world it is fun. I think Larry , who is an icon in the arts gallery scene in Old City with the Snyderman Gallery, is so funny. I may not have been his fav at the beginning, but when I told him I was in Love with Soulages, we connected. I think I love the people who's purpose is art; and these people are in Old City. It matches with my purpose of Beauty and Value.
SK: In your opinion, what are the biggest misconceptions Americans have about life in France?
VV: They think the French are nice. I don't see it this way.
SK: But you are nice to your customers.
VV: humm… I would say I am brutally honest, which is not always a good thing
SK: So what do you see in the French that American don't ?
VV: I see how France has been evolving with fashion, art and architecture . I get how charming it looks to Americans. But it is mainly because our history and heritage are a little older than the USA. So it is kind of inevitable to have it in your blood when you are from France or Europe. There is always an urge for a visual surrounding that please the eye. Anything in France seams artistic. So basically Americans fall in love with France. But got to know sometimes the lovers can a jerk.
SK: If you had to define the source of Fashion, what would it be?
VV: If I had to define a "route for fashion" it would be: London gave birth to it, Rome amplifies it, Paris cleans it, and New-York sells it.
SK: How do you see eye-wear in the fashion world?
VV: Eye-wear, not sunglasses, has been a popular fashion accessory since 1980 in France. It is that urge for something esthetic that pushed it out of the catwalk. In the USA it has started in the late 90's. Before, it was like an Old City gallery, something marginal. The eye-wear industry is going to explode and become like the hand bag mania. People will have more than one, it will convey a social status, a personality and will give each individual a significance.
After all, eye-wear is a revenge on a handicap. Impaired vision is the worst that can happen to a kid at school. You get to be called names etc. To own it has an accessory that make you look amazing; this is priceless.
SK: So do you see your business growing in the next few years?
VV: Yes, but not in an easy way. The distinction between what's high end and what's not is going to be difficult. The fine products are going to be shadowed by the over priced and less than good. In the end, people will say: " I spent so much money and it didn't last! Went back, they could not fix it or replace it"; customers are going to be frustrated and will lose the faith in the product just because they will have been fooled by someone who sold them something too expensive for the value of the product.
SK: So what how do you think it can be prevented?
VV: Education. The consumer has to be educated on the fine eyewear. I have been giving speeches to doctors and opticians trade show since 2007. We have to send the same message. People need to know the difference, the same way they know the difference between a Kia and a Maserati. It has nothing to do with the price, it is just a matter of value, and prestige. High end products have zero budget for marketing, because high end manufacturers put all the money in the product. The more advertising you see about a product, the less money there is in that product. Branding on the other hand, is developing a concept, an image, a standard. That's what we have got to do. And keep on the integrity level.
If you live in Philadelphia, or are just visiting, take a stroll through Old City, and pop into Margo & Camille Optique, 47 N 3rd St. You will be glad you met Valerie.
Interview by Sherry Kumar, EuroCircle Philadelphia
Valerie Vittu @ EuroCircle Forums
https://www.eurocircle.com/euro/wp-content/uploads/member-philadelphia/2016/01/Interview-Valerie-Vittu.jpe
512
341
Kaisa Kokkonen
http://www.eurocircle.com/euro/wp-content/uploads/2014/06/eclogow1.png
Kaisa Kokkonen
2016-01-20 20:03:15
2022-01-10 21:41:27
Parisian Style in Philadelphia – Valerie Vittu @ Margot & Camille Optique