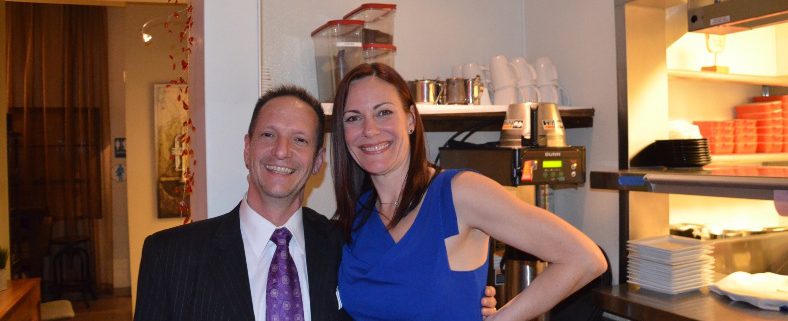 The purpose of EuroCircle is to bring to life the multiple stories behind European, Europhiles and the good people who surround us.  There is great food, culture, art, education, startups, families, heartbreaks, and romances.
Today, I would like to introduce you to Lindsey and Eric Fillion, the owners of Pardon My French Bar & Kitchen in San Diego.  I "met" Eric online a few years back but never really knew what he did and since I personally don't live or visit San Diego, I never thought I would have the opportunity or reason to interview Eric.  However, that all changed when one of our favorite Austin members, David Lowe (UK) and his lovely wife decided to move to San Diego.  One day David and I were both admiring the cutest name for a restaurant, Pardon My French Bar & Kitchen and then I realized I actually knew the owner.  I became incredibly curious to hear their story and decided to reach out to them so that I could share it with you.
Who are you two and how did you meet?
We are a husband and wife team who own a small neighborhood French fine dining restaurant in Hillcrest.  "I am a San Diego native and Eric is a French Canadian from Montreal", says Lindsey.
"We met in the winter of 2008 at the Casbah, a small but well known bar for local musicians.  Lindsey worked as a promoter and was wearing a pair of red high heels and I wanted to compliment her style, so that's how our first conversation began" Eric recalls.  Casbah was not really his cup of tea in many ways but he happened to be there for his friend's birthday celebration.  Eric spent the majority of his life as a top ranked professional Ballroom & Latin dancer, so dive bars with live rock and roll wasn't on his list of choice.
So this was a professional connection that grew slowly into a romance?
No, we were both there for a mutual friend's birthday and the romance began at "hello".  We had an immediate connection.  The two of them laughed and explained: "When Lindsey was making her exit from the Casbah, she yelled out her phone number".  "If he remembers, he remembers, and let the chips fall where they may", Lindsey thought to herself.
Eric counted on his friends to help him to remember Lindsey's telephone number, each of them memorizing different parts of the number. They later tallied their notes and Eric had a full number.  Slow burning romance was not in his mind. In fact, three weeks later he proposed to Lindsey. Eric even asked her father for permission.
Following 25 years in a career built on continuous hosting, some might consider taking a step back and not opening a bar and kitchen.
Why did the two of them open this restaurant?
Eric says since the time he was 11 years old he had in his mind to own a bar or restaurant. Not to mention there is a difference as he says "before, I was hosting for other people."
He wanted the freedom to construct his own experience for others to enjoy. In many ways Lindsey felt the same. "I have always been a "social butterfly" as my parents would say, a natural hostess and believer that providing people with a comfortable and inviting space to occupy can improve your well being, which is what drew me to both of my previous professions, Interior Design and Music promotion.  They may seem like polar opposites to some but to me they are not mutually exclusive.  When I met Eric, I was promoting and booking events for Rockit Entertainment where we helped musicians find their place in the local music scene and produced events for them to shine.  Prior to that, I was an Interior Designer who specialized in yacht design.  Being social, outgoing and elevating others made me happy on a personal level and the Interior Design provided me with a creative outlet to beautify someone's surroundings.  We have combined those elements in the restaurant; we are constantly socializing, we provide a warm and welcoming environment and even book live entertainment every Friday and Sunday, and occasionally Thursday".
How did the name come up?
We were determined to find our own stage to do what we wanted with our multiple interests. We started Pardon My French events, a series of art exhibits raising money for "A Reason To Survive", a nonprofit organization dedicated to providing art and music supplies, plus education, to children in the San Diego community. Kids would otherwise be unable to explore and nurture their creative talents.
areasontosurvive.org. We had a tagline "Emerging art, fine champagne, and sexy music – welcome to the good life."
People loved the events but we were losing money. Donations were less than the costs which happens easily with art events. We wanted upscale events, which meant catering and we also felt compelled to provide some sort of donation to insure the nonprofit benefited. We had no choice – the exhibits had to be put on the back burner.
Lindsey says "We knew we had a great idea, but needed to put the plan to bed and re-think our business model.  We started searching for properties. We are pretty certain at one point we must have known every restaurant and bar for sale in San Diego.  Once we entered HEAT on Park Blvd. we knew we had found OUR spot."
Why did you like the location?
Eric says "two things made 3797 Park Blvd the only acceptable choice. First, we personally clicked with the previous owners and they were fastidious about cleaning the place – we have kept it up. Even at the end of the week after we have served 800 covers, it is still the cleanest kitchen in San Diego.  Second, we both feel at home here."
When they first came to the restaurant they were having dinner with Lindsey's parents. A group of four, all different ages, and each one of them agreed. The space cost more than they had budgeted but Eric and Lindsey decided to take their chances.
Eric says "all that has happened to me in my past, and all that has happened to Lindsey in her past, it all amalgamated and we ended up here, home. Even though we are from such different backgrounds, we have many things in common. I have spent my entire adult life, 25 years on the ballroom dance floor, everything was host driven. We are doing the same thing now, just with a restaurant."
It did not scare you off knowing how many hours you will be working in a notoriously risky industry?
Lindsey laughed and says "it is a lot of hours and a lot of work. However, we truly have fun while we're here so it doesn't always seem like work. We are surrounded by wonderful people, we make new friends every day, drink great wine and eat top notch food prepared by a Michelin trained chef; it doesn't get much better than that.  I have always lived by the adage "work to live, do not live to work" and that remains the case even though we are here more than at home.  It's cliché but true, do what makes you happy and you never work a day in your life".
Eric adds "You don't need to wear multiple hats.  Just be a good person and do your best at everything you do." Eric is a farm boy from Montreal who began his days at 4am to take care of the animals before school, began learning the basics of dancing in his basement as an adolescent to taking lessons and practicing 12-15 hours a day to become professionally ranked 5th in Canada and 6th in the US, so is not new to hard work.  Lindsey adds, "when Eric wants to learn or do something new, he goes all the way, no short cuts and he is not satisfied until he's an expert". "And I found myself a perfect accomplice in Lindsey who not only knows what a hard day's work is but chooses to live her life with flair and like there is no tomorrow", adds Eric.
Who is your chef?
We have a wonderful Michelin trained chef Dariusz Szelag. He is originally from Krakow, Poland and attended the National Vocational Qualification (NVQ) at the Westminster Kingsway College London Victoria where he began working along great chefs including Daniel Galmiche, Jun Tanaka, and Norbert Niederkofler. Before moving to the United States, Dariusz's career took him all over Europe and the UK where he learned to marry flavors from across many regions.  He trained in the 2 Michelin star restaurant, The Vineyard at Stockross, part of Relais & Chateaux, and later as the Pastry chef at the five star and two AA Rosette acclaimed restaurant, The Milestone. In London Dariusz worked alongside Michelin star chefs from across Italy with Prêt à Diner at "Italians do it better".  Having been at the helm of a great concept with Prêt à Diner, he then worked at London's first pop-up members club in the Royal Academy where he worked alongside Michelin star Chef Ollysan.  Additional experience includes being hired as the Senior Chef de Partie at the Coworth Park run by a Dorchester Collection alongside Michelin Star Chef George Kostis, the US Grant Grill Luxury Collection and finally as the executive chef for us.  He brings an energy and love to the kitchen and we take care of the hosting.
What has been the biggest challenge in restaurant industry, and how did you overcome it?
Not being a corporate restaurant with deep pockets and a large PR/marketing firm, i.e. "Mom and Pop" it has been challenging to get attention from the media, food critics, and get on the "best of" lists despite our numerous attempts at reaching out to them to come sample our food.  Those lists typically feature restaurants that have large advertising budgets and certain PR firms in town.
As far as overcoming it goes, we simply won't give up.  We will keep contacting them about menu changes and events, continuing to do our own PR and social media marketing and talking to everyone who comes in to get our message out there.  These efforts are working slowly but surely, we are starting to gain attention, receive "best of" awards in local publications and more personal stories written about us in general, not specifically just the merits of the restaurant.
Could you tell us your best-hidden San Diego gem?
I don't know if it would qualify as a "hidden gem" but the Old Globe theater is just down the street from us and has amazing production. Also, the people involved are so lovely and gracious.  We work with them a lot and do some cross promotions – they suggest us to their members as the restaurant to dine in before the show and we share all their new productions with our guests.  We recently catered their yearly "Out Night" and are very excited to be hosting their closing night cast party here this weekend, it will be a blast.   I would highly recommend seeing a play there, it's a wonderful experience.
And finally, if somebody would go to Pardon My French what should they order in your opinion?
It's hard to say because it all depends on your mood.  Our most popular "signature" dishes are the Salade maison, Tarte flambée "Flammekueche" as an hors d'oeuvres; the grilled Duroc pork chop with smoked potato puree, grilled peaches, summer squash and truffle red wine sauce as an entrée, and the Tarte tatin with calvados ice cream and smoked sea salt caramel for dessert.  For the chocolate lovers like me, I would recommend the Crémeux au chocolat with homemade honeycomb and whiskey cream, it's heavenly!
Future plans?
"Oh, there are so many ideas flying around.  We started making "Pardon My French…on the go" sandwiches and pastries for the coffee shop Balboa Perk down the street and want to expand on that; we are working on packaging pre-cooked meals for delivery and home preparation. We have even entertained the idea of a retail wine store.  We have been asked to open another location but our concern with that is that we fear it may dilute the experience with us being spread too thin.  We like to meet everyone who comes in, get to know them, share stories and become friends.  That would be much more difficult if we were going back and forth between locations.
PS. They have been nominated for three Nicky Awards so check the out and VOTE:
Outstanding New Business, Outstanding New Restaurant and Outstanding Brunch
Connect with Pardon My French & The Fillions in San Diego:
Call (619) 546–4328 from 10a – 11p daily, or book online with Yelp.
Reservations required for parties of 6 or more.
WEBSITE:  Pardon My French Bar & Kitchen