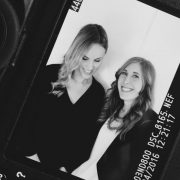 Nordique is a brand new Scandinavian-inspired lifestyle website, featuring exciting articles and blog posts on Nordic culture, food, design and people.
We are the co-founders: Stephanie Silva and Elin Svensson, each from Sweden.
We met in London over five years ago through a Swedish flat share which we found online. Our mutual love of Nordic life, coupled with our recognition that people outside of Scandinavia have a real fascination of the region, inspired us to create an accessible, inspirational viewpoint of our homelands!


Steph focuses on the creative and media-related aspects of the business, raising our platform's profile and seeking out great new features. Elin is from a business development background, and works closely with the independent, hand-picked suppliers of products that are featured on Nordique's shop. As well as being business partners, we are also best friends – Steph will be a bridesmaid at Elin's upcoming wedding on the beautiful Swedish west coast.

How did you end up in London of all places?
London is very close to "home" for us. There are more opportunities workwise, the language makes it easy for us as most Swedish people speak English, and both of us prefer to live in a bigger city then where we are from. London is a home to people from all over the world – it's such a wonderful melting pot of cultures. We've both worked elsewhere, including in the Middle East, but have always been drawn back to London's vibrancy. It's also a really good place to do business, with lots of young, like-minded and enthusiastic people also choosing this city as a home.
What is the best and worst about London for you…what is a typical day and weekend??
Where to start… endless social activities, from wonderful restaurants, bars, theatres, gigs – the list goes on. We love the mix of the energy and entrepreneurial spirit that this city generates, but mixed with the beautiful green spaces that are spread across the city. It's also a place where everyone can feel welcome – most people that you meet day to day are not actually from London, so the city needs to be good at opening its arms to people from all walks of life. It is difficult to get bored in a city like this!
The worst thing about London is probably the commuting during rush hour….if you're not in the mood the stress of commuting can be pretty difficult at times. It's also certainly an expensive place to live!

How do you find the lifestyle in London compared to your hometowns in Sweden (housing, food, health care, education, nature, weather..)?
We have a Swedish word – 'lagom' – which doesn't really translate properly into English, but basically means 'not too little, not too much'. This translates into what is viewed by Swedes as an ideal way to live your life – an expression of things being just right.
This doesn't really apply to London, where there are certainly more extremes – more highs and lows, more excitement and buzz. There is a level of energy here, and willingness of people to challenge themselves.
Sweden is a difficult place to better in terms of housing, healthcare and education. In housing terms, rents and prices are significantly lower, particularly than London, and the quality of housing is very high.  Healthcare is great in the UK too – the NHS is similar to the system we have in Sweden, so in that sense it is great that the two countries prioritise these issues!
We do sometime miss the beautiful Swedish nature – we love how we have all 4 seasons properly, with real distinctions between them. In winter we have snow, in summer we can go swimming in the sea and in some parts of the country the sun never sets! In autumn and spring the colours can be wonderful. We try to reflect the changing seasons with our features on Nordique, to try to bring these wonderful scenes to a broader audience.
Knowing more about life and having lived with your decisions for a while (like work) – would you still choose to be there and why? Why not..
There will always be "what ifs" regardless of how the decisions you've made turned out. The two of us always wanted to have our own business, and we are very lucky to finally have launched Nordique and we are very lucky to have each other, we are such close friends and we work extremely well together.
What should everyone know and understand about your country and its culture?
Sweden is a wonderfully diverse place – in terms of landscapes, cultures, people and weather! We've already mentioned the importance of 'lagom', and how central this is to Swedish culture. As a nation we are very close to nature, perhaps rooted in the pagan traditions of the Vikings and old Norse people. The traditional 'Midsummer Festival' is a public holiday in Sweden, and is celebrated by everyone nearly as much as Christmas (except no presents!). It's a chance for Swedes to gather together with family and friends, sing traditional songs, dance around the maypole and celebrate the importance of the short, but truly beautiful summer in Sweden.
It's maybe also reflected in the ease which Swedes have with being naked! It's very much a stereotype, but Swedes do love skinny-dipping in lakes in the summer haha!
What cafes or restaurants do you recommend to tourists to go to in London and why?
We love Nordic Bakery in Soho for a tasty 'kanelbullar' (cinnamon bun) as a reminder of home!
Elsewhere, the Balham Bowls Club in Balham, South West London is a great place to hang out on a weekend – a cool bar converted from an old lawn bowls club, with lots of kitsch features!
Brixton is a really buzzing place at the moment, with new cafes, restaurants and bars opening at a crazy pace. We love going to the street food stalls at Brixton Pop (an outdoor markets constructed of former containers) where you can try tasty delights from countries around the world.
For anyone looking to travel to the Nordic countries and wanting recommendations of cafes and restaurants, or what to see/do then visit www.thenordique.com as we have a website full of tips and ideas!
What do you absolutely miss from your country/elsewhere heritage (food, culture, movies etc) …or elsewhere?
Swedish summers! Our sea, lakes, strawberries, blueberries, "fika" culture, picnics in the parks…
How to connect with you:
www.facebook.com/thenordique
www.thenordique.com
Instagram: thenordique