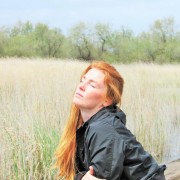 Please introduce yourself.
My name is Nina Celikel, I live in Marbella in Spain. I studied to become a nurse. I have been riding bmx bikes since I was 15 years old. I moved to Spain from Finland when I was 18 to ride my BMX. I got the best sponsor in the world – Flybikes – and got to travel all over just riding my bike.
Currently I have 2 kids and an incredible life with my family in Spain.
How how did you choose Marbella of all places – it is so different from Finland and most Finns do not study Spanish in school?
Actually I have lived all over. I'm half Finnish, half Turkish but I was born in Germany. I studied in Finland. I came to Spain without knowing any Spanish. I had to learn it. It isn't that hard if youre open minded, outgoing and positive person like me. You will learn any language in the world – that is if you want to. In Finland many young people study Spanish at the university. I move maybe 2 or 3 times a year because of my work.
I also get bored if there's nothing new for me after a while in the same place. Marbella is cool, there's always things to do, always something happening around you.
What was the first impression you had about Marbella when you arrived – do you remember that??
My first impression is related to Puerto Banus. It was incredible to see so much money spent – on cars, yachts, jewelry, luxury shops all over. I've learned to live the most humble way….the less I have the happier I am. Therefore Puerto Banus lifestyle is just not for me although I use it for business.
How is your family in Spain and Finland?
My family, they're all over the world. It's so hard to see them all together!
Which famous Spanish do you admire – and Finns?
Amancio Ortega who started with his wife their first Zara in Spain in 1975. http://fortune.com/2013/01/08/meet-amancio-ortega-the-third-richest-man-in-the-world/ I admire my grandmother Mirja she is incredible, she has told me stories about the times of war in Finland when she was young and its hard to imagine what they've been through.
What are your fondest memories of Finland?

Snow, snow castles made by my sisters and me, Christmas, lakes in the summertime, fishing and ginger snap cookies mmm…
How did you end up doing what you do for work and do you like it?

I end up doing Jaaespanjaan.com -Your Guide in Spain for those who want to enjoy Spain as I do. Now we are doing a new magazine for Finns here in Spain and also Jää Espanjaan-Youtube channel for Finns interested in life in Spain. I love to help, so I love my work.
Is it easy balance your work with other obligations – mate, children, job? Do you try to go back to Finland every year?
With two little kids playing and screaming around… you can imagine. Its definitely not easy, you have to have a plan.
I will go this year to Finland (business) and for Christmas but its been a while since I visited Finland.
Workwise – how do you see Spanish being different from Finnish – also culturally, what stands out in your chosen profession? I would think work environment is very different.
I'm sure in Finland there's no corruption like here in Spain. Spanish laws are from 1976. In Spain it's hard to do business.
What did you think about life in Spain/Marbella before you moved there – did you have any misconceptions? I always think Marbella as an upscale beautiful resort town with Puerto Banus being the super upscale.
Hahah I thought the women go around dressed in these flamenco clothes as do the men but no that only happens at the Feria. It's beautiful here but there are more beautiful places in Spain. Puerto Banus is famous due to the extremely rich people. Prostitution, cars, casinos, luxury villas… but when you arrive at Marbella you'll see so many places closed due to the economic crisis. It's reality everywhere in Spain.
Would you ever leave Spain and live full-time in Finland?
Never say never, but I hope to travel all my life and live in different places. I know my country Finland, now I want to see other countries in the world.
The biggest positives that come to your mind about Finland/its people/culture vs. Spain – and the biggest negatives?
Negatives – Finland: Darkness in the winter. Drinking: its normal to drink until you can't even speak, Shyness of the Finnish people, taxes.
Negatives – Spain: Politics, corruption, water, electricity bills, byrocracy, no help from goverment for families, bad salaries, bad Public school teaching…
Plus for Finland: Nature, forest, lakes, wild animals. Number 1. education system in the world, recycling system (environmentally conscious), take business seriously.
Plus for Spain: Weather, public hospitals, schools for free, sports
Anyhing else you would like to share with us??
Spain is great place to live for those who come here with money, otherwise it's hard. To find the right job with a good salary when there are 6 million jobless looking for a work – no help from the Spanish government. Spain is incredible from North to South: tropical weather, snow, culture, nature, people, the food…. so many great things, so you all are welcome to Spain.
Finnish people here?? Here in Costa del Sol we have the biggest community of Finnish people in the world (outside Finland). There are more than 20.000 Finns living here and 200.000 visitors every year. Families with their kids, students from universities, and more than anything, people at age 60 +.
==================================================================
Thanks to Nina for sharing her thoughts about life in Marbella, Costa del Sol. I hope she will find the time to meet my friend Marcia Raff, a lovely sculptor from NYC/Austin who is currently in Malaga for 2 months.
Connect with Nina:
Jaaespanjaan.com – Finnish Guide in Spain
Twitter: @Jaaespanjaan
Instagram: JääEspanjaan
TRIP WITH SHERRY IN OCTOBER 2015 TO AFRICA
3 Countries in one EuroCircle Adventure! Namibia, Botswana, Zambia…
From the Kalahari Desert, through the Okavango Delta, we walk with the San bushmen, visit Chobe National Park, search for the Big 5, float past hippos in a dugout canoe, raft the whitewaters of the Zambezi River or bungee jump down the Victoria Falls!