EuroCircle's International Women's Day Party
Join us as we celebrate International Women's Day at this brand new hotspot rooftop lounge! No Cover when you say EuroCircle at the door!
DJ Chris Bachmann will be spinning tunes for us throughout the night!
There will be a $10 cocktail on special throughout the night!
Your Hosts:
Ilona Lee, Poland – http://www.ilonalee.com/
Kristi Roosmaa, Estonia, Singer, Actress & Cultural Advocate of Estonia, www.kristiroosmaa.com
Mita Carriman, USA – www.globalwanders.com
Sinem Saniye, Turkey – http://www.letsplaysaniye.com/
Boriana Pavlova, Bulgaria
Tanya Angelova, Bulgaria
Monica German Prestia, USA & Argentina – Publicist, Producer & Marketing Consultant – www.stefanistyle.com
Alexandra Spirer, EuroCircle team
About International Women's Day:
International Women's Day has grown to become a global day of recognition and celebration across developed and developing countries alike. For decades, IWD has grown from strength to strength annually. For many years the United Nations has held an annual IWD conference to coordinate international efforts for women's rights and participation in social, political and economic processes. 1975 was designated as 'International Women's Year' by the United Nations. Women's organisations and governments around the world have also observed IWD annually on 8 March by holding large-scale events that honor women's advancement and while diligently reminding of the continued vigilance and action required to ensure that women's equality is gained and maintained in all aspects of life.
OCT 2017 – Travel with Sherry to Australia & New Zealand
This year, our gathering takes place down under, as we meet in Sydney to embark on an 13 day tour of both Australia and New Zealand.
Sydney/ Cairns, Great Barrier Reef, Queenstown
Tentative Departure Date, Oct 25 2017
http://www.eurocircle.com/euro/eurocircle-travels-to-australia-new-zealand-october-2017/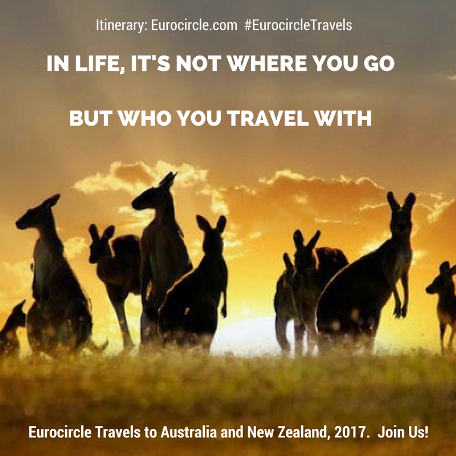 Save