A Scottish Evening of Fashion and Fun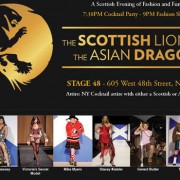 7:30 PM COCKTAILS
9 PM FASHION SHOW
Buy Tickets here:  http://www.fromscotlandwithlove.net/2013-tickets-sale.php
VENUE
STAGE 48
605 West 48th Street, New York City
(between 11th and 12th Avenues)
Attire: NY Cocktail attire with either a Scottish or Asian accent
Hot Scots and bold-faced names from Glasgow, Edinburgh, London, Toronto, Los Angeles , Hong Kong, Shanghai and New York will again take over Manhattan as the centerpiece of Tartan Week 2013 on Monday night April 8th. Not only is this show the biggest and most prestigious Scottish fashion event in the world, it also one of the top three fashion shows in the world in terms of press and media coverage.
WHERE THE FUNDS GO
The Wounded Warrior Project (www.woundedwarriorproject.org) will again be our primary beneficiary in the United States. This charity helps the thousands of wounded warriors returning home from the conflicts in Iraq and Afghanistan and it also provides much needed assistance to their families. There is a serious problem that is not receiving a great deal of attention, and that is that the number of US soldier suicides outnumbered combat deaths in 2012 and the trajectory for soldier suicides continues to get worse. Though we are not a political organization, we believe that we owe the young men and women risking their lives to protect us a huge debt of gratitude.
We hope you will join us for a fun night of fashion to benefit the wounded warrior project!
Best,
Alex and the Eurocircle NY Team