I had the pleasure to chat with a Chicago-based French Photographer and a Fashion Stylist. 
Her name is Sabrina Dérian Matthews.  Sabrina was born and raised in Brittany, France.  She worked in
Germany and France for several years as a Model Booker and managed the Elite Model Management  Agency in Marseille, France.
Sabrina moved to Chicago, USA to accompany her husband. She is a Photographer and a Fashion Stylist. 
She speaks French, English and German    
                                                                              
Thank you so much for sharing your story with us  Sabrina! This was a rare pleasure.
** All photos: Copyright L'Image By Sabrina Derian Matthews. All rights reserved 
Sabrina, can you tell us what brought you to this creative career path?
Yes, of course! I feel that I have always been attracted to Photography and Fashion in
one form or another. As a child and as a teenager, I was often flicking through fashion
magazines and catalogues, looking at the photographs, the fashion stories, the stylism
and model poses. Then, when I was living in Munich, Germany, I met a make up artist
who told me that I would have a good profile to work in the profession as a model
booker. At that time, I was working as a stewardess for Lufthansa Airlines. So I decided
to go ahead and give it a try, and send my resume to a model agency. I obtained an
interview with Louisa Model agency in Munich. That is how everything began! I then
developed, more and more, my eye for photography, styling, and working within the
different model agencies in Europe. When I moved back to France, where I grew up, I
started working for Success Models, and it was during this period that I was offered a
position to manage the Elite Model Management agency based in Marseille. For each
model we represented, there was a need for many digital photos. I realized that I really
came to love taking these photos, and, at the same time, be able to be creative and play
with light, and different poses, so as to present to our clients the best digital results as
possible.
Years later, I moved to Chicago following my husband. Shortly after, a friend of mine
proposed to me to photograph models to promote her brand. This was an experience I
enjoyed very much. It was so satisfying to be behind the camera and create visuals for
a commercial brand.
What are some of the most interesting or exciting projects you're working on right
now?
Right now, I am working on different projects to expose my photographs in different
places. As we are now spending a lot of time at home during this pandemic, there are
more and more people who wish to open up their interiors to the outside, and the feeling
of a connection with the outside, and this instills a feeling of travel to someplace else.
It's one of the reasons why I re-built my website, where you can discover this feeling, I
believe, within my photographs, under the section " Art Photo Boutique".
** All photos: Copyright L'Image By Sabrina Derian Matthews. All rights reserved
ART PHOTOS
At the moment, I photograph mostly family portraits and children portraits, generally
around their homes or at the most emblematic spots in Chicago. Families like
beautifying their walls back home with "souvenir photos" of the entire family together.
Also, I' m proposing some personal E-Styling Session by skype and help people with
my styling advice and guidance to feel more confident about themselves.
FAMILY STYLE
I'm planning to shoot more Model Tests in the future which are combining photography,
styling and artistic direction. With the current social distancing situation, I had to
postpone most part of this activity.
In partnership with a friend of mine, Rachel Christophe, we are talking about a virtual
workshop associating Fashion and French language learning. Rachel was associated to
my project" Lettre de Mode" on my blog "&other stories" where you learn English or
French through fashion and other inspirational subjects. We are looking to expand the
concept.
Who are some of the most Interesting people you've interacted with?
Isabelle Olivier is immediately coming in my mind. She is a French harpist that I was
honored to style and photograph at many different occasions. She is so generous both
in life and in front of the camera and this makes her easy to direct. I feel so lucky that I
was able to photograph such a unique person and her instrument.
I have so many interesting people around me, from different cultures, different
characters, different point of view and for me, being connected with different
personalities allows me to grow a little every day.
PORTRAITS
(Click on the photos to see them)
Which people in photography inspire you the most and why?
I feel like I am inspired by many photographers and particularly a combination of details
from each of them… Elle Von Unwerth and her sense of playfulness, Inez and Vinooth
for their ability to photograph using different angles, Luigi and Iango, Karl Lagerfeld and
many other photographers as well who are not necessarily making a business out of
photography but who are very creative and talented. …. Also, Peter Lindberg, who
passed away last year will always be an inspiration. He was one of the photographers
who was playing a big role during the top model era.
How has your business evolved, as a result of the pandemic?
We certainly have to reinvent ourselves, reshape our lives and become creative in these
unprecedented moments and that is the reason why I am trying to develop different
angles around photography and fashion styling like I was talking about before.
What do you do, to bring goodness to the world?
I try to be a good listener and to be there for the people around me. Also, I am taking
time to explain to people of what we can do daily to improve the environment. I think
that we do not realize enough that with small gestures, we can make the situation
better.
I am continuing to work with charities, and will continue to offer photo prints to support
good causes.
What tips would you give to your colleagues in your industry to help them thrive and
not burnout?
I would probably just tell them to be themselves, stay humble and not to listen people
around them, who are sometimes critical. Photography and Fashion Styling are very
subjective like any form of arts. Each of us will have other points of view and tastes but
with following your own thoughts and intuitions, you will stay unique.
Is there a thing you wish someone had told you?
Yes! "If you feel it, just do it!". I realize that I was wasting a lot of time wondering too much if
I was legitimate as a photographer, or if I was good enough. I had so many ideas and I felt
that I needed to express myself through photography, but it is sometimes hard to make the
step, and have enough self confidence when you launch yourself into a new challenge.
Is there anything French that you miss, in the States?
Yes, like "aperitifs" with family and friends, the long and deep discussions, to try to change
the world when everybody is talking at the same time, with a glass of rose wine (or even two
!), the "Galette Bretonne" (Breton cake) with a fresh glass of Brittany cider ..
and then there is the European healthcare (especially in France) … it is very much missed
… to not worry about healthcare … with hope, the US will one day have the same …?!?
Is there a person in the world whom you would love to have a private breakfast or lunch with?
I think, Karl Lagerfeld would have been someone I would have loved to have had lunch
with. But clearly, it is too late! He was creative in so many ways, and I loved so much his
French and German sense of humor. Other than that, for the moment, I wish I could have
a lunch with my family back in France, but obviously, this pandemic makes everything
very difficult, but we still have "Espoir" one day !…
EDITOR's note:
Karl Lagerfeldt quotes:
" Don't dress to kill, dress to survive."
"Sweatpants are a sign of defeat. …
"Trendy is the last stage before tacky."
"I am a fashion person, and fashion is not only about clothes—it's about all kinds of change."
"Never use the word 'cheap. Today everybody can look chic in inexpensive clothes (the rich buy them too). There is good clothing design on every level today. You can be the chicest thing in the world in a T-shirt and jeans—it's up to you.""
FASHION
Sabrina, how can people follow you on social media to see what you are doing?
You can like my professional Facebook page www.facebook.com/limagebysd
and follow my Instagraminstagram.com/sabrinaderianmatthews
To discover my creative universe and contact me, you can visit my website
www.limagebysd.com.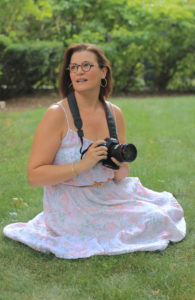 Thank You, Sabrina!!
CHICAGO MEMBERS!
Contact Sabrina for lifestyle family, children, engagements, portraits photos, model tests etc, and to purchase some prints to beautify your home