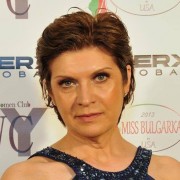 Tell us about yourself – who you are and a little about your life.
My name is Boriana Pavlova. I was a Bulgarian actress who moved to the United States in 1999. Since arriving here, I have striven to support Bulgarian arts and culture in America through the formation of a culture center, organization of various bulgarian performances and the founding of the Bulgarian Women's Club in New York.
How is Bulgaria different from the US?
Bulgaria used to be very different from the US. Now it has really changed and developed to resemble most modern cities. The main difference is in the culture and people. My roots are from Bulgaria and so I will always consider Bulgaria my home. That is why, when I think of Bulgaria, I think of it as a very warm place that is close to my heart. There is of course much room for improvement, but I believe we are on the right track.
Tell us about the Bulgarian Women's Club?
I founded the Bulgarian Women's Club in NY in 2011. It was very small in the beginning with just a few of my close friends gathering in my apartment. We shared stories, goals, intellectual conversations. Almost three years later, we now host once a month gatherings at the Bulgarian Consulate in New York and invite various experts in the arts, business and everything in between.
Is the Bulgarian Women's Club a members only club? How often do you have events?
The Bulgarian Women's Club is hosted by myself and a few of its founding members but all events are open to the public. All languages and cultures are welcome and accommodated as we aim to enrich Bulgarian life in the US through sharing and integration.
Describe the Bulgarian culture? The food – what makes Bulgaria special?
Bulgaria is in many ways a true melting pot. It's key geographic location has influenced its culture throughout its long history with travelers and settlers each contributing to what we now treasure most in Bulgaria. The best roses can be found on Bulgaria's fields and we eat Yogurt with everything.
What are your favorite things to do in Bulgaria?
By far, after visiting my family, the best thing to do is to go to the Black Sea. There are countless vacation areas where tourists from all around Europe converge as well as beautiful sights and magnificent attractions all down the coast.
What sites would you recommend people see if they are visiting?
The black sea resorts are spectacular for vacationing. Sofia is the capital and it hosts a great many historical and cultural sights surrounded by modern infrastructure. Other notable cities that are a must see are Plovdiv and Veliko Tarnovo.
When is the best time of year to visit Bulgaria and how often do you go back to visit?
I try my best to go once a year. Usually in the summer, which is also the best time to travel there. There is a lot to do and there are many events hosted throughout the country during this time.
How long have you lived in NY?
I have been living in NY since 1999. It will be 15 years this fall.
When you aren't working what do you do for fun in New York City?
I am always looking for good company. I usually go out with close friends in Astoria or the city. I am also a frequent visitor to the various Bulgarian bars and restaurants around town and always keep and ear out for an interesting event in which I may may participate.
How can people get in touch with you and the Bulgarian Women's Club?
The best way is to find us on facebook and join our conversations and updates. Also, one may visit the official website: www.bgwomenclub.us
Connect with Boriana:
Bulgarian Women's Club
Boriana at Facebook