2016 Kick-Off & EuroCircle's 17th Anniversary Kick-off @ E.P. & L.P. Rooftop Bar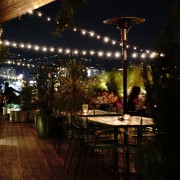 Welcome in the New Year with all of us next week. We've organised an eventful night at Stylish spot for rooftop drinks & Southeast Asian fare with a full indoor dining room for an exciting, fun and relaxing evening.
E.P. offers guests a multi-level modern Asian dining experience by Australia's award-winning Executive Chef Louis Tikaram. Situated along La Cienega Blvd.'s bustling culinary corridor, E.P. Asian Eating House will showcase modern Southeast Asian cuisine featuring ingredients rarely seen outside of Asia and the South Pacific blended with Southern California's world-renowned produce.
Set against breathtaking views of the Hollywood Hills, their L.P. Rooftop evokes the spirit of lively Asian street markets through bold flavors and sharable night food available al fresco until 2 a.m. Cozy up to the rooftop fire pit and sip on some Bubble Tea concoctions and bespoke handcrafted cocktails.
E.P. & L.P. – www. eplosangeles.com
603 N La Cienega Blvd,
West Hollywood, CA 90069
Phone:(310) 855-9955
Let's all put in some effort to make this a really big and successful event – invite all the people you know, bring with you friends, family and neighbours. Let's let our hair down and have a great evening.
Please RSVP soon, we'd like to inform the management at the establishment.
PLEASE REPOST THIS ON YOUR FACEBOOK WALL…
See you all soon.
Regards,
Sonny and Tanya
http://www.eurocircle.com/euro/los-angeles/