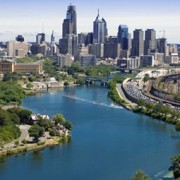 As a former New Yorker, a long time resident of Philly, and at present, a weekday commuter between the two cities, I am often asked to justify why I live in Philadelphia. For someone who lives in Philly, but works in New York, the distance between the two cities seems impractical. Yet, for me and the thousands of other commuters, this makes perfect sense. New Yorkers love their city (as we all do), but sometimes fail to see the wealth of culture, history and sights in its southerly neighbor.
It is never a big surprise when I point out the cost and quality of living in Philadelphia. One look at my sprawling condo and low cost of living here, and most New Yorkers gasp. But when I mention the wealth of cultural activities, particularly its art world, my New Yorker friends stare at me in disbelief. Surely, Philly's art scene can't compete with Manhattan's!
It can. And it does. You just have to see for yourself.
I can't tell you how many of my out of town friends have told me they visited every dive bar and tourist trap in Philly, but have never walked down the Parkway, noticed the Rodin Museum, heard of Bucks County's school of Pennsylvania Impressionism or The Brandywine River Museum, home to three generations of legendary American painters.
For a long time I have been complaining that Philadelphia does a poor job of marketing itself. Most New Yorkers and Washingtonians overlook us as a pit-stop on the Amtrak's NE Corridor. It is not uncommon for a tourist to visit our town, see the requisite historic sites like Independence Hall, the Betsy Ross House and the Liberty Bell, follow a guide around Old City, then end up in a tourist trap for dinner without a glance at even one of our notable art galleries.
So if you are in Philadelphia for a day, or better yet a weekend, please take a second look. I promise you'll be impressed with our art scene. I have listed some of my favorite museums, art galleries and "treasures" that are a must for all art lovers.
A walk along the Ben Franklin Parkway:
Philadelphia Museum of Art: www.philamuseum.org OK, this one is a no-brainer, and I won't go into detail because it is on every tourist map. Yes, this is the museum where Rocky raced up the stairs, and yes, you can get your picture taken with his statue outside. But please, GO INSIDE!
The Perelman Building: www.philamuseum.org/perelman/ A new addition to the Philadelphia Museum of Art, this annex often gets overlooked. If you are a fan of modern art, textiles, and contemporary and modern furniture, this is a short walk across the parkway and well worth the side-trip. Recently it featured an exhibition by architect Zaha Hadid and it was spectacular!
The Rodin Museum: www.rodinmuseum.org It houses the largest collection of Rodin sculptures outside of Paris. Its Beaux-Arts architecture and a formal French garden, make it an imposing sight on the Ben Franklin Parkway.
The Barnes Foundation: www.barnesfoundation.org/The latest addition to the Parkway, is also the America's most controversial art collection, but still well worth the visit. The man behind this collection is as fascinating as the art itself, because his vision and foresight shaped our appreciation for impressionism and modern art today.
Parkway Sculptures: If you like to walk, I highly recommend a stroll starting at center city's Love Park and heading west towards the PMA. Check out Robrt Indiana's legendary LOVE sculpture, then cross the street towards Market Street to check out the hidden Jean DuBuffet sculpture. This one is tough to find, as it is suspended above the second story of an office building on the south side of Market, between 15th and 16th Streets. As you are walking down the street, don't forget to look up! Also, near the Love Park is the Municipal Services Building that hosts Your Move, a fun sculpture garden featuring giant Monopoly pieces.
Your next stop should be the Henry Moore Sculpture which is just a block away, and then make your way up the Ben Franklin Parkway, where you'll encounter mobiles by the legendary Philadelphia artist Alexander Calder, the imposing Iroquois Sculpture by Mark di Suvero among many others.
Gallery hopping in Old City
The Old City district of Philadelphia is also referred to as the Gallery District for obvious reasons. Visit on First Friday of every month for a fun night out touring local galleries, sipping wine and meeting visiting artists and gallery owners. However, for a more intimate view of their collections, I highly recommend avoiding this event, and strolling through the area in the daytime. This is a great area to grab brunch then check out my favorite galleries:
Pentimenti Gallery: www.pentimenti.com/ I am not just partial to Pentimenti because it has hosted numerous Eurocircle events in the past, I am also a big fan of its owner Christine Pfister, who has added Philly to the international art scene. Representing many emerging, local and mid-career artists, Christine has launched many art careers and has represented her gallery at numerous prestigious, international art fairs. Visit her gallery, and you are sure to get a personal peek into the best curated collection in the city.
Moderne Gallery: http://www.modernegallery.com/ I am a huge fan of George Nakashima furniture, and this is probably the best place to see it in person outside of his former workshop in Bucks County. In essence, a dealer in Nakashima, Art Deco and American Craft pieces, this place is definitely worth a long linger.
A half-day excursion to Bucks Country
If you have a weekend in Philly, I highly recommend renting a car and taking two, half-day excursions. The first should be to New Hope, PA, a 30 minute ride north, to the birth place of Pennsylvania Impressionism. Yes, while the great art movement was taking shape in Europe and particularly in France, our area was also seeing the emergence of such prominent artists like Fern Coppege, Edward Reddfield, Charles Rosen, and Walter Baum. And there is no more complete an art collection, than at The James Mitchener Museum in Doylestown. Incidentally, if you are a fan of George Nakashima, this is a good place to visit his workshop, see his installations and admire the furniture collection.
A half-day excursion to Brandywine River Valley
Known for its scenic countryside, this region is known for its lackluster wineries. But what the region lacks in prominent vineyards, it makes up for in its museum. The Brandywine River Museum is home to the works of three generations of Wyeths: illustrator N.C. Wyeth whose illustrations graced the covers of first edition classics like Treasure Island; Andrew Wyeth, one of America's most famous painters known for his portraits of his lover, Helga, and Jamie Wyeth, a contemporary artist. On my last visit to the Brandywine a few years ago, I spotted Helga in person, then toured the collections with Andrew's granddaughter who made sure we "stumbled upon" the great artist himself. Unfortunately, Andrew Wyeth passed away a few weeks after that meeting, but that was a visit that will stay in my memories forever.
This is just a small list of places that are a must on your first visit to Philadelphia. There are many more museums and impressive art galleries. I am sure that after your visit, you will be highly impressed by Philly's art scene. And if you are hungry for more, contact me via this website. I'll be happy to recommend many more.
Sheery Kumar