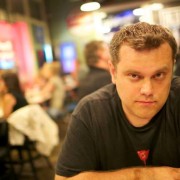 Meet Thomas Noe and some others from International Swede on Tuesday, July 16 2013 at our joint Rooftop event at Gansevoort Park 
What has been your most memorable moment since living in New York?
When does one not have a memorable moment in New York? I'm born in New York, growing up in both New York and Stockholm. Hard to pick one.
How long have you lived in New York?
All my life.
What do you like to do for fun in New York?
It probably involves food. Hole in the wall over any place that requires reservations months in advance. Being more expensive doesn't make it better in my mind.
If you could meet one person who would it be and why?
Dave Gahan as I'm a huge Depeche Mode fan. Though I'd probably be too nervous to ask any interesting questions he hasn't heard before.
Any interesting hobbies?
Well most members of Internationalswede know that I very often like to be the DJ at our events. I've been collecting records and cds since I was in Junior High. Stockholm, NYC or whereever I travel you can count on me making a trek to the nearest record store. Amoeba in Los Angeles is unfortunately the last great record store in the US.
For someone who has never been to Sweden – what things would you recommend they do and see when they visit?
First make sure you visit in summer. Take a boat from the center of Stockholm to Sandhamn or any of the islands in the Stockholm archipelago. There are 25,000 to choose from.
How often to you visit Sweden and when is the best time of year to go?
Summer, preferably June. I visit at least 3-4 times per year as I'm lucky enough to have a job with a Scandinavian (Finnish) company.
What is InternationalSwede?
It's an informal collective of young/young at heart Swedes living in NYC or LA.
When did you start InternationalSwede and what kind of events do you plan?
We started in Dec of 2001. We organize quality events,usually around Swedish holidays or Swedish events (like Eurovision or World cup) and through the miracle of the internet the word gets out.
Are you involved with any other groups in New York? If so which ones and for how long?
We've had a great friendship with NLBorrels.com (Dutch expats) with whom we share many of the same event venues, albeit not at the same time.
Anything else you would like to tell us about yourself or InternationalSwede?
Anyone is welcome to come to an internationalswede event, but please know the difference between Sweden and Switzerland before you show up. I'm sure the Swiss get just as annoyed at the confusion. (NO KIDDING)
Thomas Noe – runs InternationalSwede – Co-Founded, worked at Basware Inc from Stockholm Sweden
How can people connect up with you?
They can visit the site (see below), join our facebook page "Swedes in New York", or send an email to thomas "at" internationalswede.com. What's your website/blog?
Internationalswede.com is a blog portal for many expat Swedes living in New York or Los Angeles.
Connect with internationalswede.com
Read this article ALCAZAR visits NYC from Sweden att CNN IReport
Thomas Noe at Facebook.