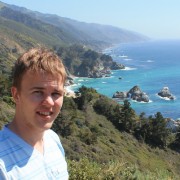 Please introduce yourself. Tell us a little about where you are from originally and who you are.
My name is Jaakko Piipponen, and I'm from Finland. I studied in Helsinki School of Economics with study abroad at the University of Southern California and got a degree of B.S. in Finance. I worked briefly in investment banking in London, but now I'm building my 2nd startup Remote Garage which does storage on demand.
When and why did you move to the USA? Did you move alone?
I've been travelling between Finland and US since 2010, and this time I've been here since July last year. My fiancé (USA) goes to medical school in San Antonio, and why I ended up in Texas.
What do you enjoy most about San Antonio, now when you have more experience, how's the quality of life compared to Finland, Los Angeles or London?
Everyone seems to be really friendly and welcoming here in Texas. In San Antonio, cost of living is probably half or less what I had in LA or London, and yet it still has plenty of things to do.
Usually there are some negatives, what are the ones for San Antonio that really stand out for you personally?
Only downside I can think of is that the city is not really walkable or have advanced public transportation system, which is something I got used to in Helsinki and London.
Do you feel San Antonio is a good place for you as an entrepreneur right now? Are there any areas expats like you might like in the USA in your opinion (entrepreneurs/startups WHY?
San Antonio has some significant advantages if you're working in the some of the city's strong areas such as cyber security. I strongly feel that new startup hubs should not try to outright copy Silicon Valley, but instead they should find out what are their own strengths and embrace them. Marc Andresseen discussed about this New York Times recently.
I'd also add that since the cost of living is still so low, it might attract more talented people here over time who get fed up with the high costs associated with the more typical tech hubs.
How would you rate the public transport? What are the different options? Do you need to own a car?
You must own a car to get anywhere at all. Public transportation is passable in and around the focal points of the city, such as the UT Medical Center, but it typically takes 2-3 times longer to get anywhere with a bus compared to driving around.
Which are the best places/suburbs to live in San Antonio as an expat in your limited experience?
Popular areas tend to be around Alamo Heights, Stone Oak and if you're working on anything health-related, the Medical Center. Downtown is an up-and-coming area too, as written recently in WSJ.
Do you go out a lot – hobbies? Or is everything about work right now?
Don't really go out at this point since building startup keeps me busy, but the downtown and the River Walk are nice places to go out when we do. There are also some great parks north of the city, such as Friedrich Park, which are great for some hiking.
What's the cost of living compared to Los Angeles? What is cheap or expensive in particular?
Pretty much everything is cheaper, and the housing costs in particular. I think San Antonio's competitiveness in that area will be emphasized even further when they complete building of the Google Fiber here.
What are the locals in San Antonio like; or do you feel you mix mainly with other expats?
I have met none of the expats yet but only locals who are very friendly.
Did you think it is easy meeting people/other startups and making friends in San Antonio?
I just Googled "tech startups San Antonio" when I got here, and found the #1 place for startups here called Geekdom. Once you get the really cheap membership for the co-working space, you're able to meet pretty much anyone working with startups in the area.
What's the economic climate like in San Antonio, how would you compare it to the LA/Finland? Why? How does the work culture differ from Finland?
The city is growing really fast, and you can see construction everywhere (though luckily not too much on highways anymore, since they seem to be in pretty good condition).
People seem to work longer hours compared to Finland, and it seems there are less holidays here. Then again, with startups it seems to be pretty similar, since everyone has to work with all they have got or they face the risk of going under.
Compared to Los Angeles, the culture seems fairly similar or perhaps a little more relaxed.
Did you have any misconceptions about Texas that have turned out to be super wrong….or vice versa, you thought something will be great and it is exactly the other way around?
Since my fiancé is from here, I kind of knew what to expect. I find it interesting how people here are more proud of their state compared to Californians. Perhaps I still hoped to see a few more ranches and cows, but they tend to be farther away from the city.
Do you think your career (business) would be the same in Finland/LA – or does this work better for you? Either way, please explain more.
There's a reason this is called the "land of opportunities", so I'm confident it's the right country to be in. People are used to seeing new entrepreneurs popping up and trying new things, and the welcome has been just phenomenal.
I don't know how this is in Finland, but the market opportunity there is so much smaller I could not possibly start there. I really admire those who choose to stay there and can pull off something big, but at the same time it's likely that some of the people choose to stay there and miss opportunities.
What are your favorite restaurants/bars in San Antonio – why ?
Rudy's for BBQ, Taqueria Datapoint for Mexican, Thai Bistro for Thai. I generally just Yelp things and try to go and explore new places.
Is there any advice you would like to offer new expat arrivals or contemplating a move to San Antonio – especially for a startup??
Consider carefully whether here's something that can give you an edge. If it's something related to cyber security, telecom or cloud, this is probably a very good place to start. At the same time, SA is not a "startup hub" quite yet, and for some industries it might make more sense to start from San Francisco, NYC, or LA. San Antonio is also close to Austin, which is emerging as the hotbed for new startups in TX.
If there are other startups that you would like to connect within the European community – who would they be?
I'm sure there are, but on the top of my head I cannot really say if they're in the "European community" or not. In general, I'd love to meet people in the delivery, storage, and real estate spaces.
Connect with Jaakko Piipponen:
www.RemoteGarage.com
twitter.com/remotegarage
www.facebook.com/RemoteGarage
Phone: (210) 625-7925
Email Jaakko