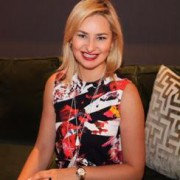 Please introduce yourself:
My name is Ilona Lee Wojciechowska, I moved to New York from Warsaw, Poland eleven and half years ago. I'm the proud mother of nine year old Vivienne. Midtown Manhattan is our home.
How do you make a living and – and how would you like to develop your career?
I'm an Entrepreneur, the founder of ILE MAISON (Platform for International Entrepreneurs), a Personal Branding Expert, and a Real Estate Salesperson at TOWN Fifth ave. I help others to build an authentic and unique brand for themselves and their businesses. After over fifteen years of working in marketing, branding and public relations I have seen what it takes to build a powerful brand and make it unique. It's an Inside and outside job. To help my clients with the Inside Job I became a strategic business and life coach. I am certified through the T. Robbins Maddens Training Center. I'm passionate about uncovering what is unique about other people.
I love inspiring people to start original projects and launch initiatives. I strive to help them envision what can be accomplished when they use their strengths, unique talents, and passions. I have been consulting, coaching, and connecting women in business with one another in New York for years and now. ILE MAISON is expanding internationally and opening the door for men as well. We are adding new events series and Travels with Intentions. Our goal is to inspire, connect, and help people discover themselves, other people and the world around them.
What are the best and worse things about NYC?
NYC is the best city in the world but it can be overwhelming and stressful at the same time. This
is especially true if you don't have a clear vision or a purpose for being here in the city. That's why it's so important to know who we are and understand what we do and why we do it. Having goals, dreams and mission helps you overcome challenges and stay strong and positive 😉
What restaurants in NYC do you recommend?
I love fresh, healthy, and well-presented food. I'm also a big fan of mixing and trying signature dishes, and fusion cooking. Jean Georges Vongerichten never disappoints me. He buys ingredients from local farmers, fresh fish, and his skill extend far beyond the kitchen. His restaurant ABC Kitchen is my favorite place. I also frequently go to Jean-Georges. Eric Ripert ( Le Bernardin) inspires me. Greek chef Maria Loi – owner of Loi restaurant on W58th St, one block from me is so creative. EATALY Cafe has the best coffee in town ! For those who would like to taste authentic polish food I recommend Christina's Restaurant in Greenpoint. My favorite places and chefs in NYC are all European by the way 😉
What would be your ideal life with no monetary issues to worry about?
I'm happy to say I would continue doing what I do. I am grateful every day to be doing what I love. I would continue to expand my business globally, help people in other countries, especially women and kids. I would also work to help people in developing countries grow their businesses. Making a difference, doing purposeful work and building meaningful relationships make me happy. I would travel extensively to meet and build new authentic businesses, and help them build their brands. I know it's gonna happen soon anyway! 😉 I'm a big fan of spas, wellness centers, and tranquil spaces. Building a wellness center with a boutique hotel by the ocean is on my list as well. For now I am just continuing my travels to the most beautiful beaches in the world looking for that perfect spot. Maybe in few years I will host Eurocircle events at my ILE Maison on a beautiful Island 😉
What should everyone know and understand about your country?
That the biggest treasure of Poland is Polish women! We are smart, well educated, and beautiful. We make great wives and moms. We are down to earth, caring and strong. I have met so many successful polish Entrepreneurs here and I'm so proud of them!!! They inspire me every day. I used to be a part of the committee that chooses extraordinary Poles in USA. We have so many extraordinary people coming from Poland. Part of my mission is to empower polish women, and help them to create their American Dream here. I see this happening more and more.
What is the essence of NYC?
The essence of NYC is the powerful energy of the city and the amazing people from all over the world who live here. Everyone is different and unique. Everyone has their own inspiring story. There is so much Creativity, Start up spirit, and endless Opportunities!
What do I miss the most about Poland?
I miss my parents very much. I wish my daughter Vivienne and I could spend more time with them. I want my daughter to get to them and Poland even as she grows up a true New Yorker.
Any final thoughts?
I would like to invite all my EuroCircle Entrepreneurs to connect with me ! Also, if there is anyone who just moved here and is looking for a new home (renting, buying or selling) please let me know. As a life coach with New York State real estate license I'm here to help and guide on your new journey as you write a new chapter in your life.
www.ilonalee.com
www.IleMaison.com
Ilona at Facebook
Email Ilona