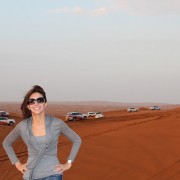 Since its inception in 2011, EuroCircle's travel program has expanded to include more travelers and more exotic locales. The more complicated our itineraries get, the more potential travelers ask me: Who are you? It never occurred to me to actually introduce myself to these strangers who throw caution to the wind, and fly half-way across the world to meet me in a place like Siem Reap, Cambodia. So before you buy your airfare to Namibia this year, here is a brief introduction, and feel free to contact me with any travel related questions you may have.
5 years ago, I was going through a drastic change in my life, and when such things happen, we all want to take extreme measures and do something different. So rather than shave my head or join a monastery, I decided to do what all those self-help books encourage you to do, live life to the fullest, make every day spectacular, and most of all, have a lot of fun along the way. Little did I know, that sending an email invitation to random EuroCircle members to meet me in Istanbul for a short vacation, was going to turn into an annual adventure across the globe.
I also didn't know, that those random strangers who show up to my adventures would actually turn out to be the coolest people in the world, that each one would bring something special to the journey, or that we would be building friendships that last a lifetime. I try to keep that in mind as I plan every future journey. It takes a whole year to coordinate 16 strangers from various parts of the world, get them to board correct flights and to land into a dusty airstrip in a remote desert. It takes a whole lot of patience and sensitivity (qualities I do not possess) to deal with a wide variety of personalities, expectations and temperaments. And, it takes a lot of perseverance, to not say to hell with it all, and let someone else deal with this project.
I often get asked, why I actually do this, and the simple fact is that I can't stop. Now that the travel program has turned into something bigger than me, I see how much I take away from each trip. It's not just the amazing friends I made along the way, it's the experiences that pushed my boundaries and allowed me to see the world I have traversed dozens of times from a whole new perspective. My travelers comment how much I have changed as a person since that first trip we took together, that they almost don't recognize me any more. I have to admit that petting a tiger, crawling into a tomb, eating a bug, chasing the big 5 on safari, climbing Machu Pichu and bungee jumping off Victoria Falls (this year's goal) has turned me into someone who no longer takes things seriously, laughs hysterically at life, and welcomes change no matter what it brings. So how can I give this up? It will never happen.
As I write this, I am about to click the send button one more time, and see who answers my invitation. Tens of thousands of EuroCircle members will receive an email with my next destination and not much more in terms of details. Who will show up in Africa this October? My guess is they will be young/youthful, they will be hungry, hopefully one will be gorgeous ;), but really, the type of person who packs his bags and accepts an invitation from a complete stranger, has too be a little crazy, very courageous, and ready for something awesome.
Sherry Kumar runs EuroCircle Philadelphia, and organizes trips for interested EuroCircle members.  She is a Digital Marketer of Financial Services in her professional life. You may contact her directly via our members only forum,  via Facebook https://www.facebook.com/sherry.kumar.3, or send travel related inquiries only via email.