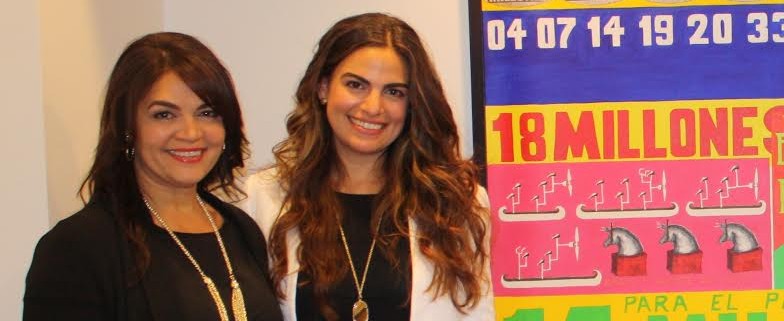 Gaby Rios – Contemporary Latin American Art Dealer in Houston
Please introduce yourself.
My name is Gaby Rios and I co-own an art dealing business with my mom, Susana Rios. We are from Venezuela and have been living in Houston since year 2000. We both worked as elementary teachers for a while and really enjoyed being with kids. Another passion of ours have always been traveling and art. Every time we traveled somewhere, surely a painting would make it back to Houston with us. What started as a hobby and a really small collection soon showed potential to become our business. People always complimented the works we owned and grew more interested in international artists. Just last year we decided to go full sail with this idea and started bringing Contemporary Latin American Art to Houston. We see huge potential in the arts happening in Latin America and are excited to open the way in Houston for these artists.
How did you end up in Houston, TX of all places?
In year 2000 Venezuela began to roll down and very long hill of unfortunate events. Socio-Political circumstances made it difficult to have a peaceful life. With the opportunity of my father's career in oil & gas we were able to relocate to Houston in search of better quality of life. Houston has really become our city and our home. We are forever grateful for all the opportunities we have been giving since moving here.
What is the best and worst about Houston for you…what is a typical day and weekend??
We really enjoy the diversity of Houston. It is easy to find groups on any interest. It is easy to make friends and meaningful relationships in this city.
Houston has become an international hub of opportunity, providing an exciting professional environment full of culture. This diversity in culture brings us an international and excellent food scene. Houston can definitely provide a great meal of any kind. The arts of Houston are equally rich, we have all component of a well-rounded, rich cultured city. We enjoy Broadway musicals, concerts, restaurants and all the city events, especially during Spring and Fall.
The heat of the summer can be hard, but it is always fun. Houston is full of patios and conformable places to gather at sunset with a nice cold beer. There is also plenty of pools and friendly people to make you forget the heat. We actually enjoy that season very much.
How do you find the lifestyle in Houston compared to your hometown?
Everything is bigger in Texas. Houston is a city that works. It offers very competitive services, which makes it easier to live a conformable life. If you stay here long enough, you become spoiled and accustomed to the small luxuries of living in a large land full of opportunities.
How do you make your living now – and how would you like to develop that career?
We are in the first year of our art business and look forward to many many years of growth in this field. We are extremely excited to bring new styles and artists to a city that shows so much appreciation for the arts.
What is the essence of Houston to you – what do you absolutely want your friends to see or feel in Houston/TX vs. your country?
Houston is friendly. You want to show off this city, invite your local friends to a nice chill bar and have them enamor your guests. This city thrives in quality time, well spent with excellent people. The food scene is definitely part of the definition of Houston, as well as the historic neighborhoods that hold the most secret golden spots for fun and relaxation. You just have to DRIVE AROUND a lot.
What do you absolutely miss from your country/heritage (food, culture, movies etc.) …or elsewhere?
We miss mostly, family and the beach. We used to miss a lot of food but found new foods along the way, plus more Venezuelan food is available here every year.
What cafes or restaurants do you recommend to tourists to go to in Houston and why? Or to
do something else.
People come to Houston and expect a good stake, we like Taste of Texas or Capital Grill for that. Always offer a nice stroll through Montrose at night and show the newly revamped Downtown night scene. Honestly, the NASA is not that fun, it is very far away…. Consider that before hurtling your whole international guests on a long trip there. A pic nic at the Menil Park is fun and relaxed. Visit HEYEVENT.COM and find events of interests. Go out there, do stuff, talk to people… that's what's fun around here.
What would be your ideal life – with no monetary issues to make it happen!
WE ARE WORKING ON THIS. The ideal for us would be to have our own SUGAART GALLERY, to show and sale Contemporary Latin American Art. We would like to bring the artists we work with to Houston, have them be active
participants of the internationalization of their art in the city.
Would you move back to your country fulltime – yes or no?
We love HOUSTON. I don't think we could move back. We are happy here.
Connect with Gaby and Susana Rios:
www.sugamobilegallery.com
sugamobilegallery @ Facebook
instagram.com/sugamobilegallery
Phone: 713.412.0232
Email SugaMobileGallery
https://www.eurocircle.com/euro/wp-content/uploads/houston-member/2015/04/Interview-GabyRios.jpg
735
784
Kaisa Kokkonen
http://www.eurocircle.com/euro/wp-content/uploads/2014/06/eclogow1.png
Kaisa Kokkonen
2015-04-28 17:59:18
2022-01-10 21:41:35
Gaby Rios – Contemporary Latin American Art Dealer in Houston