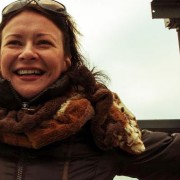 I am interviewing different interesting, internationally minded people here in Austin. This time I targeted Yelena (Lena) Lantsova who is very well known among the international young professionals in Austin.
Who are you and what group do you represent here in Austin and what is your role with the group?
My name is Yelena Lantsova, born and raised in St. Petersburg, Russia. Came to Texas 20 years ago to bring an exhibit of Catherine the Greats' directly from the Hermitage Museum. Then fortunately received scholarship from Trinity University in San Antonio where I earned a BA in 1997. Moved to Austin in 1998 and the rest is history.
I volunteer with Russian Speakers Society of Austin, in addition to moonlighting event coordinator for the Russian House, Phara's Mediterranean Casbah, the Gypsy Lounge, etc.
I also coordinate events for "Musical Connections" promoting concerts of various Russian and classical music, as well as local artists.
Russia is a huge diverse country – it is built on so many different cultures and languages. How many Russians do you think- or know – are here in Austin metro area and how is your membership?
I guess there are over 5,000 Russians here in Austin, but I personally only know a few hundred. Membership is free to expats from former republics of USSR.
What does your group want to accomplish?
Bringing Russian culture awareness to Austin, TX
How do you think it is working out, what are your biggest obstacles and the best surprises that have come along?
One obstacle that stands out is the smaller turn-outs at the classical music events coordinated with Musical Connections. A nice surprise is the addition of The Russian House restaurant with its extensive cuisine and authentic Russian atmosphere.
What kind of activities do you do and how do you fund the group's activities?
Musical events, holiday activities and so on. Funding comes from grants via the City of Austin.
What is the most captivating thing about Austin for you?
The diversity, the nightlife, the outdoor beauty, and the fact that there's a lake in any direction.
What would you tell a visitor not to miss in Austin? If they are Russians would that answer be different..?
The perspiration no matter what their culture may be.
What is the most memorable thing that has happened to you in Austin?
Becoming a productive member of EuroCircle and spreading the culture.
Is there something that annoys you about Austin?
Once again, the HEAT. That is all.
Do you have any favorite restaurant/s here in Austin?
Phara's, The Russian House, Swift Attic (Congress Avenue), and various food trailers around town.
Where do you go in Austin to chill out?
Lake Austin is a great way to beat the heat!
How would someone from abroad benefit by coming to Austin for a few years?
The more opportunities they are looking for, the more they'll find.
What do you miss most from your own country?
Bread, family and friends, and the architecture….
How often do you go back to Russia?
Every few years.
Yelena, you lived a long time in the USA. If could choose would you still live in Austin, TX – elsewhere in the USA or go back to Russia?
Ideally I'd spend my summers in Russia, but Austin is my home.
Austin Intercultural Network, and the Austin Jewish Film Festival.
Russian Speakers Society of Austin Website: rusaustin.com
518 Academy Drive, Austin,TX 78704
Yelena at facebook: https://www.facebook.com/yelena.lantsova