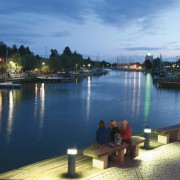 I wondered what it would be like to be living in a small town in Finland – not in Helsinki or any of the cities with over 100,000 population as all of those would have other expats. I begged someone I know – it took me some time to persuade him to answer my questions. He does not like publicity and preferred his name & photo not to be published. We usually do not do this for many reasons but I really wanted him to answer these questions – so here you are. There are exceptions for everything.
Where are you originally from and where are you living now?
I am originally from Israel, a small town called Pardes Hanna. Currently I am living in Finland in a small town on the southwest part called Uusikaupunki. It is has a population of about 17,000 including some small villages around that are part of the municipality.
When did you move here and from where (by yourself)? Planning to stay long – or return to your own country?
I have been living and working in Israel all my life. This is my first experience working outside of Israel. I am divorced with 4 kids – the youngest daughter is 12. I moved here by myself but I travel about once a month to visit and be with my kids. Usually for just a long weekend and occasionally for longer.
I moved here about half a year ago (in November), so I got just in time for the height of the Finnish winter.
I am here working for a Finnish company as a Finnish resident employee EXPAT and I intend on staying for as long as the job is interesting.
Why did you move; what do you do?
I am a seasoned professional in soybean processing here to help start and run a new, Greenfield plant to be started the end of this summer 2013.
My title is Process director. I hold an EU passport (my parents are Irish) so having a local contract enabled me to apply for residency (social security, tax number.. etc).
This position is a great challenge on many levels. First, this is to be the first and only soybean processing plant in Finland, so it is a great professional challenge to see it built, have the operators trained and getting the good quality products the Scandinavian market requires. Secondly, there is the language and cultural difference compared to my home country – I would say that in many respects it is a 180 degree change. And thirdly – the different climate and out of the way location. It makes- it a bit harder to adapt and there are a lot of small day to day issues coming up all the time.
What do you enjoy most about your current city, how's the quality of life?
The main advantage in Uusikaupunki is its proximity to my work. Other than that – the best thing about it is the road to Turku (The closest bigger city for the readers who do not know Finland).
I like the quiet, the trees and the Finnish nature all around. I have a beautiful view to the sea from my home but being alone in a small place makes socializing even more difficult – meaning compared to what it is anyway in Finland.
Any negatives? What do you miss most about home (or where you moved from)?
The lack of leisure culture in Finland is the thing that bothers me most. No proper cafés with a variety of coffees and cakes to just sit and enjoy life. Also the Finnish night life at least in Uusikaupunki is a bit pale relative to what I am used to. I am not here with a family – and every event here is celebrated with the close family at home.
Is the city safe? Are there any areas expats should avoid?
Not too much I can say about that. The place is very safe and easy going. Everybody is friendly and nice. I have not had any negative incidents on a personal level in any way.
How would you rate the public transport? What are the different options? Do you need to own a car?
I own a company car so I can't comment on that. Just a general comment that taking into account the distances between places here and the cost of cars and petrol I would have assumed the public transport (especially trains) to be much more advanced than what I know it is.
How would you rate the healthcare?
Luckily for me Uusikaupunki, being a small place, has good public health service with no queues at all.
Which are the best places to live in Finland as an expat in your opinion?
It seems to me that everything that is happening, is happening in Helsinki and the cities around it (Espoo, Vantaa). Outside Helsinki area and the major cities it would be harder to find English speaking people.
How do you rate the standard of housing in Finland?
I have no idea how to compare. In general building regulations are very strict so the houses are never "bad" but some would be of course better than others.
What's the cost of living compared to home? What is cheap or expensive in particular?
In general the cost is more or less the same. On one hand it is possible to do cheaper shopping here but most household products are slightly more expensive. Restaurants are definitely more expensive, and recreation activities – taxi, train, entrance fees and so on are by far much more expensive.
What are the locals like; do you mix mainly with other expats or also locals? Was it easy meeting people and making friends?
I have not met any other expats in Uusikaupunki. The locals are very friendly but fairly shy. So I have good friends at work but next to none after work hours.
Finns will avoid speaking English if they do not feel they are 100% perfect in it. And usually if they think they are making grammar mistakes they just don't speak it at all. So making conversation just off-hand in a bar or something like that is quite difficult. The exception is of course when they are drunk – which may happen slightly too often for some of them – but then I prefer not to talk to them at this stage. (NO KIDDING!) It is definitely not easy to make friends and meet people. Although Finns are friendly and welcoming, they ARE shy and keep to themselves. I have great colleagues at work I get along with very well. However, outside the office one needs to be super social to get a conversation going. Most people will not just come up and start one on their own account.
How does the work culture differ from home? (different customs, work culture, how people treat each other, can you trust people, do you feel safe, racial/ethnic/religious issues, culinary differences etc)
It is totally different from what I am used to. First of everyone here seems to take their responsibilities seriously. If someone is told to do something, it can be considered done. To the extent that if you ask twice you are considered a nuisance. On the other hand everyone stays within his job description so that if something is not within his job duties he will not get involved. This took some time from me to understand and communicate at first efficiently knowing what they hear and what I meant.
In general interpersonal relations are frank and straight forward. People are not very much occupied with what the other guy is doing – they take care of their job and that's it. Social rules are followed by work places and in general the laws and regulations are strictly followed. Regulations are of course numerous and demanding.
Is there anything else you would like to share with EuroCircle readers? For example anything that really surprised you positively or negatively. Feel free to be open about it.
I was not aware of the true remoteness of Finland – and the general rural way it is built. There are long drives to get from one place to the next and in between there is very little around Uusikaupunki.
Finland is a quiet andvery safe country. The crime rate is low and property crimes are not an issue at all. Education is superb – so these are the greatest factors for families thinking to relocate to Finland.
However, if you are single and moving alone, you may want to take into consideration that any city outside Helsinki maybe a few of the larger cities is rather remote and difficult for an expat (unless you speak Finnish).
Kaisa's comment: I feel he is so right about the Finnish people's social attitude. I used to invite some people to visit our country house in the middle of nowhere, made friends even in Helsinki with mainly Americans who could vent their bad feelings freely to me about the Finnish ways. But – I come from Savo, close to Kuopio, about 500 km northeast from Helsinki. People there are much more outgoing and curious! I love my country, I love Finnish culture – but we really could sometimes think a bit more what it is to live there as a foreigner. We all might learn something!
City of Uusikaupunki: www.uusikaupunki.fi/galleria/