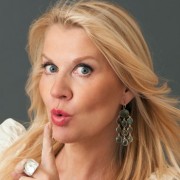 If you've ever wondered what it would be like to be a fashion stylist in Manhattan, you'll enjoy meeting Jacqui Stafford from United Kingdom. A beautiful British lady who also was one of the very first members of EuroCircle New York. Everyone's story is unique, let's hear Jacqui's story.
What are you currently working on?
I just released my debut style book, "The Wow Factor: Insider Style Secrets for Every Body and Every Budget", published by Penguin, and I appear twice a week on QVC for Isaac Mizrahi as a fashion expert. I'm also the style expert on the Steve Harvey Show, and one of the fashion contributors on the Today Show, so I'm extremely busy. I have a personal style business, where I help women establish an easy wardrobe that flatters their body shape and fits into their lifestyle. jacquistafford.com/style-me-jacqui/
How have the last 12 months been for you?
Insane! I just finished a multi-city book tour with Estee Lauder and Swarovski, and I've also been working as a brand ambassador for Slim-Fast, Bali Intimates, Olay and Woolite, so it's been an exceptionally busy year. In addition, I collaborated with Built NY to create a limited edition Kindle cover, exclusively for Amazon
What does fashion mean to you?
I believe that you don't need to spend a lot of money to look fabulous. It's really all in the way you style the pieces as an ensemble, and how you use accessories, such as scarves and statement necklaces, to create incredible looks.
Which fashion designers or fashion icons do you look up to?
I love everything from Isaac Mizrahi to Malandrino to Theory to Zadig & Voltaire to J. Crew. Basically, you can find gorgeous pieces anywhere at any price.
Where do you get your inspiration?
Like many Europeans, I've lived and worked all over the world (London, Paris, Hong Kong, Canary Islands, New York) so I draw my inspiration from all the countries I've been lucky enough to spend considerable time in.
How would you define your personal style?
European casual—with a British quirkiness.
Where are you based?
New York City, on Madison Avenue.
What's it like being where you're from?
A as a Brit, I have a very pragmatic point of view; and can never take the entire fashion industry too seriously.
What's been the highlight of your career to date?
Probably being nominated One of the Ten Most Interesting People in Hong Kong by Hong Kong Magazine, and also appearing live on NBC's New Year's Eve in Times Square with Carson Daly.
What are you hoping to achieve over the next 12 months?
My goal is to help teach more women to understand their body shape in order to take the stress and frustration out of shopping. Ultimately, I'd love to collaborate on a clothing collection based on body shape that will make getting dressed and looking fabulous absolutely effortless.
What do you do to relax?
I love nothing more than a leisurely walk through Central Park with my significant other and my five-year-old daughter. Oh, and nothing beats a deep relaxing soak in the bath with Jurlique Lavender Shower Gel and Jo Malone Lime & Basil candle flickering.
Where would your favourite holiday (vacation) be and why?
A week at the Amanpuri resort in Phuket. 
I lived in Hong Kong for four years hosting a TV show, and Thailand was one of my go-to destinations. You can't beat the service in Asia; it's exceptional.
Do you have interesting hobbies?
I travel frequently; and as a family we select a different destination every year to spend the holidays. We've been everywhere from Cuba to Moscow. One of my trips included watching the sun's eclipse on Concorde, and I was lucky enough to experience it before the fleet was retired.
Is there anything else you'd like to share with EuroCircle members about yourself?
I'm a huge adoption advocate. I adopted my daughter from birth in Florida, and love counseling women about the (sometimes complicated) emotional issues surrounding adoption.
Where can we find out more about your work?
My website, www.jacquistafford.com
My style book
Sign up for my free weekly newsletter: jacquistafford.com/
Web page link: jacquistafford.com/
Facebook: www.facebook.com/OfficialJacquiStafford
www.youtube.com/jacquistafford