We love introducing interesting Europeans to our members – and since I work for a startup I have real fondness for entrepreneurs.
Le Marche, the heart of Italy's leather and shoemaking industry, is where our interviewee ELISA ROSSI grew up.  Le Marche is a place where timeless, quality pieces of everyday luxury are considered a rightful part of life, regardless of anyone's income or social class. Why is that?  People's values are  heavily influenced by such a long artisanal tradition which is amazing to me. As a young woman, Elisa had dreamed of helping those artisans bring their products to the global audience.  She had left Le Marche to study abroad and ended up in the Silicon Valley.
Elisa's goal is to democratize not only timeless luxury essentials but also the lifestyle that allows people to fully enjoy them.
The belief that embracing luxury every day – whether by owning a precious leather handbag or by slowly living in the moment – is as essential to a quality human life as air.
Who are You?
My name is Elisa Rossi and I am Italian tech executive turned fashion entrepreneur.
As a fellow female entrepreneur, I wanted to personally reach out and introduce myself and my company, Rossi & Rei.
Tell us how someone who worked at Apple and Square turns into a fashion entrepreneur?<
I launched Rossi & Rei this summer after a trip I made back to my hometown of Le Marche, Italy.
While there, I realized that after being away for over a decade, my lifestyle had transformed, and my closet had turned into a collection of cheap, basic workwear to help me blend into a male-dominated business world.
I no longer felt connected to the Italian lifestyle I grew up with, where I felt fully present, beautiful and alive.  I became used to moving too fast.
I forgot how to appreciate the feel of cashmere or full-grain vegetable tanned leather.
What does Rossi & Rei mean to You?
Rossi & Rei is my way of embracing the luxury of Italian living everyday, and is something I feel is essential for everyday living, not just reserved for special occasions.
That is why we curated a collection of beautiful pieces, crafted in timeless Italian styles, in materials that make you feel beautiful, and last a long time, priced for everyday living.
We just launched our FW2016 collection and I wanted you to be one of the first people to see it.
#embraceluxuryeveryday
TRUNKSHOW – Dec 8 2016 in Soma
Connect with Elisa Rossi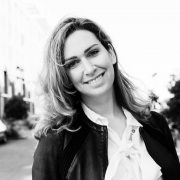 Ross & Rei website
Elisa Rossi @LinkedIn
Email Elisa
Get to know Rossi & Rei founder Elisa on Nov 17 2016 Jazz event at Muka Lounge…we also have a wonderful trunk show in the works