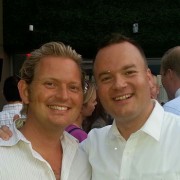 Meet Anders Krog, Lars Eeg and Dennis Schindler-Thomsen of Danes in NYC. Danes in NY started in 2009.
What is the Danes in NYC?
Danes in NYC is the biggest independent Danish Network in the Greater New York City area mostly catering to Danes that are looking to network in a relaxed setting at our events or to share and/or benefit from information shared with/by our members.
When did you start Danes in NYC?
Danes in NYC was started in 2009 by Anders Krog and Rasmus Elsborg Jensen. Today Danes in NYC is Dennis Schindler-Thomsen, Lars Eeg and Anders Krog.
Where do you all work outside of Danes in NYC?
Anders and Lars work at a Danish Shipping Company by the name of Shipco http://www.shipco.com and Dennis works at Bloomberg.
How many members do you have and where is your member base from?
We are more than 1400+, almost at 1500 members currently and are growing our member base by about 50+ per month these days. The growth is mostly due to word of mouth by other members but we do present our organization several times a year when the Danish General Consulate in Town hosts "New in New York" events welcoming new Danes top the City.
What is your role with the group?
All 3 pretty much share the responsibilities at this point. We are presently building new infrastructure within the group to help handle all tasks as the growth of the group demands more work and apart from that we are all 3 engaged in building a new web portal for Danes in the city to be launched soon.
What kind of events do you have and how often do you have them?
We have a couple of different types of events. We mainly host networking events in relaxed settings (Bars) on Friday nights. That being said, we are developing a better and better program every year and have recently hosted a fundraiser event that was a great success and raised money for a charity organization in Denmark. We have 1-2 more of these charity events planned for the remainder of the year 2013.
What challenges if any have Danes in NYC faced and what are your best accomplishments to date?
The accomplishments so far have been to see The Danes in the city make use of and individually benefit from each other. To create a network that is open to all and can be used as yet another resource to navigate the busy lives New Yorkers live. There are several transitional challenges a lot of Danes experience where the network can help out. So no doubt, the network is THE major accomplishment, and this all achieved as a pro-bono group driven by less than a handful of people.
How is New York different than Denmark?
New York is a fast paced society that can feel as a very individualistic and competitive challenge to many Danes. Are feeling is though, that many of The Danes that take the step and travel over here, whether that being for a short while or to settle, are driven, competitive and up for the challenge! Danmark is a very regulated and controlled society in many ways and can be little rewarding even for people that do put a lot of energy into a career, for example. Living the dream here in New York, i think most Danes will agree that we all feel the sky is the limit here whereas the ceiling is not far above when living in Denmark.
When you aren't planning events what fun things do you like to do in New York City?
Lars and Anders live busy lives outside their work at Shipco. Anders spends his free time travelling, riding his motorcycle and enjoying some relaxing weekends with friends all while keeping in shape at the fitness center. Dennis spends most of his spare time with his Family in Long Island when not hanging with The Danes in The City or working on one of his entrepreneurial projects.
When is the best time of year to visit Denmark and how often do you go and visit?
We all visit Denmark at least once a year – Some of us 2 or 3 times. And let there be no doubt, Denmark is best in the Summertime! Late summer/August is best… Late Sunsets and early sunrise and a lot of fun!
How long have you lived in New York?
Anders have been here 12 years, Lars 9 and Dennis 8 years (July 2013).
Are you involved with any other groups in New York? If so which ones and for how long?
We all 3 are involved with another Danish network in town called DABGO(Danes Abroad Business Group Online – http://www.dabgo.net/). This network was started in NYC in 2006(Not by us though!) and have spread to more than 40 countries around the world, counting more than 10000 members worldwide.
Anything else you would like to tell us about Danes in NYC?
Danes in NYC events are normally not closed to Danes only. We have frequent "guests" from other nationalities so please do join us for some of our events going forward. We also very much would like to get in contact with other groups/networks and see how that could be beneficial to all parties going forward.
How can people connect up with you?
We can be found at http://www.danesinnyc.com
even though the website is not completely launched and ready for prime time yet. Furthermore, to reach us directly, you can send us emails at our respective email addresses at: lars@danesinnyc.com, anders@danesinnyc.com and dennis@danesinnyc.com.
Website: http://www.danesinnyc.com
Danish Networks in the USA: http://www.biennews.com/det-social-network-pa-facebook-blandt-danskerne-i-amerika/